Harvest underway in northwestern Syria, amid worsening fires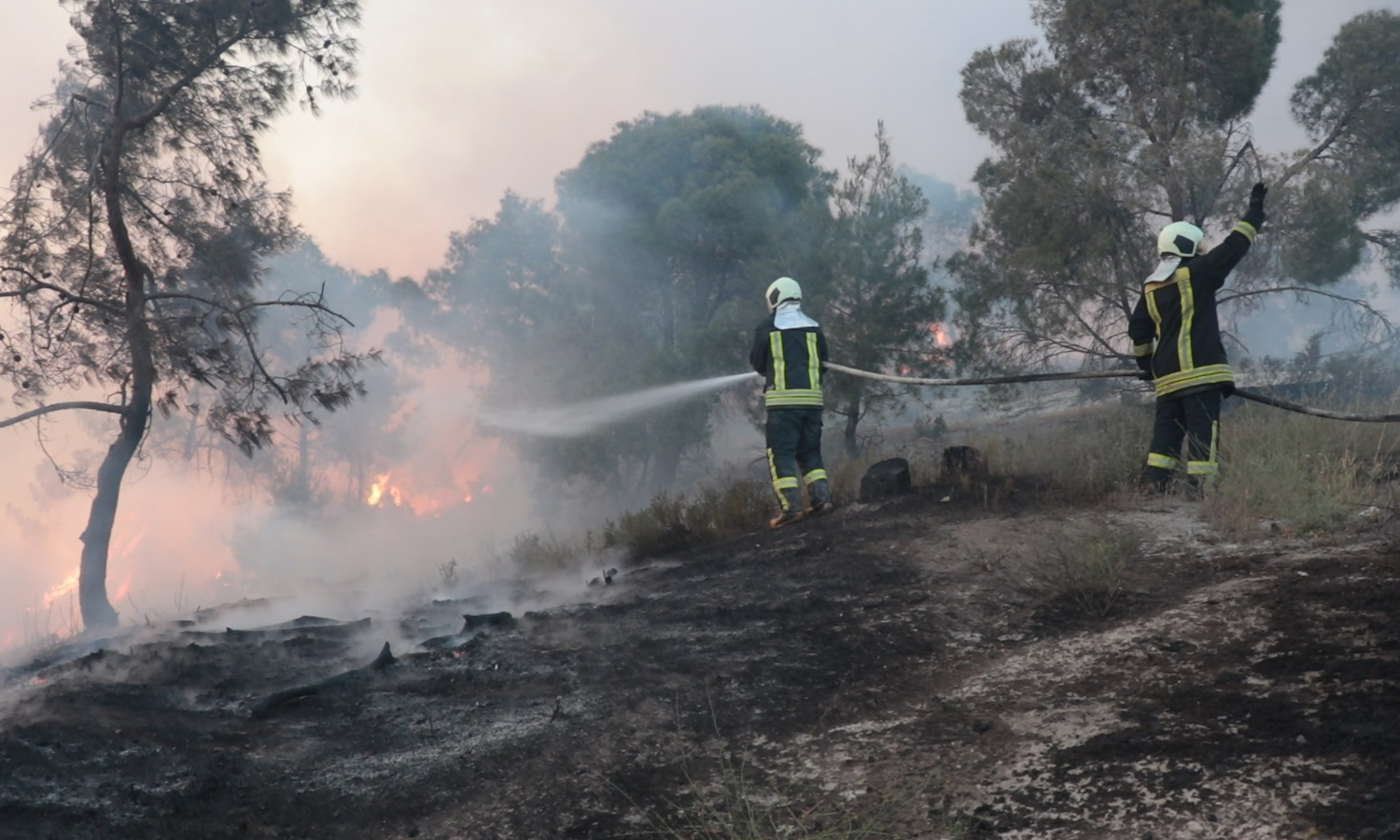 Idlib-Iyad Abdel Jawad 
With the advent of the wheat and barley harvest season each year, fires start to rage across a huge swath of northwestern Syria—controlled by the Syrian opposition—due to scorching heat that easily affects tinder-dry crops and the Syrian regime's artillery shelling and airstrikes. 
The Syrian regime continues to carry out airstrikes in al-Ghab Plain, in the western countryside of Hama, Jabal al-Zawiya, in the southern countryside of Idlib, and the western countryside of Idlib, setting vast areas of agricultural lands aflame.
Most affected areas 
Ahmad al-Arabi, a farmer from the village of Balyun in the southern countryside of Idlib, lost half of a dunum of his wheat and Mahaleb crops due to a fire that broke out in his 10- dunum-field. The cause of the fire remains unknown.
Al-Arabi said that he planted his land with olive, mahlab, and cherry years ago. This year, for his bad luck, he decided to plant wheat between these trees, which seems to be the reason for blazes that hit his lands. 
The opposition's Syrian Civil Defence (SCD) teams put out the fire in al-Arabi's land, in addition to more than 650 other fires that hit northwestern Syrian for various reasons since the beginning of 2021.
These fires killed eight people and injured 93 others, who were taken to nearby medical points, the director of the media office in the southern department of the SCD, Muhammad Hamada, told Enab Baladi.
Hamada said that the increased number of wildfires is normal with the rising temperatures,  breaking out in displacement camps, civilian homes, or lands.
It is noteworthy that agricultural lands and forests have "been the most affected by fires over five months, May, June, July and August, and September."
With the harvest season approaching, fires tend to hit agricultural lands more than other locations. Approximately, the SCD teams respond to five agricultural fires a day. 
On 27 May, the SCD pointed out on its social media accounts that "The Syrian regime forces are deliberately shelling  agricultural lands at this time of the year in order to prevent civilians from benefiting from their crops, fighting them with their source of income."
However, the Syrian regime's bombardment is not the only cause of fires hitting northwestern Syria. A large part of fires, in fact, are caused by risky agricultural habits. According to Hamada, some farmers resort to crop residue burning on their lands, sometimes losing control over fires, especially if the heat is high and the wind is strong. 
On other occasions, negligence is the reason behind fires. Some people recklessly set fire to or cause to be burned agricultural crops, for example, by dropping cigarette ends on roadsides, which are full of dry flammable grasslands, while overheated agricultural machinery or engine sparks continue to be among the key ignition sources. 
Awareness of fire safety and prevention
The SCD volunteers spread awareness about fire safety Do's and Don'ts, through social media platforms, field trips, or distribution of flyers, because the safest way to deal with fire is to prevent it in the first place.
Farmers should remove all dead and dried weeds, grass, trees, vegetative debris, etc., from their fields, surroundings, and population centers. Farmers should also increase spacing between agricultural fields and avoid lighting fires near forests. Children should not be allowed to tamper with any heat sources. 
The SCD, currently the most active body working to extinguish fires in the region, also raises awareness about the best ways of dealing with fires, particularly the importance of having  fire extinguishers. 
One of the primary ways to tackle fires is to extinguish them directly, no matter how small they are. But, when fires worsen, it becomes hard to control them, and it is preferable not to approach them and inform the concerned teams.
Besides, firefighters have to make sure that water storage tanks are always filled, and while attempting to put out fires, they have to avoid standing near fires that go against the winds.
if you think the article contain wrong information or you have additional details Send Correction