Syrian citizenship turns into 'curse' tracks those with dual nationality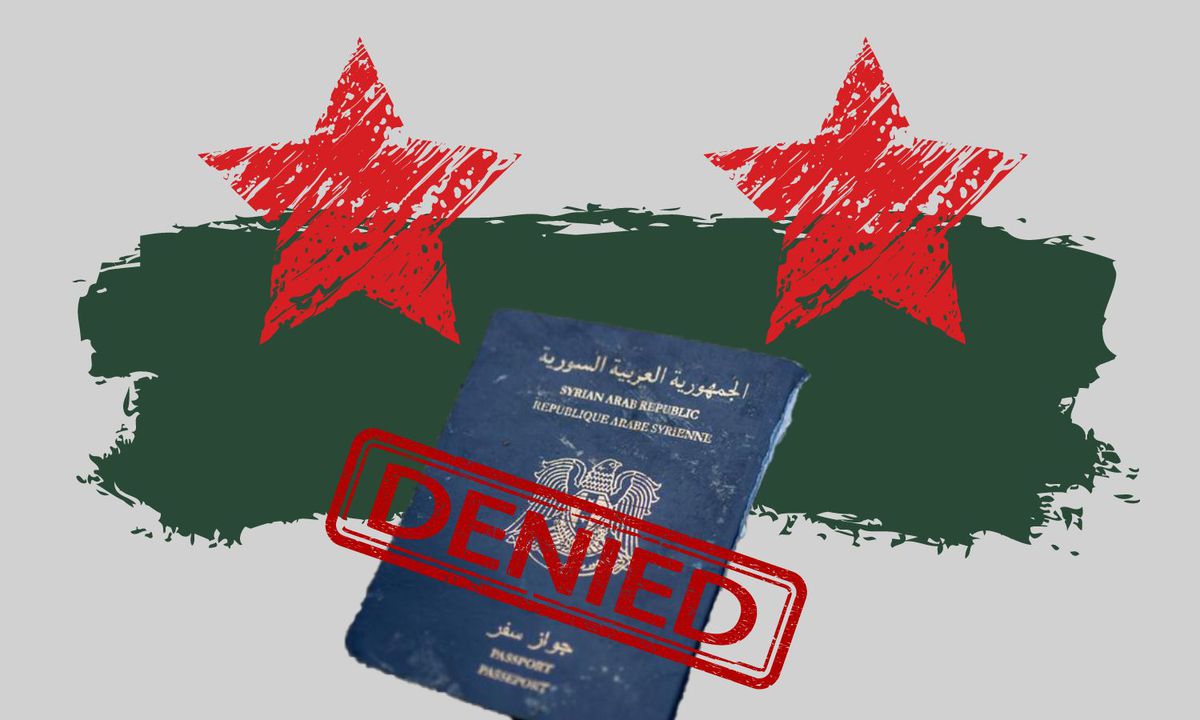 Enab Baladi – Muhammed Fansa
"Ever since I obtained Turkish citizenship, I have applied several times for an entry visa to Saudi Arabia to reunite with my husband, who has been there for years. But my demand was met with refusal every single time because I am of Syrian origins". In these words, Soraya Hajj Moussa, 35, summed up her unsuccessful experience of trying to join her husband in Saudi Arabia.
Many Syrians with second citizenship suffer the consequences of Syrian nationality, particularly when traveling to another country, being met with denial of a visa or deportation from the airport when they do not need a visa, even though they have traveled using their new nationality.
Soraya, who has been a Turkish citizen since 2017, did not succeed in her numerous attempts in 2018 to obtain an entry visa to Saudi Arabia when she submitted her paperwork to the Saudi Consulate in Istanbul, where she resides, even though it was at the invitation of her husband.
She also tried to apply for a business visa to the Saudi Embassy in Ankara through a Saudi company, but the rejection came with the phrase "With apologies, the traveler must be of Turkish origins." Soraya confirmed her attempt to apply for a visitor's visa to Saudi Arabia by submitting her Syrian passport before obtaining Turkish citizenship, which was also rejected.
After all these attempts, Soraya managed to enter Saudi Arabia via an Umrah visa on her Turkish passport for one month that year.
Miss Britain, Leen Clive, was also denied entry when she applied for a visa to compete in a global pageant in the US because of her Syrian origins, despite applying with a British passport. Meanwhile, her husband and her daughter's visa applications were approved according to a BBC British network report on 7 January.
Clive said: "I applied with a British passport. I am representing Britain, and I am a British citizen, so I had no idea I would be banned from the US".
According to US law, citizens of "State Sponsors of Terrorism" are subject to interrogation by a consular official when they apply to travel to the United States, and Syria has been classified as such since 1979.
Syrians with Swedish citizenship were denied entry to Lebanon and were returned from Rafic Hariri Airport in Beirut without explaining the reasons.
When asked why, the Lebanese Embassy in Sweden replied that illegal entry into Europe deprives one of entering Lebanon without the consent of the Lebanese General Security, according to the Swedish website Aktarr on 22 January.
Unsuccessful experiences, reason is "concealed"
Enab Baladi monitored similar cases of naturalized Syrians who were unable to travel because of their Syrian origins. Speaking to Enab Baladi, Mohammad Ali Omar, who holds Turkish citizenship, spoke about his travel to Cyprus from Turkey; in July 2020, he traveled with his Turkish passport without a visa to the Turkish section of Cyprus.
At the Cyprus airport, the passport officer asked about Mohammad's nationality, the latter replied "Turkish" and denied his Syrian nationality. "I was questioned by an officer of rank outside the airport as to why I visited and where I lived in Cyprus and the number of an acquaintance of mine there. Despite answering all their questions, I was deported to Turkey without mentioning the reasons", he said.
In August 2020, Hussam al-Din al-Naasan, who also holds Turkish citizenship, traveled from Turkey to Jordan, according to what he told Enab Baladi, adding that upon arriving at the airport and at the moment the passport officer saw his place of birth on the Turkish passport, he was asked for the Syrian passport or any Syrian ID.
He did not have any Syrian ID, so he was interrogated with his mobile phone confiscated. He was eventually returned to Turkey. Upon inquiry as to why he was told it was "the instructions of the Jordanian intelligence services."
Fear of asylum
Nour Aldeen Ramadan, who holds Turkish citizenship, applied for a travel visa to the German consulate in Istanbul in December 2021 and presented a Turkish passport that included all the required documents. He was hoping to see his brother, who had been in Germany for five years.
As for the documents submitted to the consulate, he told Enab Baladi that "it included proof of ownership, bank account statements, and documents proving my connection to my job, an invitation to visit from my brother that proves that he is responsible for me, along with additional documents in support of the request."
Nour Aldeen was surprised to receive a call after a while from the German consulate asking for his Syrian passport. Despite his response to the consulate's request, he was denied a visa because of "suspicion that he would not return from Germany" and that he would submit an asylum application seeing that he is a dual national.
Nour Aldeen tried to appeal against the consulate's decision with a petition proving his stable financial condition, as well as his well-paid work as evidence that he did not need to apply for asylum in the host country, but his petition was also rejected.
After an invitation to attend a conference on refugees in 2019 from a Scottish university, Zeinab Masri, who holds Turkish citizenship, submitted all the required documents to the Scottish Embassy in Ankara to obtain a travel visa.
Because she was a dual national, and there was a "possibility" that she would not return to Turkey, Zeinab told Enab Baladi that the embassy refused her entry visa application.
Ban on transactions
Western and US economic sanctions imposed on the Syrian regime require scrutiny and sometimes the cancellation of bank transactions on anyone with Syrian nationality around the world, or even on certain financial platforms on the internet, for fear of being implicated in the violation of such sanctions.
On social media, Syrians circulated news that the Binance cryptocurrency platform had announced the closure of Syrian traders' accounts on 28 April.
At that time, Enab Baladi contacted the platform's support and assistance department as an account-owning user. The support department official said that the platform had established strict regulations to close the accounts of all Syrian nationals in various countries of the world.
Syrian researcher Karam Shaar had a similar experience when he asked a New Zealand bank for a loan to buy a property; according to what he told Enab Baladi, his application was rejected on the pretext of working for an organization "owned and managed by Syrians" (in reference to the Turkey-based Operations and Policy Center).
He noted that entry to the United States for New Zealand citizens does not usually require a visa, but when the holder of a New Zealand citizenship is also a Syrian national, they are required to apply for an entry visa.
"Psychological gap"
Identity and non-discrimination on the basis of race or religion are fundamental human rights. Therefore, any discrimination on the basis of race or Syrian origins is considered a violation of Syrians' fundamental rights. This could cause "psychological repercussions," especially when nationality is a reason for not reuniting the family, due to the existence of an emotional state linked to Arab people and related to the importance of the family to them, as social researcher Eva Atfa told Enab Baladi.
Atfa explained that these "psychological setbacks" resulting from ethnic discrimination affect Syrians in terms of their desire to realize their aspirations and dreams and also affect their social life because they can develop fear and tension. If discrimination is perpetrated by the host country's institutions, it may lead to a state of "introversion" for the Syrian, leading to their lack of involvement in or acceptance of the receiving community.
In terms of belonging to the motherland, the social researcher argues that cases of ethnic discrimination can lead to a "double-edged reaction," the first of which is for Syrians to renounce their nationality or belonging to their homeland in total oblivion of their origins and the remainder of their past memories, and to belong entirely to the country in which they are naturalized or made legal residents.
The second being the discriminatory experiences that Syrians are subjected to, creating a negative reaction leading them to be "disengaged" from the receiving community to the extent that they would decide to return to Syria, despite the threats they may face from the Syrian regime or other existing forces.
The Russian war on Ukraine and the emergence of the Ukrainian refugee crisis in Europe created a "psychological gap" for the Syrians when they witnessed discrimination in the way European governments dealt with Ukrainian and Syrian refugees before them. This situation has also reinforced distrust of international parties, Atfa said.
A large proportion of Syrians seek the nationalities of the countries in which they have taken refuge, especially in Europe, because of the weakness of the Syrian passport internationally and their desire to improve their legal status.
For instance, the number of Syrians having Turkish citizenship after meeting the required criteria reached 200,950, according to statements by the Turkish Minister of Interior, Süleyman Soylu, on 10 May.
Data from the German Federal Statistical Office showed that the number of Syrians acquiring German citizenship during 2021 was three times higher than that of the year before.
The office stated that many Syrian refugees in Germany who fled between 2014 and 2016 met the eligibility criteria for obtaining citizenship, according to a Reuters report on 10 June.
According to the office's data, the total number of foreigners with German citizenship grew by 20 percent in 2021, reaching approximately 131,600 people, of whom 19,100 were Syrian nationals who became German citizens.
if you think the article contain wrong information or you have additional details Send Correction