Lack of experience, nepotism drive away Idlib graduates from labor market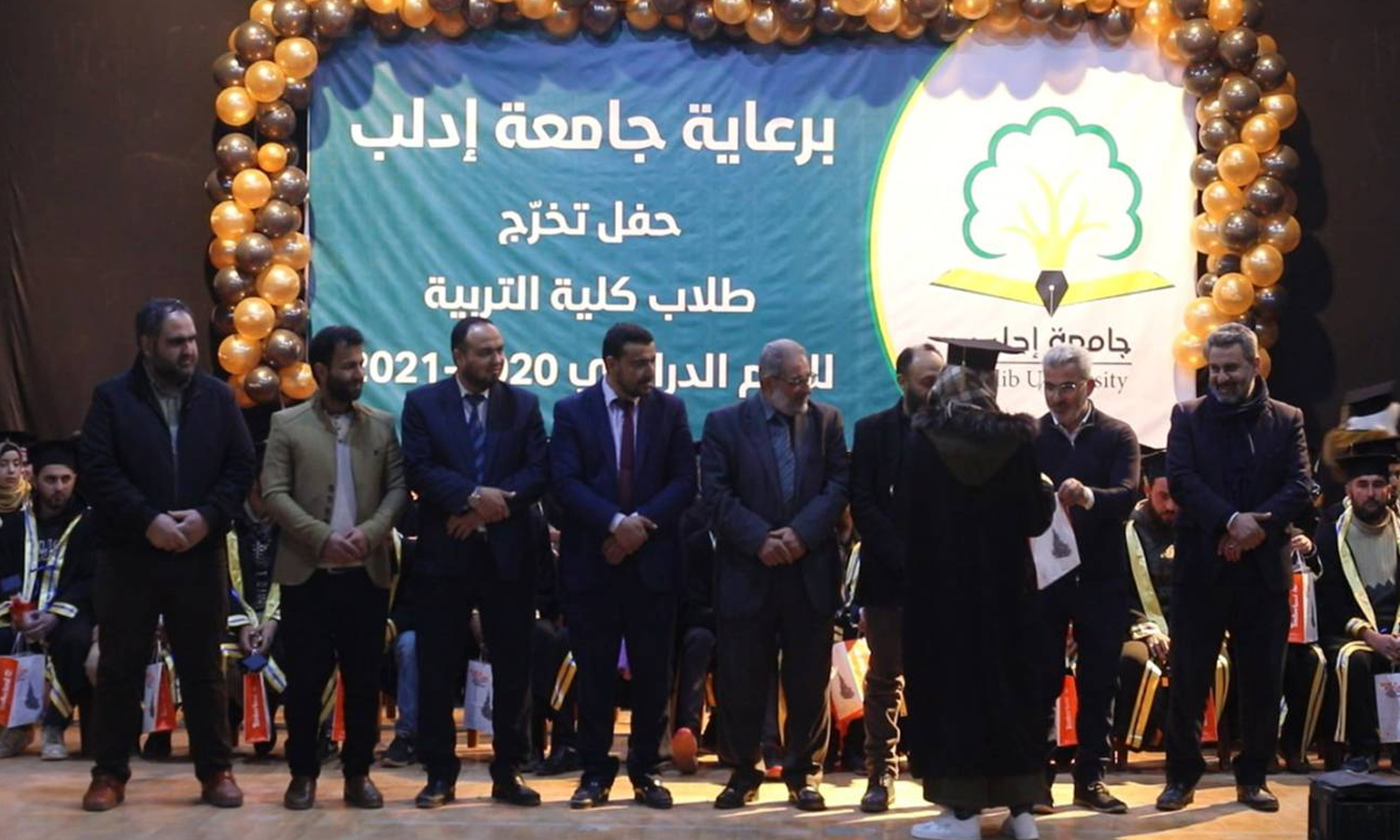 Idlib – Anas al-Khouli
The 24-year-old Samer al-Abdullah has been searching for a job in the northern Idlib governorate since he graduated from the Economics Faculty. He browses employment websites for an opportunity to work in a field that matches his study specialization or even for practical training that suits him with a humanitarian organization in northern Syria.
The Idlib-based al-Abdullah lives isolated from his community, fearing the questions of those around him regarding his work and ambitions after graduation.
He spends the hours of his day following websites dedicated to advertising jobs and job opportunities, but he reached the point of despair of finding the right opportunity, according to what he told Enab Baladi.
According to what Enab Baladi monitored, the young people in Idlib governorate, especially recent university graduates, suffer from widespread unemployment, the absence of suitable job opportunities, or even unpaid volunteer work that helps them gain experience and increase their chances of obtaining a job in the future.
As a result, a number of young people have been forced to abandon their ambitions to get a job suitable for their academic specialization and go towards what is available for jobs, regardless of their compatibility with their specialization.
Firas Mohammed, 25, a displaced person residing in the city of Idlib, graduated from the Faculty of Business Administration two years ago, but he has not yet found a job opportunity that suits his specialization, according to what he told Enab Baladi, which forced him to work in a clothing store owned by his father in the city.
Experience requires volunteer work
The dreams of new graduates often collide with reality when they apply for jobs and job opportunities, and the condition of experience, so most of them go to search for volunteer work to try to gain the required experiences.
Salem Mustafa, 27, a graduate of the Faculty of Political Science, said that most job opportunities in Idlib related to his field require experience and work in the same field for a certain period, which prevents new graduates from applying for these opportunities.
For her part, Hanin Hussein, 25, a sociology graduate and IDP who lives in Idlib, considered that most institutions do not communicate with new graduates who do not have sufficient work experience and refuse to hire them.
Hussein added to Enab Baladi that graduates are now looking for volunteer work to gain experience more than they are looking for work.
Nepotism, favoritism
A number of university graduates whom Enab Baladi interviewed believe that getting a job in their field depends mainly on nepotism and favoritism due to the huge number of applicants for these jobs who hold university degrees and high experience, compared to the number of job opportunities announced in the region.
According to a study conducted by researcher Mohammed Ahmed Khalil, published on the website of the Syrian Center for International Relations and Strategic Studies in February 2021, on the reality of higher education in northern Syria, the graduates' answers were repeated in the study's questionnaire, that the reason why graduates did not get job opportunities is related to dependence on nepotism and favoritism. In many institutions, this hinders the ability of a competent graduate to obtain a job in his specialty.
Hussam al-Eid, 27, a master's student in economics, resides in Idlib, is pursuing postgraduate studies after his despair of finding a job. He told Enab Baladi that the offered job opportunities are relatively few and do not match the "huge" number of graduates, adding that some institutions and organizations do not recognize certificates issued by universities in northern Syria.
Hussam considered that nepotism and favoritism play a major role in selecting employees, and job interviews are often "formal," as he put it.
Doaa al-Ali, 23, a graduate of a computer institute who resides in Idlib, said, "We see a large number of employees in institutions and organizations working in fields that do not match their scientific specializations, and this raises many questions on how did they reach these jobs?".
Private enterprises need funding
A number of new graduates whom Enab Baladi interviewed aspire to own their own business instead of looking for a job in light of the scarcity of job opportunities and difficult employment conditions.
However, these projects require capital that many graduates do not have, which makes them compelled to search for funding for them within the support programs launched by humanitarian organizations to finance small projects.
Saddam al-Abdullah, 29, a fifth-year agricultural engineering student who established his own agricultural project in the Hazano area, told Enab Baladi that self-employment in the current conditions and circumstances is much better than looking for a job, but financial funding is necessary to launch the project.
As for Abdulhamid Salem, 25, a graduate of the Education Faculty, who resides in Idlib, he said that searching for trainings conducted by organizations, training centers, and voluntary work with volunteer organizations and teams is more useful than searching for jobs in the first years of graduation, and the trainings lead to gaining the appropriate experience for work opportunities.
if you think the article contain wrong information or you have additional details Send Correction