Earthquake exacerbates unemployment crisis in northern Syria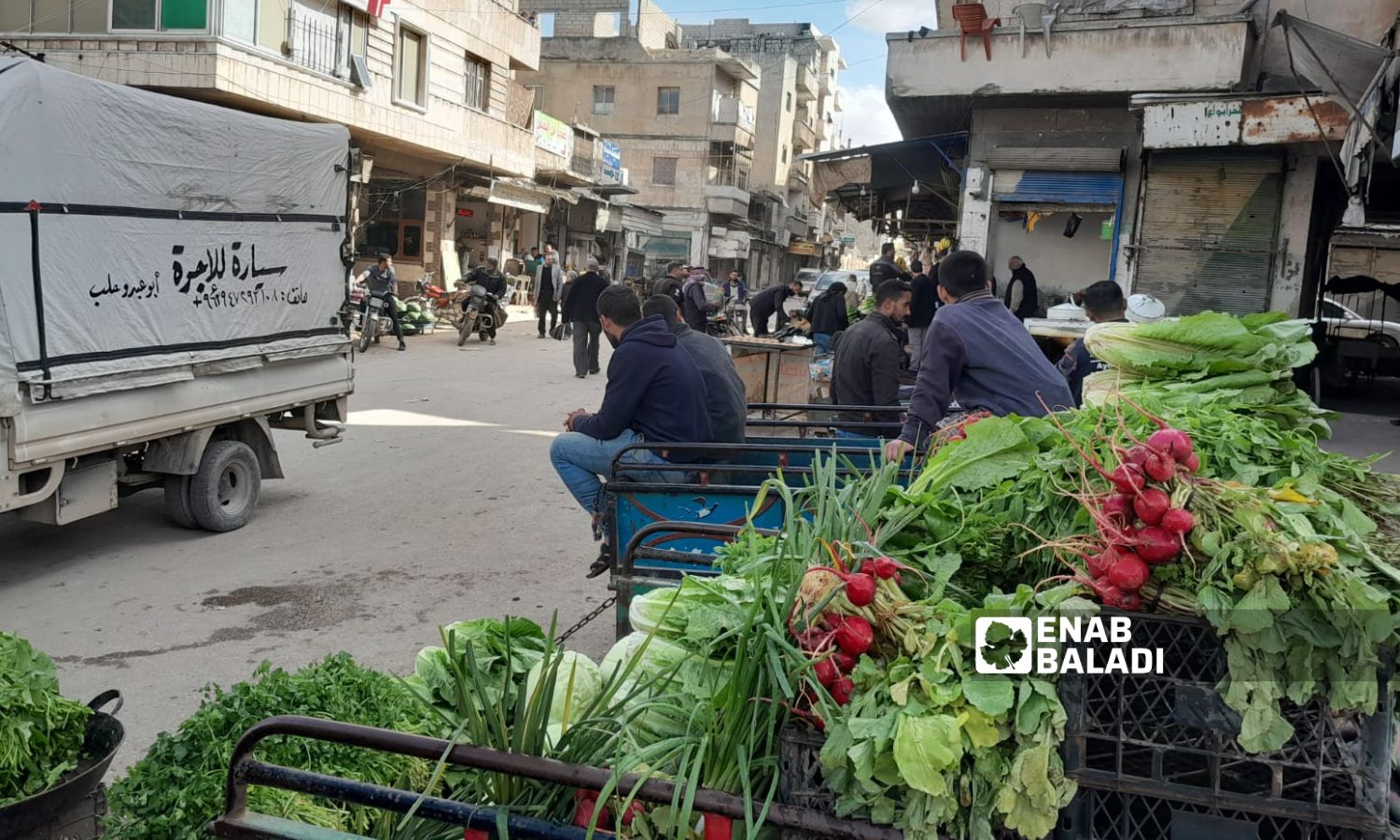 Enab Baladi – Anas al-Khouli
The losses of the 35-year-old Abdullah Awad continued after the Feb-6 earthquake disaster, to find himself after about two months without shelter, with an amputated leg, and unable to obtain a source of income to support his family.
Doctors had to amputate Awad's leg due to the severe injury he sustained after the collapse of the building in which he was staying in Jindires town, which made him unable to return to his work, which requires great effort, he told Enab Baladi.
Awad added that he was a daily porter, and his wages did not exceed 70 Turkish liras per day, which was barely enough for him and his family of five.
While northern Syria was suffering from high unemployment rates and low wages, the earthquake exacerbated the crisis after leaving hundreds of injured people unable to return to their work, and destroying many workplaces, depriving many of their only source of income.
Income sources are destroyed
Mohammad Saad al-Din, 42, lost his only source of income after the building collapsed on his carpentry workshop in the city of Salqin, north of Idlib, causing great financial losses.
"I put everything I had in this workshop, and now I have lost everything," Saad al-Din told Enab Baladi, referring to his inability to secure an alternative workplace to compensate for his loss.
Saad al-Din relied on the workshop to support his family of five, and by losing it, he lost his only source of income.
The same suffering is experienced by Qutaiba Zaabout, 45, after he lost his shop and home in Jindires and was forced to flee to shelters in Idlib.
Zaabout is unable to secure his family's basic needs and find a job opportunity that would provide him with a source of income that would help him bear the cost of living, he told Enab Baladi.
Huge losses
Hudhaifa Alloush, MA in Economics and a resident of Idlib told Enab Baladi that the earthquake resulted in large direct economic losses, not only related to infrastructure and house demolitions.
The cessation of work for hundreds of people and the closure of workshops that are absent at the present time constituted another disaster that will have a great long-term impact on the northern region.
Alloush believes that the biggest problem left by the earthquake is the exacerbation of the unemployment crisis, as a large number of people suffered limb amputation or physical damage that would not allow them to carry out their previous jobs, in addition to the destruction of many workplaces.
This coincides with the return of more than 50,000 people from Turkey to northern Syria after losing their homes and jobs in Turkey, Alloush said.
"Many of the returnees relied on their work in southern Turkey to support their families residing in the north, which means an increase in unemployment and poverty rates in the region," he added.
There are no accurate statistics on the cases of permanent disability that resulted from the earthquake, while specialists and doctors highlighted, in a previous interview with Enab Baladi, the existence of many injuries that resulted in permanent disability.
There are also no accurate statistics on the number of workplaces destroyed by the earthquake, as the organizations' statistics are currently limited to the number of destroyed buildings, which amounted to about 550 completely destroyed buildings and more than 1,570 partially damaged buildings.
Government promises
The public relations official in the Syria Salvation Government (SSG), Jamal al-Shahoud, told Enab Baladi that after the devastating earthquake that resulted in damage to the labor force, the government will work to find job opportunities for them in its institutions at a planned and legal rate according to the applicable workers' law.
He added that the Salvation Government is a "revolutionary government" that gives priority to "sons of the revolution" and also gives priority to the injured who were hurt during the years of the revolution.
Since its formation, the Salvation Government has worked to accommodate special cases that have physical disabilities resulting from battles or systematic bombing by the Syrian regime, according to al-Shahoud.
if you think the article contain wrong information or you have additional details Send Correction