Hate speech and incitement hike against relief and rescue workers, words turn bullets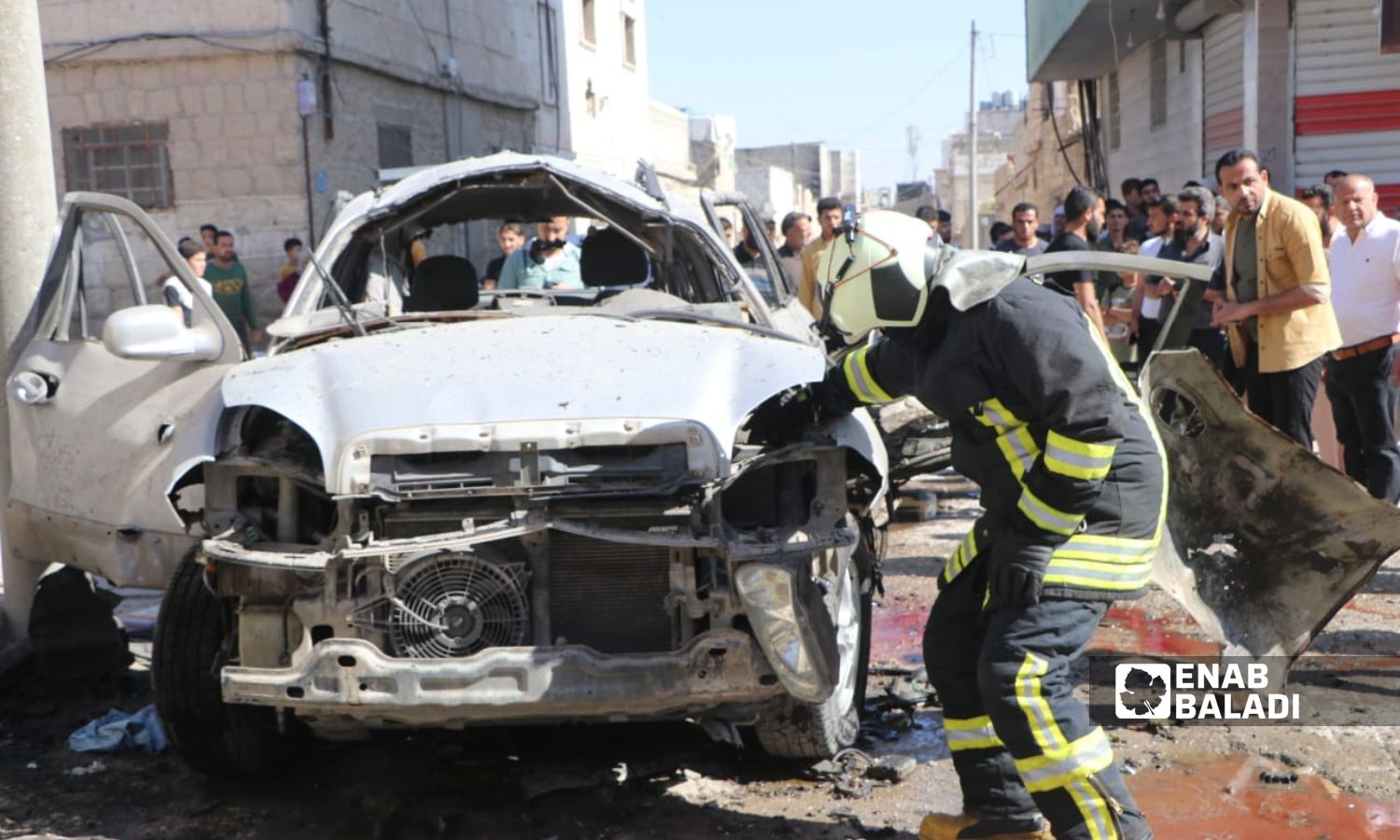 Enab Baladi – Lujain Mourad
"We have come to fear living our normal lives." With these words, the Director of Operations of the Molham Volunteering Team, Mohammed al-Sheikh, summed up the state of fear imposed by hate messages and the constant incitement on social media against the team and other organizations operating in Syria.
Given the great need for continuity of the work of civil society organizations that have been active since the first years of the conflict, hundreds of Syrians who have dedicated their time and lives to be helpful to others are under constant attack, sometimes limited to words published on Telegram channels and social media. It is terrifying, however, that this incitement caused, albeit indirectly, the killing of one of those organizations' employees.
During the past days, the director of the office of the Humanitarian Relief Association (IYD), working in northern Syria, Amer al-Fin (45), who is also known as Abu Obeida al-Homsi, was targeted by unidentified persons placing an explosive device in his car, killing him last June.
Killer words
Abu Obeida al-Homsi was not the first to be targeted. Many civil society workers were subjects of murder attempts, including the director of the Molham Volunteering Team's office in al-Bab, Mohammad Abu al-Fotouh, who was targeted with an explosive device placed under his car that injured a civilian who was on the scene.
Civil Defense offices were also under repeated attacks, some of which resulted in the death of many volunteers.
This coincides with hate campaigns and treason accusations that have turned joining forces with civil society organizations into charges of theft, hypocrisy, or, in certain cases, "disbelief" (Kufr).
The Director of Operations of the Molham Volunteering Team, Mohammed al-Sheikh, attributed the attempted killings of the team's personnel to hate speech against them.
Speaking to Enab Baladi at the team's office in Istanbul, al-Sheikh explicated that many of those who carry weapons in those areas do not have sufficient awareness to use them properly.
"We are often accused of disbelief (Kufr), making it an opportunity for "terrorist" cells in the region or for some extremists to target the team's personnel under the pretext of defending religion, al-Sheikh added.
For his part, one of the Civil Defense volunteers, Ismail al-Abdallah, said that the Civil Defense was one of the first organizations to be exposed to smear campaigns and treason accusations.
Al-Abdallah added that the Civil Defense had lost elite volunteers in two tragic incidents in the countryside of Aleppo and Idlib as a result of two attacks by unknown persons against the organization's offices in those two areas.
One major targeting against the Civil Defense was the storming of the team's office in Sarmin in the northern countryside of Idlib on 12 August 2017, which killed seven volunteers.
The founder and head of the Syrian Network for Human Rights, Fadel Abdul Ghany, told Enab Baladi that many people can believe the rhetoric against certain organizations despite the absence of evidence, pointing out that the ongoing attack on organizations and their workers is real evidence that hundreds of people are drawn to hate speech.
These campaigns can tarnish the reputation of the organization's personnel. It can also develop in some cases to end the lives of people who have been serving Syrians for years.
What is the objective?
There are widespread and frequent smear campaigns, most of which are carried out by unidentified individuals and groups with no clear objectives.
"If you wish to build the tallest building, you have two options, either you demolish the buildings surrounding it, or to really build the tallest building," said Mohammed al-Sheikh, Director of Operations of the Molham Volunteering Team, to illustrate the personal goals behind those campaigns.
Al-Sheikh noted that some campaigns have a "religious" character, with some taking advantage of the presence of female volunteers in the team to discredit it.
Many in "liberated" areas consider the work of volunteers outside Syria to be a "luxury" because of their long years of deprivation, while the category of donors is not affected by those campaigns, al-Sheikh indicated.
He also explained that most Syrians in countries of asylum were aware of the fact that what workers in organizations go through outside of their work was not a "luxury."
The Civil Defense volunteer Ismail al-Abdallah also considered that those campaigns were aimed primarily at distorting the organization's work.
"
Fear haunts us
"
Hundreds of volunteers and workers in organizations inside and outside Syria spend their days in constant fear of being the next target with a word tarnishing their efforts or a bullet ending their lives.
"Fear accompanies us in our lives." In those words, al-Sheikh described the impact of the ongoing attacks against the team on his personal life and the lives of his colleagues and associates working within the team or in other organizations.
"I became afraid to live my normal life, as we are constantly being watched," he continued, noting that the presence of team members at a restaurant had become a crime.
These campaigns turned into concerns that prevented al-Sheikh and many of his colleagues from leading their lives normally and restricted their social media activity for fear that it would turn into a pretext for a new attack.
For his part, al-Abdallah stressed that the impact of these campaigns is "catastrophic" for all workers of the organization, explaining that many volunteers had a constant feeling that their families could be targeted.
He added that the intrusions into the Civil Defense offices had had an utterly negative impact on humanitarian workers and that many had lost a sense of safety in both the work and the living environment.
In turn, the head of the Syrian Network for Human Rights, Fadel Abdul Ghany, considered that criticism without standards adversely affects both parties, humanitarian organizations, and the Syrian street, which needs the presence of such organizations as the service carrier of the street in light of state absence.
The kind of criticism that could evolve to leave an indelible impact could lead organizations to refrain from acting and serving the Syrian street, leaving many inefficient people with an opportunity to fill the void left by the organizations, he stressed.
Limited-impact solutions
Despite years of spreading anti-organizations speech, there do not seem to be solutions that address smear campaigns and their consequences. Workers in organizations resort to temporary, limited-impact solutions to protect themselves and their colleagues.
The Molham Volunteering Team warns volunteers inside Syria against riding their cars without making sure that there are no explosive devices underneath.
It also recommends that volunteers not wear anything that shows their affiliation with the team after work hours. Moreover, there are recommendations for people outside Syria not to announce that they are joining the team via their social media accounts in case they are unwilling to bear the expected attack on them, said the Director of Operations of the Molham Volunteering Team, Mohammed al-Sheikh.
Most organizations also set up surveillance systems in their offices to ensure the safety of volunteers.
Head of the Free Syrian Lawyers Association, Counsel Ghazwan Koronfol, explained to Enab Baladi that Turkish law holds people or institutions accountable for harming NGOs or their employees and challenging workers' financial integrity without evidence.
Koronfol asserted that those affected by such abuses could resort to the judiciary to hold accountable those who make and spread such accusations.
if you think the article contain wrong information or you have additional details Send Correction