Women in Idlib have no right to refuse childbearing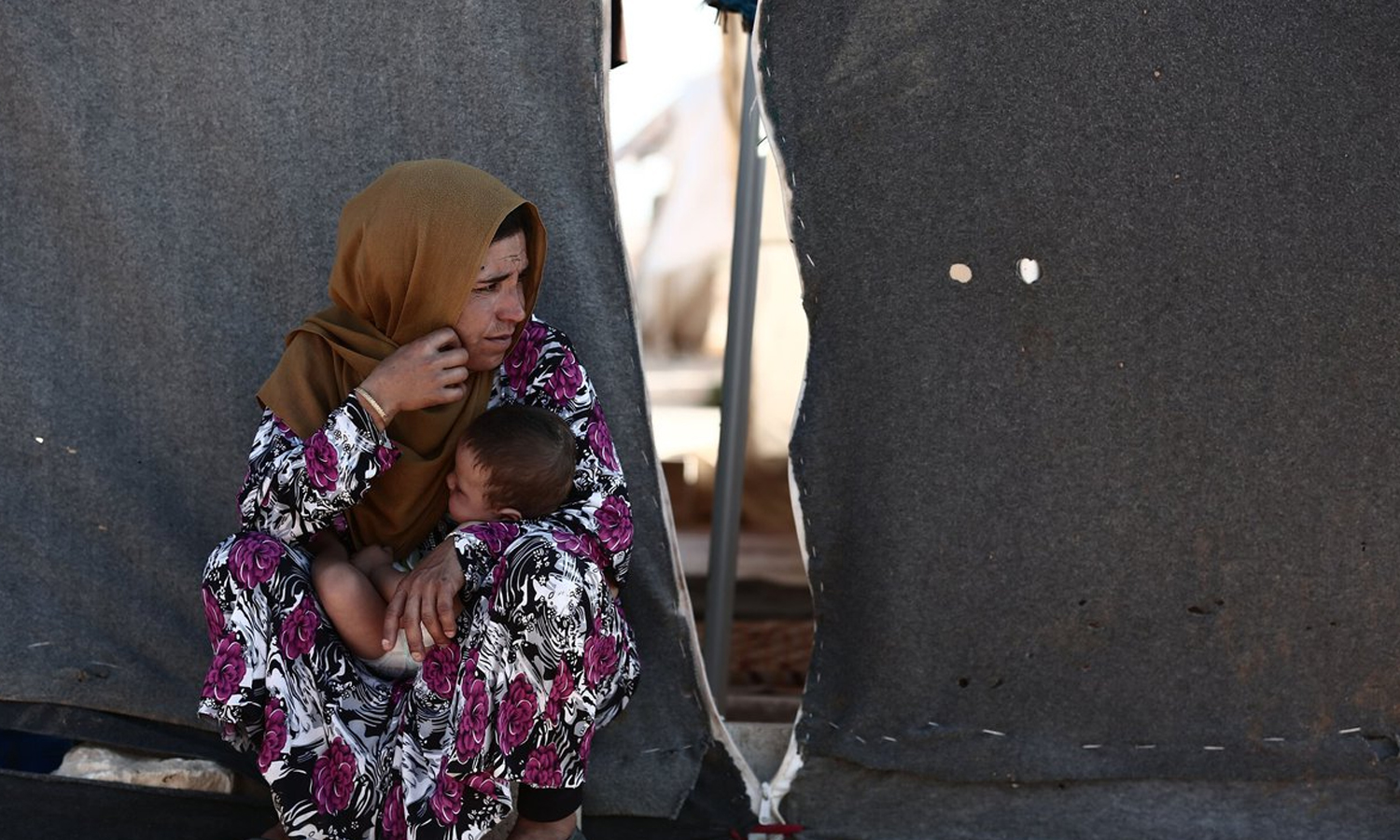 Enab Baladi – Lujain Mourad
"Refusal is a right that I do not have, but I do not want to become pregnant," the words of Nuha, 27, summarize the reality she suffers from, along with many women in Idlib.
Many women in the areas under the control of the Syrian Salvation Government (SSG) lose their right to decide whether to have children, refuse children, or decide on birth control between religious authority and customs and traditions.
On the other hand, men consider the decision to have children linked to their authority over women and their position in the family, according to what some women told Enab Baladi.
Enab Baladi sheds light with women, clerics, legal experts, and specialists on whether refusing pregnancy is a woman's legal and legitimate right, the effects of depriving her of this right, and whether a man has the right to decide on his own in this regard using his power derived from customs and traditions.
"No one prevents God's grace"
"Who dares prevent God's blessing?" is a phrase used against women when they refuse to have children, and decide to use contraceptives, says Nuha. Enab Baladi refrained from mentioning her full name for social reasons.
Nuha, a mother of two children, who lives with her family inside a dilapidated tent, appreciates this blessing, but she considers linking the choice of refusing to have children with religion as an exploitation of the sensitivity of this aspect, especially with the presence of an authority that returns all its laws to Shariah.
Nuha complained that she was deprived of the right to choose whether to have children or not, considering that such a decision is supposed to be shared by both spouses.
This position is not limited to men. Samira al-Awad, 33, opposes women's use of contraceptives, as it is "forbidden by Shariah," she told Enab Baladi.
"Children are a blessing from God, and at a time when women refuse this blessing, others cry for it," she adds.
In light of the influence of inherited customs on the region, the de-facto authorities represented by the Salvation Government and Hayat Tahrir al-Sham (HTS) reinforce the societal attitude towards the option of not having children, as these authorities are described as adopting a "radical" approach, by enacting laws and restrictions in the name of Islamic law or Shariah.
Some parties, and many women, believe that religion becomes an excuse to deprive women of their right to make decisions.
Social researcher Eva Atfa told Enab Baladi that the "strictness" of the ruling authority in terms of "legitimacy" has negatively affected the reality of women, especially in terms of reproductive health.
She explained that preventing the use of reproductive safety methods because they contravene "Islamic teachings," in their view, constitutes real harm to women's health, noting that the issue is no longer related to customs and traditions only but has become linked to the orders of the authority in the region.
For his part, Cleric Mustafa al-Hamodh denied, in an interview with Enab Baladi, the existence of any evidence prohibiting the use of contraceptives, pointing out that the decision should be shared between the spouses.
Al-Hamodh added that a woman's decision-making alone without the husband's consent is considered a violation of Shariah.
"No concerns over livelihood"
The choice of childbearing for the women Enab Baladi spoke to is an "unfairness" to the child in light of the harsh living conditions in the region and the difficulties the families face, even in securing their next meal.
"When children come, you will be blessed with them" is another expression that stands in the way of women who refuse to become pregnant in an attempt to refute the justification of their desire not to have children for economic reasons, Nuha said.
Despite her refusal to have children inside a "tent," and at a time when she and her husband were unable to provide adequate food for her and her son, Nuha was forced to submit to her husband's desire after he threatened to marry another woman if she continued to refuse.
Contraceptives are available free of charge in health centers in Idlib and its countryside and are distributed by many family planning and antenatal care teams in organizations inside the camps, according to information obtained by Enab Baladi.
Sheikh al-Hamodh said that refusing to have children for economic reasons is not permissible according to Shariah, citing God's saying, "We provide for them and for you."
Al-Hamodh explained, "livelihood is secured by God Almighty, and whoever violates that has despaired of God's mercy."
Victims of abuse
Preventing women from deciding whether or not to have children is a violation of their rights in accordance with the Convention on the Elimination of All Forms of Discrimination against Women agreed upon since 1979 by the United Nations General Assembly.
"A woman has the right to decide the reproductive period between one child and the next and to have access to all the means that allow this, in addition to obtaining sufficient awareness regarding this matter," as stipulated in Article 16 of the Convention.
Social researcher Eva Atfa confirms that reproductive and sexual health are among the rights associated with human rights, and they are among the legitimate rights, stressing the need for women to have access to all materials related to reproductive health without the presence of an economic or societal problem, and without addressing state decisions that prevent this.
Any violation of this right is considered a violation of human rights, Atfa adds.
Among the most prominent violations against women in this field are the poor quality of services provided and violations related to obtaining permission from a third party, according to the researcher.
Atfa recommended active civil society organizations in the region to focus on reproductive health and birth control, in addition to planning ahead for the decision to have children, especially in light of harsh economic conditions.
Family planning in Syrian law
There is nothing in Syrian law that prevents family planning, especially for childbearing and the use of contraceptives, according to lawyer Tariq Haj Bakri.
The Aleppo-based lawyer told Enab Baladi that a man has no legal right to force his wife to become pregnant if she does not want it, and he can file a divorce case or divorce her directly.
Childbearing is considered an agreement between the husband and wife, and when one of them objects to the other's decision, the option of divorce remains the legal option in this case, according to Haj Bakri.
He denied the right of a man to deprive a woman of her rights after a divorce because of her refusal to have children, explaining that when filing a divorce suit, the decision is left to arbitrators from among relatives or the community to determine the percentage of abuse between the two parties to determine the rights of the husband and wife.
Psychological impact
Women in Idlib governorate are exposed to psychological pressures from society and the local governing authorities, who are working hard to silence women's voices, but the harshest blow for women is depriving them of the right to choose or refuse to have children, especially in circumstances that exhaust them psychologically and physically.
The psychologist Fatima al-Sabaih told Enab Baladi that forcing women to become pregnant greatly harms the psychological state of women and can cause many mental illnesses.
Postpartum depression, which is common in the region, is one of the most prominent mental illnesses that women can suffer from, said al-Sabaih.
Postpartum depression affects the woman and the whole family, as it pushes the woman to neglect herself, her fetus, and her entire family, and in some cases, it can lead to suicide, according to the Idlib-based psychologist.
Al-Sabaih added that awareness of this disease, despite its spread, is still very limited, which makes dealing with it difficult.
In late March, the United Nations Population Fund (UNFPA) warned that there are about 257 million women around the world who do not use safe contraceptives, despite their desire to avoid pregnancy.
The fund attributed this to various reasons, most notably the myths and false beliefs in society, and the fear of side effects, in addition to their inability to secure the price of safe contraceptives.
According to statistics in countries where information is available around the world, 57 percent of women are able to make their own decisions about their sexual and reproductive health and rights, while 23 percent of women are unable to say "no to sex."
The authority to decide whether or not to become pregnant should be placed in the hands of women in order to guarantee their rights and raise awareness in the community.
Executive Director of the United Nations Population Fund, Natalia Kanem
if you think the article contain wrong information or you have additional details Send Correction