Divorced women fighting a losing battle in Idlib's courts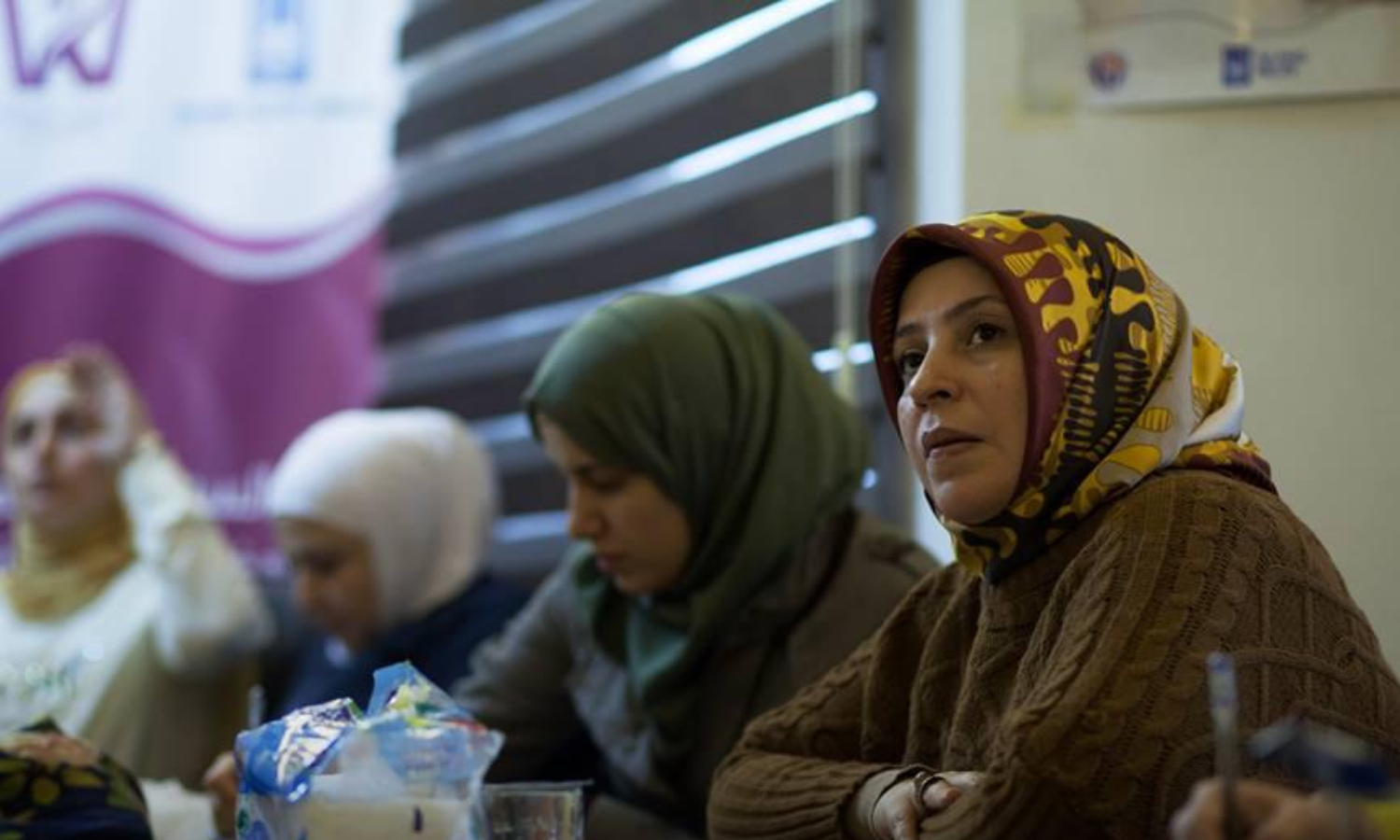 Idlib – Hadia Mansour
After a long search, Zeina al-Hilo (aged 35) was finally able to find a job at a clothing store in Idlib city, which helped her cover her three children's expenses after her divorce from her husband, who refused to provide any child maintenance.
"There is no law to protect divorced women's rights in the city, and I do not trust the courts," al-Hilo told Enab Baladi, convinced that she will receive no financial support from her ex-husband, and that is why she did not resort to court to sue him after their divorce.
Divorced women in Idlib face serious challenges as they are unable to claim their rights from their former husbands, leaving them in difficult situations, having to take care of their children alone in the absence of breadwinners and child maintenance after divorce.
"Several divorced women, whom I know personally, have experienced many difficulties while claiming their rights and did not succeed only after much effort," al-Hilo said.
"The courts' proceedings are slow and divorced women have to bear the hardship of attending court sessions despite the legal system's siding with men, through being considerate to their conditions at the expense of divorced women's rights and urgent needs," she added.
Al-Hilo is paid little money from her work that barely covers hers and her children's living expenses; however, she says this income is "better than nothing or having to wait for others' help, who provide no support in most times given their difficult living conditions amid displacement and the lack of job opportunities that became a common problem in the city of Idlib." 
Pending a court decision
Hala al-Salloum, 28, did not stand idly by or let her ex-husband deny her from her dowry or her seven-month-old baby's maintenance, so she filed a lawsuit against him in Idlib city, about five months ago, and is still waiting for a court decision. 
Al-Salloum complained to Enab Baladi that she and her former husband had been summoned many times by the judge without reaching a mutually acceptable solution. On the contrary, the lawsuit helped increase animosity between herself and her ex-husband and his family, who kept smearing her reputation in public.
Al-Salloum also shared her fears that she might lose the lawsuit to her ex-husband, which would put her in a difficult situation, especially since she is in dire need of money until she can find a job and secure an income.
In Idlib, there is no personal status law to regulate judicial proceedings or provide clear legal references for litigation parties.
Lawsuits in Idlib are usually decided in accordance with the jurisprudence and whims of judges.
Idlib courts favor men over women
Legal adviser Amal al-Khatib, 40, told Enab Baladi that she had seen, through direct observation of numerous divorce cases, the judges' bias to men's side in the courts of the Syrian Salvation Government (SSG) operating in Idlib and its countryside. The courts believe that such bias could help curb divorce cases rates in the region, while ignoring women's suffering and right to put an end to the intransigence, violence, and injustice of their husbands.
According to al-Khatib, women are the only losers in divorce cases in terms of giving up on their rights to dowry and alimony, which they rarely receive. In addition, divorced women end up paying their children's living expenses alone after deciding to keep them under their care, except in rare cases.
Resorting to court, women have to go through fierce legal battles with their ex-partners, who try to gain sole custody over their children and smear their ex-wives' reputations. 
Al-Khatib stressed that both Islamic and Syrian law grants women the right to dowry documented and certified in a marriage contract, as well as the post-divorce waiting period financial support for three months. 
Moreover, a divorced woman with children has a legal and religious right to receive maintenance to cover children's housing, health, education, clothing, and other living costs. 
The Director of the Social Cohesion Division of Bahar Organization, Asma al-Mahmoud, estimated that 18 percent of married women in Idlib are divorced.
Al-Mahmoud called on all divorced women in the region not to give up on their legitimate rights, children, and custodial rights. She also advised them to be strong and defy outdated societal customs, traditions, and the oppressive patriarchal society, which always places blame on divorced women in all cases and under whatever circumstances.
if you think the article contain wrong information or you have additional details Send Correction