Displaced women in Idlib: We cheat life to survive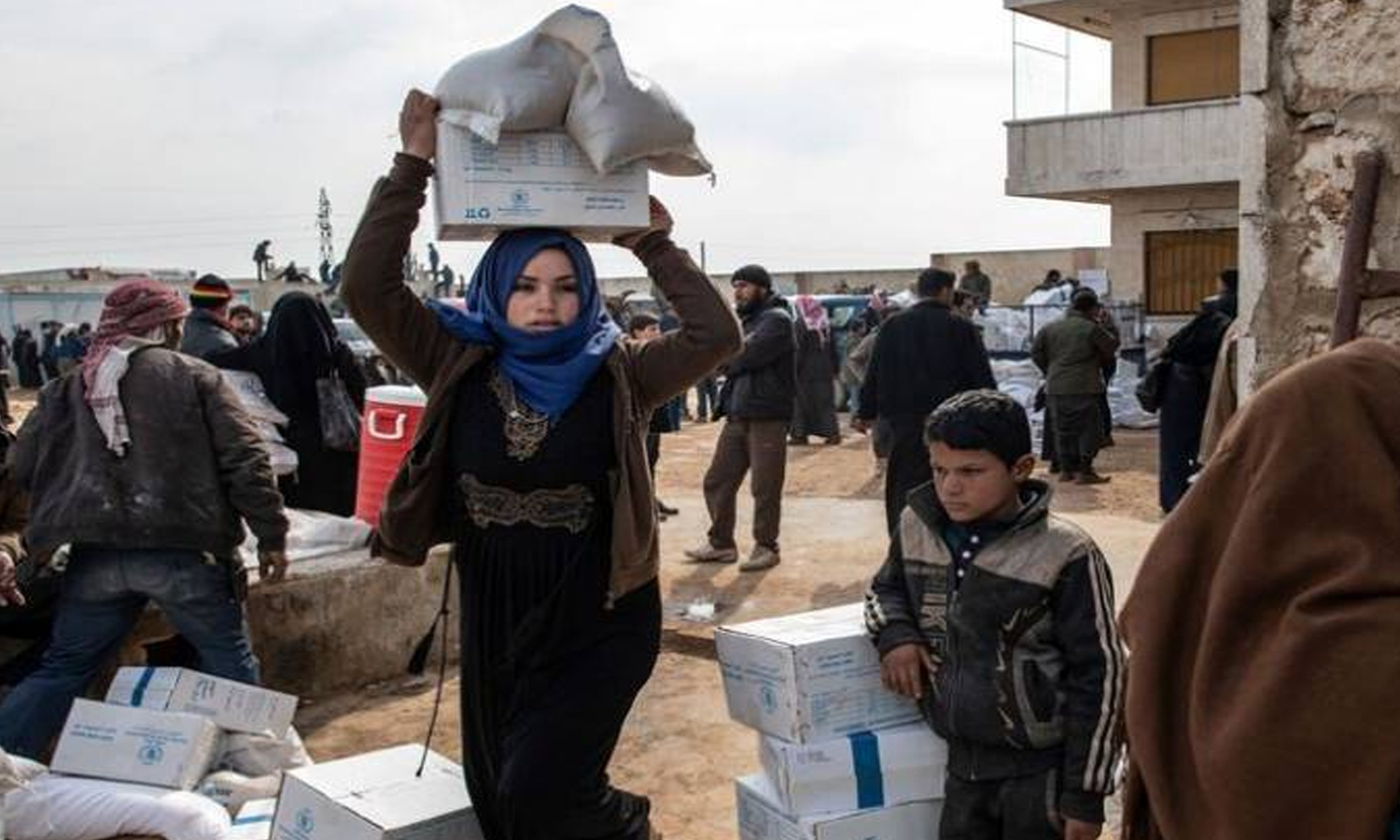 Idlib – Huda al-Kulaib
Halima al-Jamous, 28, can no longer diversify her family's table's contents with various types of Syrian food as she used to before. She has canceled many of these types to limit daily meals, especially lunch, to a simple and specific type after the unprecedented price hike that affected various foods during last April.
Halima told Enab Baladi that "the price hike is unbelievable. One can no longer secure even the most basic necessities of life, and we are overwhelmed. How can we balance poor income with soaring costs?"
Halima lives with her four children and her neurologically ill husband in the border camps of Atma after they were displaced from the southern countryside of Idlib. Her work on agricultural lands no longer provided her with more than the price of bread and some minor needs.
"In the past, we were puzzled with the choice of types of foods to put on our tables, various types of meat-rich and appetizer dishes such as Fattoush, Tabbouleh, Fatteh, and others. Today, what we previously considered to be an appetizer is the main meal on our tables", Halima continued.
Most families in the region rely mainly on lentils, chickpeas, beans, and potatoes as basic meals in light of the soaring prices of meat and vegetables, especially since these items are sometimes obtained by families from relief organizations as free aid.
Prices had recently risen to double what they used to be before last April, which coincided with the advent of Ramadan.
According to what Enab Baladi had monitored, the price per kilogram of tomato was 25 Turkish liras, and the price of one kilogram of potatoes amounted to 8.5 Turkish liras, while one kilogram of eggplants costs 25 Turkish liras.
As for fuel prices, according to the Watad Petroleum company, which monopolizes fuels in Idlib, the price of a liter of gasoline has reached 17 Turkish liras, and the price of a liter of diesel has reached about 14 Turkish liras, while one gas cylinder costs about 183 Turkish liras. Meanwhile, the Turkish lira's exchange rate against the US dollar is 15.4 Turkish liras, according to the Döviz website specializing in exchange rates and foreign currency in Turkey.
Nahida Kanjo cooks on a wood-burning stove in front of her tent a variety of foods that are simple in their ingredients and according to what she owns of basic staples.
From each dish, she distributed to her neighbors, who handed her in return some of what they cooked, which helps to add to her family's table diversified kinds of foods, even if simple. That would bring happiness to the hearts of her four children.
"We are managing life with what is available to us, and if it were not for this, the situation would have been extremely deplorable," said the fifty-something-year-old woman, whose necessities for a full day of cooking cost her about 100 Turkish liras, while a worker's wage in Idlib and northwestern Syria is nothing more than 50 Turkish liras.
Unchecked monopoly
Crazy price hikes have not been the biggest worry for displaced women in Idlib, and in the region at large, but rather the monopoly operations by merchants and the variation in prices and their differences between one store and another within the same region, with a difference that sometimes reaches 15 Turkish liras or more.
This monopolistic situation causes public outrage against de facto authorities who did absolutely nothing to control prices and prevent monopoly and exploitation.
The number of Syrians in need of humanitarian assistance reached about 14 million and 600 people after having reached 13 million and 400,000 in 2021, according to a United Nations report issued on 23 February.
On 12 January, UN Secretary-General Antonio Guterres presented a report confirming that 90 percent of Syrians were below the poverty line, while 60 percent were "food insecure."
if you think the article contain wrong information or you have additional details Send Correction