Idlib: Displaced women move into male-dominated sector of livestock production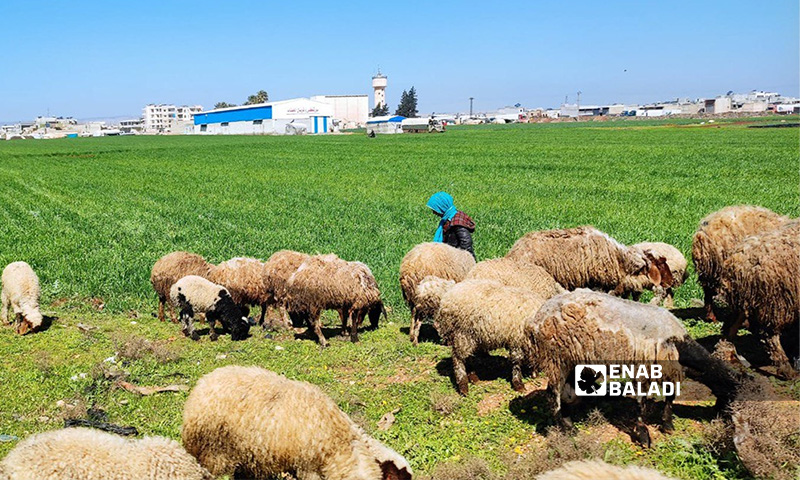 Idlib – Huda al-Kulaib
Every day, at the crack of dawn, Shama al-Raslan, 35, wakes up and gets ready to walk her livestock to the lands and plains neighboring her tent located on the outskirts of Salqin town, northwest of Idlib. She spends hours looking after her herd of sheep before returning to the camp with the rising temperatures at noon.
Al-Raslan told Enab Baladi that "unexpected events" pushed her to practice the sheep-farming profession, which became the only source of livelihood for her and her family following the death of her husband and the displacement from her hometown of al-Khaween in southern Idlib in late 2019. 
The woman added that she searched long for other works but to no avail, which is why she decided to become a sheep herder to face the difficult living conditions of poverty, displacement, and high prices.  
This little project of sheep breeding saved al-Raslan's money from being lost after she invested it in a sustainable way, according to what she told Enab Baladi.
"In order not to spend all the money I had and become remorseful waiting for people's help and sympathy, I hurried to establish this small project that started with a few numbers of sheep to reach larger numbers today," al-Raslan said, explaining how she spent the money her deceased husband left her after fleeing her hometown.
Enab Baladi has observed that sheep husbandry in Idlib stopped being limited to men as displaced women started practicing it for the lack of other jobs. They found in this profession an opportunity to earn money and burn time despite the hardship associated. 
Aruba al-Nuaimi, 30, told Enab Baladi that sheep farming does not only provide her with income but also amusement and quality time.
"Displacement is hard on the soul. We are away from our areas, and we often feel sad and frustrated. Sheep herding removes us, even for some time, from our tragic reality as we spend the day looking after and watching the livestock," al-Nuaimi said.
Al-Nuaimi benefits from sheep farming by selling sheep's products, meat, and wool, which helps her earn sufficient money and some profit, especially during the annual lambing season. The same profit is reused to purchase fodder whose prices rose recently, causing revenues to drop compared to previous years. 
Sheep husbandry involves several difficulties, the most prominent of which are fodder high pricing, scarcity of natural pastures, lack of livestock health care, hardship in traveling, medicines price hikes, and the absence of necessary vaccines, according to al-Nuaimi.
In her talk to Enab Baladi, agricultural engineer Asma al-Bakour encouraged women to establish farming and livestock-raising projects, which would improve their financial conditions, increase the economy's local products, and achieve self-sufficiency for many families.
Al-Bakour pointed out the "need to assist those women by providing free veterinary services to their livestock, in terms of vaccines and treatments, and distributing the necessary vitamins and animal feed supplements."
The agricultural engineer noted with dismay the relevant authorities and humanitarian organizations' lack of interest in the livestock sector in Idlib and its countryside. During the past two years, fodder prices witnessed a considerable increase, as the price rose from 150 to about 440 US dollars per ton, prompting many breeders to quit the profession and threatening the region's livestock market.
For his part, Deputy Minister of Agriculture in the Syrian Interim Government (SIG), Nazih Qaddah, told Enab Baladi that the livestock sector plays an important role in national economies and securing jobs.
Qaddah added that livestock breeding takes up a very important position for a significant segment of the "liberated" Syrian north which is predominantly rural with spacious agricultural areas. Moreover, animal resources ensure food security for a large segment of the population through the provision of milk and meat and help secure other life requirements under a lack of employment opportunities.
In response to a question about challenges facing the livestock sector, Qaddah replied with the reduction of geographical areas fit for sheep herding after the regime's control over large areas that were considered natural pasture areas. 
Qaddah added other challenges such as the drought hitting the region, the high prices of imported fodder and lack of local feed, the price hike and ineffectiveness of veterinary medicines and preventive vaccinations, security instability, and frequent displacement, where adequate shelter is difficult to secure, and the unstable prices of animal products (meat and dairy), affecting their production.
if you think the article contain wrong information or you have additional details Send Correction