Corrupt security patrols control subsidized gasoline distribution in Homs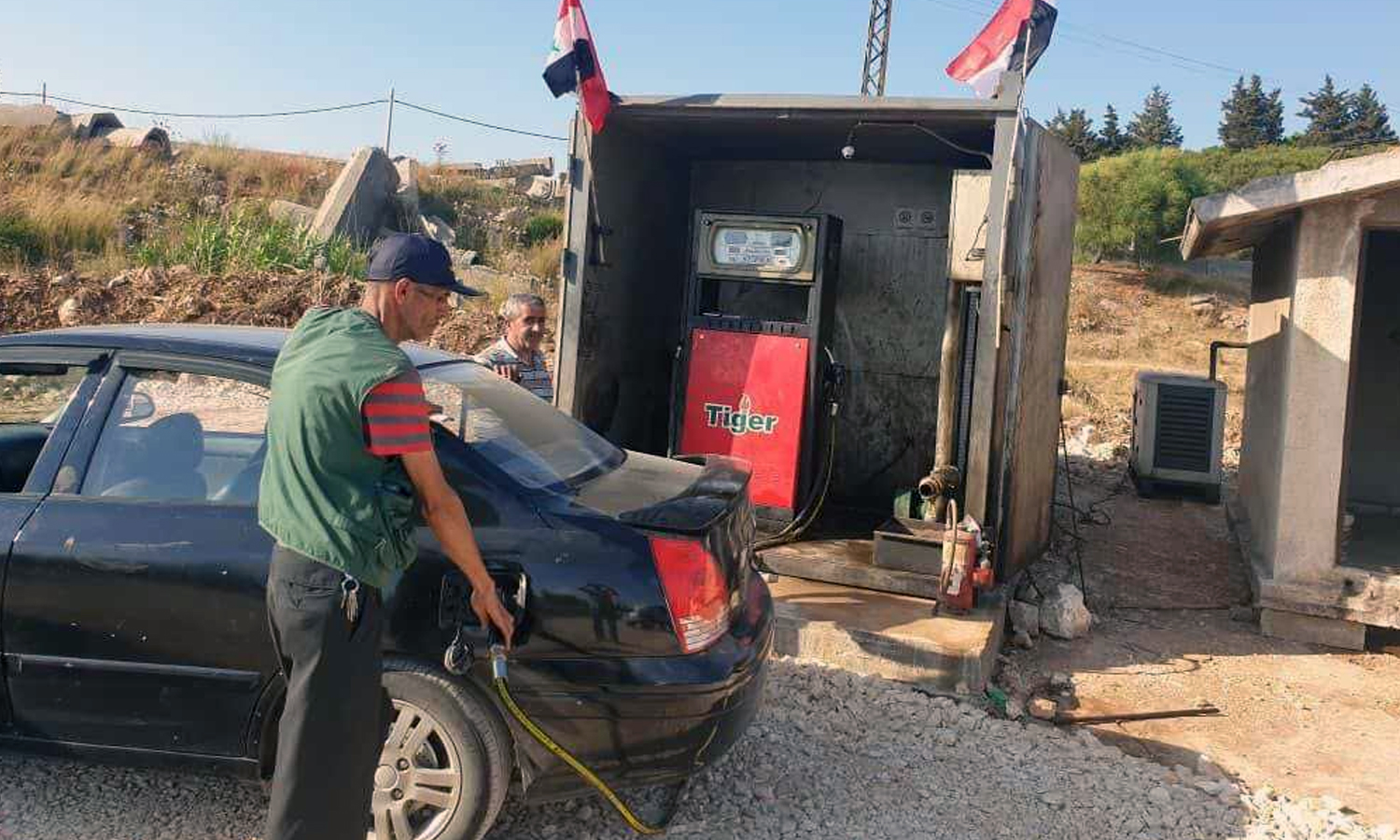 Enab Baladi – Homs
A long queue of cars and motorbikes waits on the Homs-Hama highway for the cost-priced gasoline tanks to arrive at the gas station.
Cars are parked on both sides of the agricultural road parallel to the highway for more than six kilometers. Abu Khaled, 53, is sitting in the trunk of his pickup with a group of car owners, waiting for the gasoline tank to arrive.
"I have been waiting here for three days, as we take turns sleeping in the car, my three children and I, so that we can fill up gasoline for our car that we need in our work on the farm. Without gasoline, we cannot work, and we would lose our source of income. Gasoline costs 7,000 Syrian pounds (about 2 US dollars) in the free market, and we need 3 liters per day", said Abu Khaled.
A military security patrol arrives to open the road to enter the tank, which arrives accompanied by military and civil police patrols to begin unloading its cargo into the station tank.
The gasoline crisis began last March in Syrian regime-controlled areas after the government extended the period for receiving the subsidized gasoline notifications through "smart card" messages from Takamol company from seven to ten days. This made all car owners unable to get more than 50 liters of subsidized gasoline out of the original 200 liters.
This was due to delayed demand for each station of the Syrian Company for the Storage and Distribution of Petroleum Products (SADCOP) for two or three days, which made most car owners want to fill up gasoline at a cost price of 2,500 Syrian pounds after the price per liter on the free market reached 7,000 Syrian pounds.
The exchange rate of the US dollar against the Syrian pound reached 3,905 pounds over the past week, according to the Syrian Pound Today website, which specializes in exchange rates and foreign currencies.
Civil and military police, and intelligence, to control queues
Three patrols escort each tanker to gas stations designated for supplying gasoline at cost; one of them is a military police patrol, the second is a civil police one, while the third is a military security patrol.
Patrol personnel stand at the station's entrances and exits to organize the fuel supply process and to prevent altercations between car and motorbike owners while they are in line, according to what Enab Baladi monitored.
Majed, 34, a resident of the al-Bayada neighborhood in Homs, told Enab Baladi that, although there are three police and security patrols, the problems do not end along the queue, as the people have been waiting for two days. "On certain occasions, the cops are part of the problem instead of being the ones to solve it."
"One time, months ago, I was unable to obtain gasoline allowances because it ran out when I arrived at the petrol station after a three-day wait," said Majed. This prompted him to leave his car at the entrance to the station until the second batch arrived.
Homs governorate did not designate stations for car owners affiliated with the army, security, or allied forces, like in past crises. Rather, it left them to stand at the doors of gas stations with civilians and sent police and security patrols to keep them from causing problems.
Each car is allocated 80 liters of gasoline via the smart card and 20 liters per week at a price of 2,500 pounds per liter. Meanwhile, stations that sell gasoline at cost are severely crowded, as quantities are not linked to the messaging system, as is the case for subsidized gasoline.
Corrupt patrol personnel and station workers
Despite the three patrols' task of controlling the distribution of gasoline, their personnel play a key role in creating chaos by entering cars and motorbikes through stations' back doors in exchange for money.
Ismail, 44, from the city of Talbiseh, told Enab Baladi that "patrol personnel are the ones who create chaos at the station's door by bringing cars and motorbikes into the station through back doors, in return for receiving 3,000 pounds for each bike entry, and 7,000 in exchange for entering one car".
Ismail, whose full name Enab Baladi did not disclose for security reasons, added that many people pay these amounts in return for entering directly to the station and being spared the trouble of waiting in line for days. This provokes chaos and thuggery on occasions among those who have been queuing for three days.
Station owners sell half of the quantity for cars that enter through the back door, and the other half is registered as sold. This reduces the number of cars waiting in line, while many people from rural areas come to gas stations in the city due to the possibility of passing in line in poorly supervised stations.
if you think the article contain wrong information or you have additional details Send Correction