Fuel scarcity compounds transportation crisis in Homs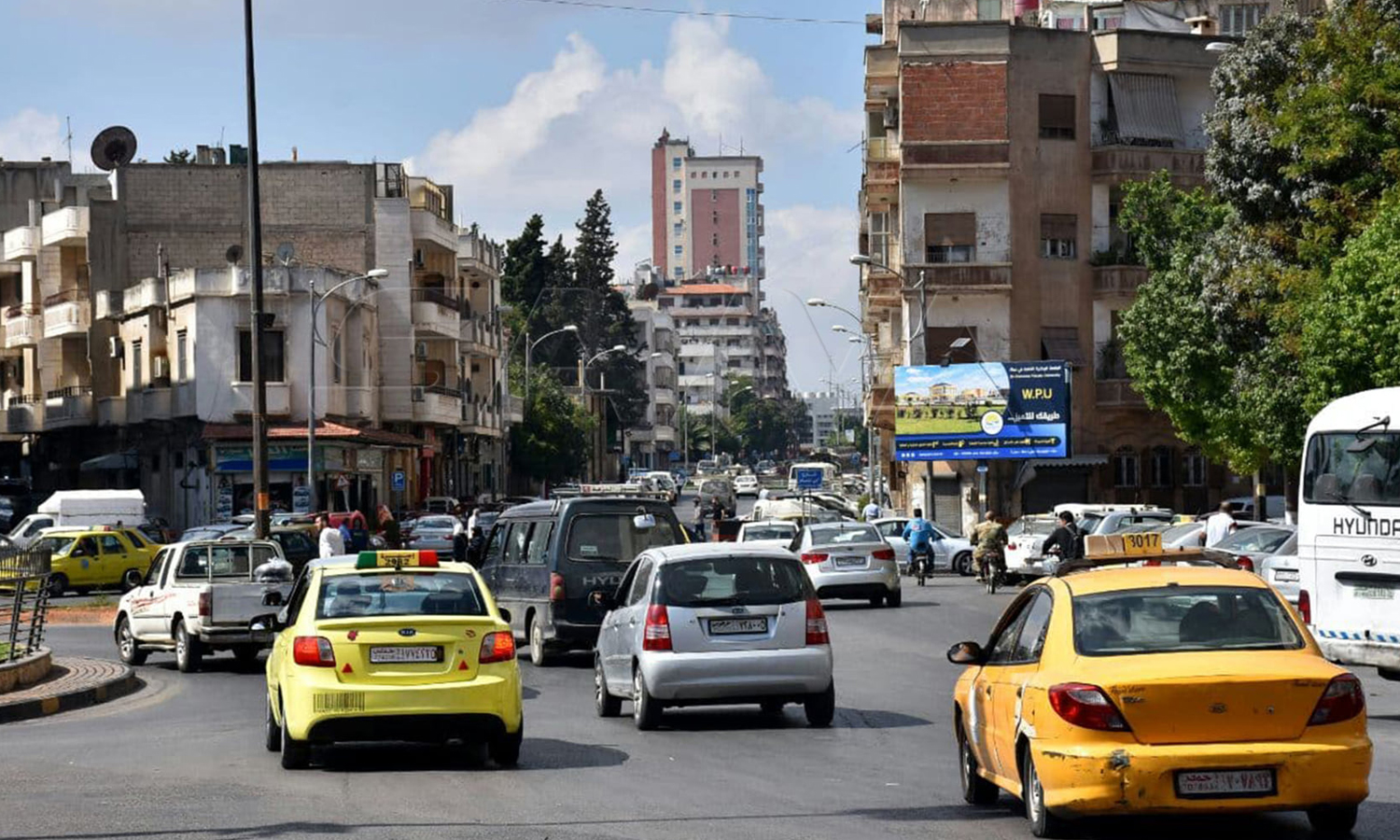 Enab Baladi – Homs
Near the northern garage in the central city of Homs, which closed its doors early, and at the start of the Homs-Hama highway, 200 meters north of the garage, at least 50 people were waiting for a car that would take each of them to their destination.
Mahmoud carries his bag and many papers related to his studies at the Faculty of Architecture. "I finished my practical exam in college at three o'clock. I got to the garage an hour and a half later and found no mini-buses. I have been here for an hour, and I will probably wait for another two hours to get home", he told Enab Baladi.
The governorate of Homs is experiencing a public transportation crisis after fuel stations in garages stopped supplying mini-buses and autobuses operating on rural lines with the diesel needed for their trips.
Fuel markets have seen unprecedented price hikes coinciding since the beginning of June with the harvest season, examinations for preparatory and secondary certificates, and second-semester exams at universities. The price of a liter of diesel on the black market has reached 6,000 SYP, if available at all, while gasoline settled at the price of 7,000 SYP after rounding 8,000.
On 5 April, the Syrian Company for the Storage and Distribution of Petroleum Products (Mahrukat) operating in regime-controlled areas announced an increase in the time limit for receiving cars' gasoline allocations to ten days for private cars instead of seven, six days for public cars instead of four, and ten days for motorcycles, in a single unchanged packing quantity (25 liters).
Although the company's decision does not literally provide for reduced allocations, it does so because allocations should suffice users for a longer period of time than before.
Higher wheat crop transportation fees
Farmers suffer from higher fees for moving the wheat crop monopolized by the General Establishment for Cereal Processing and Trade from farms to grain silos; one shipment now costs 200,000 Syrian pounds after diesel price hikes and shortages.
Abu Mohammed, a 53-year-old farmer from the city of al-Rastan, told Enab Baladi that the prices of wheat transport had risen dramatically since the beginning of the season to date. Initially, transport fees ranged from 120,000 to 150,000 SYP, but now they have risen to 200,000 at a minimum.
Abu Mohammed indicated that diesel prices rose from 4,000 to 6,000 SYP amid difficulties obtaining it during the past few days. That increases both transportation and harvesting fares.
Owners of transportation vehicles find it hard to secure diesel despite its high price after notifications via the "smart card" about diesel allocations to their cars stopped arriving.
Nasr, 45, from the city of Talbiseh and an owner of a transportation vehicle, told Enab Baladi that he did not receive the diesel notification for more than 25 days, forcing him to fill up diesel from the black market.
He added that diesel prices rose in an unprecedented manner due to the large quantities consumed by harvesters and agricultural tractors, while farmers' associations and the General Union of Farmers have stopped supplying them with diesel. This raised the price to 6,000 SYP, thereby increasing transportation fees to 200,000 SYP per shipment.
Fake rise for transportation tariff
On 13 June, the Homs Provincial Council issued a decision to raise the tariff for transportation fees on all internal lines in the governorate from 150 to 200 SYP. The said decision excluded rural transportation lines.
Hisham, 28, an employee from the al-Waer neighborhood, told Enab Baladi that the decision to raise the tariff was a fictitious and an "almost blank" decision. Mini-bus owners and autobus drivers are not used to returning the 50 pounds note to passengers anyway because it is often unavailable and does not have much value in the markets, and passengers basically do not demand it.
As for rural transport lines, no decision was made to raise the tariff while reducing the diesel allocations from 70 to 20 liters per day, which put most of the mini-buses out of service.
Abdullah, the driver of one of the mini-buses on the Homs-al-Houla route, told Enab Baladi that the owners of intra-city transport companies could pressure the governorate into raising the tariff. In rural lines, no one represents mini-bus owners, and suspending work is the only way to put pressure on the provincial council to raise the tariff.
The fuel crisis in regime-controlled areas began last February, coinciding with the start of the Russian invasion of Ukraine, following which citizens' diesel allocations and transportation workers' gasoline and diesel allocations decreased. This prompted fuel prices on the black market to rise to unprecedented levels.
Low quantities of fuels are the main crisis that opens the door to other crises, such as the reduction of power access and a transport crisis, as drivers of transportation vehicles are unable to work without access to their fuel allocations.
Oil arrived, fuels still absent
On 16 June, the Director-General of the Banias Refinery, Mahmoud Qassem, announced that the Syrian regime's government was awaiting a third new crude oil tanker (loaded with about 300,000 barrels of oil) that was supposed to arrive within 48 hours.
The statement came three days after two Iranian tankers carrying oil arrived on Syrian shores.
According to Qassem, the first oil tanker has a capacity of about 250,000 barrels, while the second tanker carries 1.5 million barrels of crude oil on board.
Despite repeated promises by officials since then of breakthroughs in the oil crisis reflected in most other sectors, imports of oil derivatives into the governorates have not improved, nor have residents in regime-held areas noticed any improvement when it comes to gasoline and diesel or lower prices of fuels on the black market, according to what Enab Baladi had monitored.
if you think the article contain wrong information or you have additional details Send Correction