Idlib women: Victims of stray bullets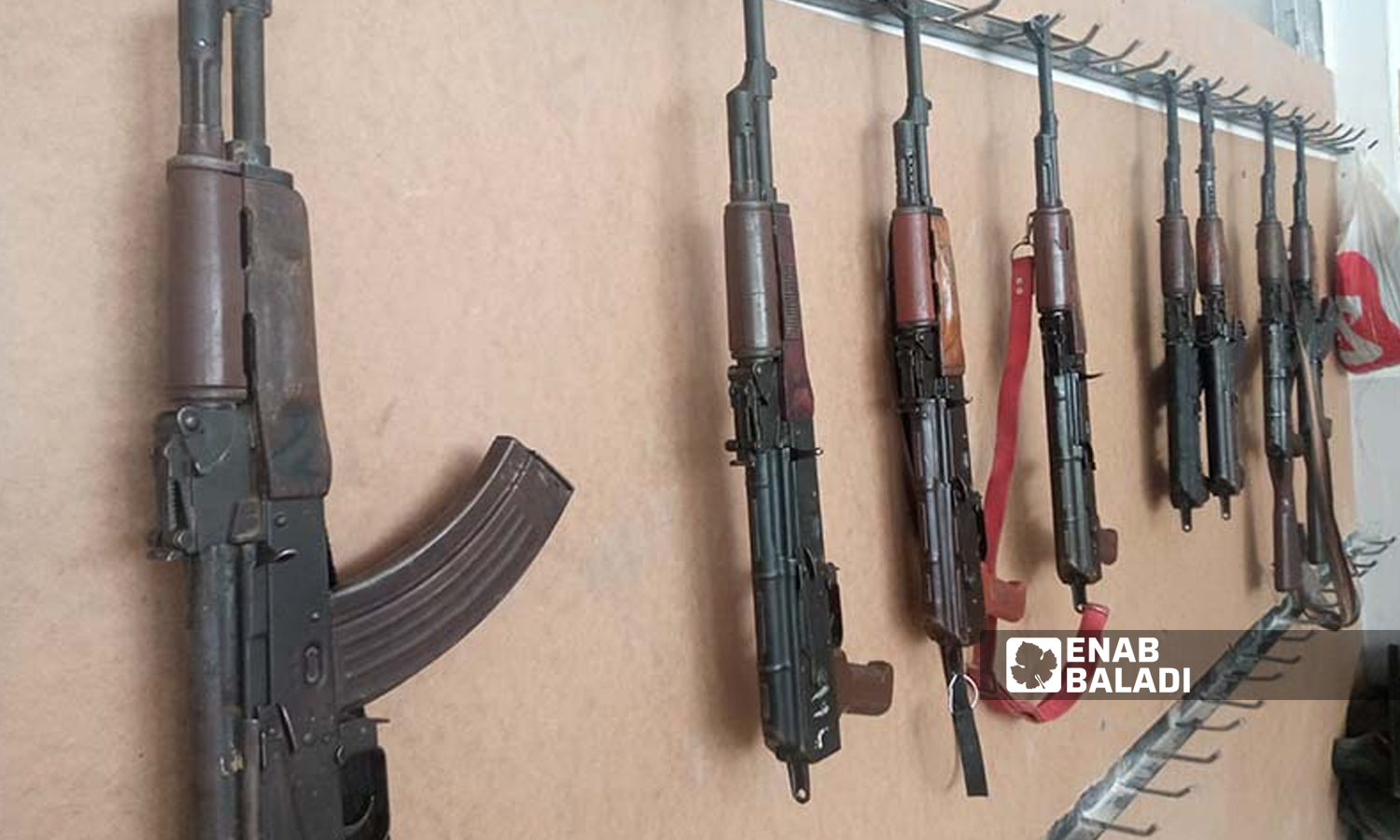 Idlib- Hadia Mansour
A stray bullet hit Jumana al-Hamidou's spine when she was trapped in a quarrel between her brother and another man two years ago in Idlib governorate. Such a chaotic accident has also caused resection of one of the kidneys.
Al-Hamidou, 35, was not the first victim of lawless weapons possession in the last opposition stronghold in northern Syria, and it seems that will not be the last.
Al-Hamidou told Enab Baladi that she was visiting her family when the torment episode began in a clash between her brother and a man. When she went out to see what was going on, she sustained a fatal wound, making her suffer until now.
Al-Hamidou underwent several surgeries to treat her severely damaged spine. "I am in severe pain, and I can no longer bear any weight, even if it is just one kilogram," she said.
The scene of individual weapons scattered in the Idlib region is no longer reprehensible. With long years of war, almost 11, weapons seized a place in most people's homes, and accordingly, numerous tragic accidents occurred.
The situation has also negatively affected the conservative society by increasing the rates of violence, of which Idlib women are among its victims.
Al-Hamidou was not the only victim woman, but the cases are remarkably frequent, as women fall as victims of the spread of weapons in homes and local markets, and even public parks, restaurants, and commercial centers.
Reham Jadoua, 27, lost her five-month-old fetus when she found herself in a gunfight while touring the main market to buy some basic commodities in May 2021.
"I was terrified and frightened when a man pointed his weapon and aimed it at another person and started shooting randomly, which led to several casualties. The panic I felt was accompanied with labor pains. I aborted my fetus, which I had always been waiting for after five years of marriage," Jadoua says in deep pain.
Safaa Rahim, 24, was also hit by a stray bullet from her husband after he quarreled with one of his relatives. The wound led to her having her leg amputated.
"The ungrateful husband was not satisfied with the lifelong disability he caused to his wife, But on top of that, he divorced her and married another woman, without showing the moral responsibility of providing treatment and health care," Safaa's mother said.
The grieving mother added that her daughter's ex-husband destroyed her dreams and ambitions and prevented her from continuing her life normally after causing her disability and leaving her to face her fate alone.
Safaa's family was not able to obtain any compensation for their daughter on the grounds that the husband had no prior intention to harm his wife and that what happened was fate and destiny, according to the judge's verdict.
Women in northwestern Syria are subjected to chronic violence, where many of them are victims of domestic violence, whether by the husband, brother, or father amid the security chaos and the absence of law and weapons possession in light of the prevailing social heritage.
The impact of the spread of weapons was not limited to several injuries and accidents, but murders were committed as a result of family disputes, which resulted in the death of many.
Individual weapons fuel domestic violence
Ola al-Khatib, a social counselor, warned that the phenomenon of the widespread spread of weapons among civilians has become a clear danger to the family and a reason for the increase in violence within it.
In an interview with Enab Baladi, al-Khatib pointed out that the living atmosphere saturated with tension and economic pressures and the low standard of living resulting from the impacts of war, like displacement, living in camps lacking all the basic necessities and shortage in income resources, all contributed to the increase in violence. Women are usually the victims, who turned first and most affected by the proliferation and possession of weapons, she added.
The Women's International League for Peace and Freedom report on light arms shows that having a firearm in the home increases the likelihood of domestic violence becoming a murder fivefold.
The percentage of women who are killed with a small firearm reaches one third, and the widespread use of individual weapons increases and reinforces the forms and manifestations of gender-based violence in a society that places women in the vulnerable position of the weak party in the face of the force of arms in the absence of any form of fair trials and free judiciary.
if you think the article contain wrong information or you have additional details Send Correction