Al-Hasakah: Motorcycles ban deprives residents of cheap transportation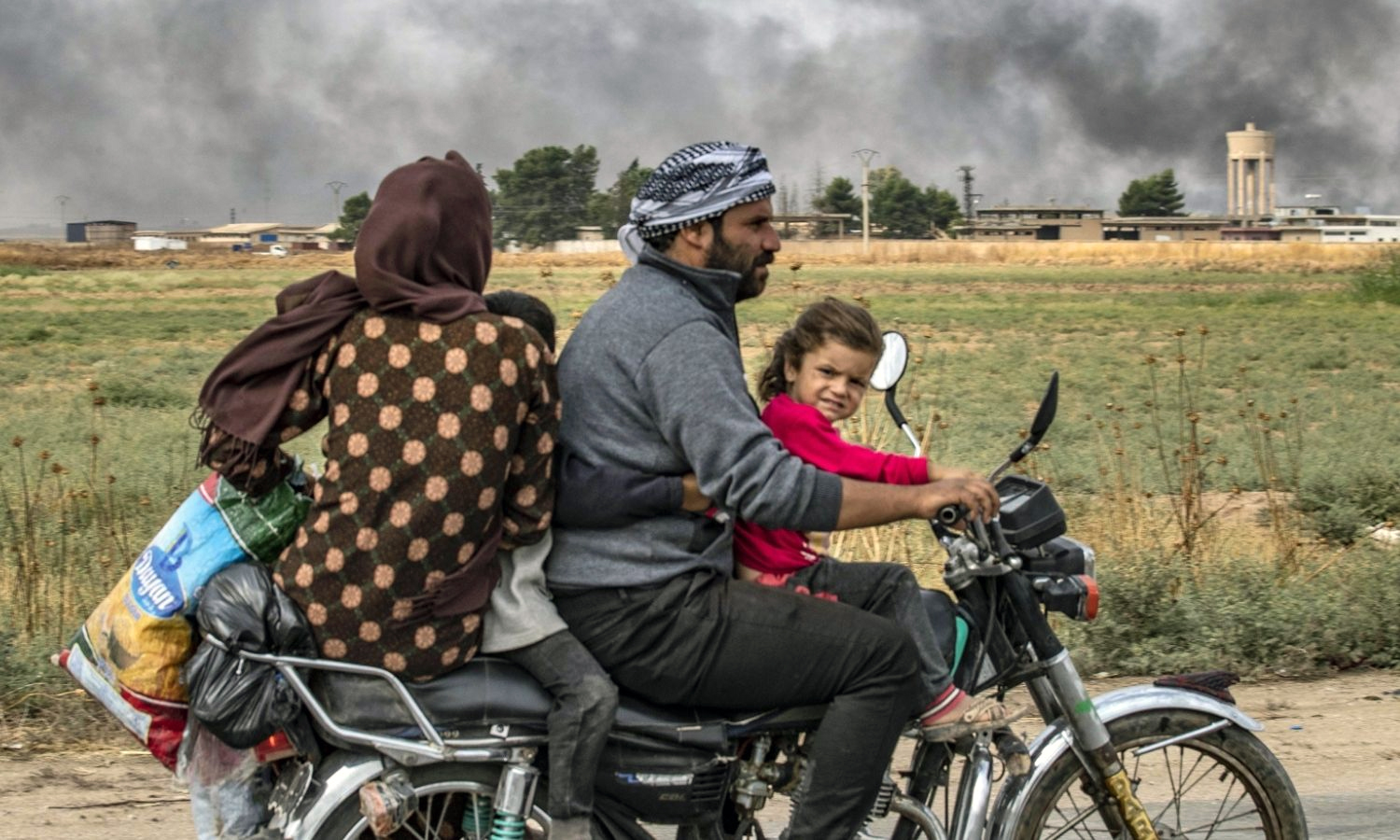 Enab Baladi – al-Hasakah
Even though half of all road deaths in the world are caused by people with the lowest level of protection, especially motorcyclists, as the UN reveals, motorbikes have turned the only source of livelihood for many families in northeastern al-Hasakah governorate who lack all levels of protection.
The majority of families with low income depend on motorcycles as a paid means of transportation to move around in order to secure their needs and carry out their daily transactions.
But all of a sudden, the residents of al-Hasakah were disappointed weeks ago for banning motorcycles from touring inside the city. Such a decision by the Autonomous Administration of North and East Syria (AANES) had been described as unfair and burdening the people who already live under the yoke of economic difficulties and hardships.
Main livelihood source
Saleh al-Abdullah, 40, of al-Nashwa neighborhood, told Enab Baladi that working on a motorcycle is his only source of income to secure the expenses of his three-member family as the difficult economic conditions squeeze all in the northeastern region.
Last February, the Autonomous Administration banned the use of motorcycles as a means of transportation within the city's streets under the pretext of reducing the physical dangers caused by motorcycles in al-Hasakah city.
Since the ban went into effect, al-Abdullah has not been able to provide a single pound for his children. "I hoped the ban would be lifted and I would be able to work again," he told Enab Baladi, adding, "I sold a piece of my house furniture to secure the family's expenses."
The decision was based on security concerns and necessities to complement the precautionary measures of the security forces and maintain stability in all cities of al-Jazirah region in general, and al-Hasakah city in particular, according to a statement by the Internal Body of AANES' Executive Council. 
The ban has threatened hundreds of families with their livelihood.
Saud al-Wadi, 29, one of those affected by the decision, said that he uses working on his motorcycle as a way to help his father secure the family's requirements, relieving him of the heavy burden on his shoulders.
"I used to earn about 8,000 Syrian pounds a day (about 2.2 US dollars). I deliver passengers on my motorbike within the city's different neighborhoods," he said.
Motorcycles, the indispensable
Most of al-Hasakah residents prefer to transfer by motorbike, as the fare is much lower than the private taxis, in addition to the fact that their travel speed exceeds any other means of domestic transportation, such as minibuses and state-owned buses.
Thousands of people who come from the city suburbs and countryside also depend on motorcycles for transportation like university students, visitors to official departments from other cities, and employees of regime government and private agencies.
Abdulmalek al-Hassan, 26, an Agricultural Engineering student from the city of Rmelan, told Enab Baladi that when he goes to college in al-Hasakah, he depends mainly on motorbikes for transportation.
The college, or anywhere in the city, is only 500 Syrian pounds (15 US cents), while taxis ask for 2,500 pounds (70 US cents) as a minimum, and sometimes 3,500 pounds (About 1 US dollar) during the traffic jam.
The university student cannot afford to pay 3,500 SYP per day for a drive from Qamishli city to al-Hasakah, and then to pay the same amount for taxis within the city. For that, motorcycles are an indispensable means for university students, he told Enab Baladi.
Ban affects repair shops, mechanics
The ban's impact casts its burden on other categories like owners of the shops of repair, spare parts, and automobile oils, as well as stores selling new or used motorcycles like in the al-Haddadiya and Hariri markets in the southern countryside of the city.
Adnan al-Ayed, 48, owner of a workshop for the maintenance and repair of motorcycles in the al-Nashwa neighborhood, said his work was good before the ban.
People relied heavily on motorcycles, which caused a large number of breakdowns and created a need for maintenance and repair workshops.
However, with the start of the ban, the number of customers decreased dramatically, "Now, two and three days pass without anyone coming to us to fix his motorbike," he told Enab Baladi.
In addition to the income that the maintenance workshops guarantee, hundreds of daily workers who depend on what they earn from the wage have been affected.
According to what Enab Baladi has monitored, the daily pay is between 6,000 and 8,000 Syrian pounds (Between 2 and 3 US dollars).
if you think the article contain wrong information or you have additional details Send Correction