Hell survivors talk about post-detention disappointment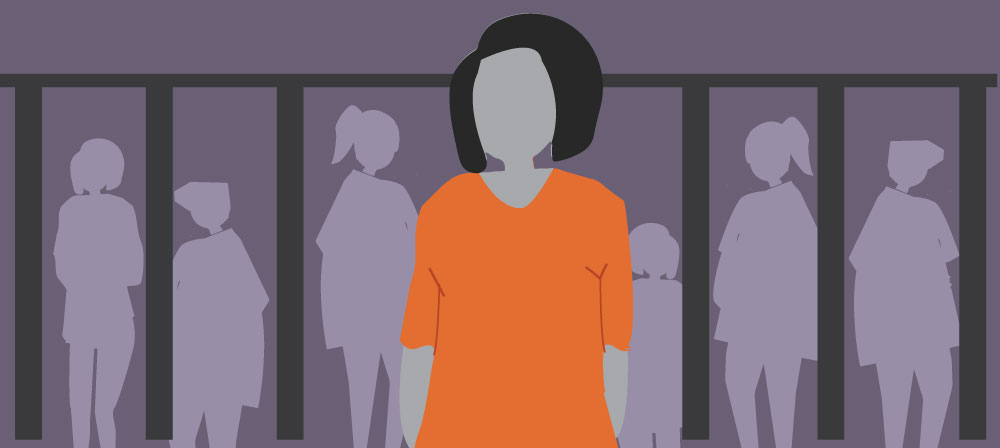 Enab Baladi – Lujain Mourad
"Did I really survive? This question haunted me in the early months after my release from detention. Without waiting for life's response, I found myself fighting a new war on my own to protect myself and my children in the absence of support from relevant organizations." The 45-year-old Salma says.
Post-detainment, a semi-deterministic conflict between matching the life requirements to avoid the time and spatial gap created by years of absence, and the effects of detention that make survivors' biggest dream of having a hand to help them take their first steps and to avoid them feeling abandoned.
Many human rights organizations have documented the stories of thousands of survivors from the Syrian regime's detention centers during the long years of the Syrian conflict, but despite the organizations have a background on the tragedies of detainees, which Amnesty International described in its report, "It Breaks The Human," many survivors lived in a state of abandonment and disappointment in light of the lack of psychological, health, and even material support, compared to their great need.
Abandonment and poor appreciation of tragedy
Syrian former detainees have recounted to Enab Baladi the details of the abyss they experienced between attempts to believe the reality of survival and the conditions that forced them to continue their lives on their own, without having the opportunity to recover due to the organizations and society's poor appreciation of the impact of the arrest on them.
The critical condition of female and male survivors of detention centers requires, at a minimum, appreciation by society and the organizations that deal with similar cases, said Diab Sariya, co-founder and coordinator of the Association of Detainees and the Missing in Sednaya Prison (ADMSP).
"This tragedy deserves to be appreciated and respected," Sariya added, stressing that assistance to the survivors begins with understanding the scale of their tragedy and that all services provided to them must be by people who are aware of the trauma.
Salma, whom Enab Baladi withheld her real name for security reasons, has passed through successive traumas, starting with the tragedy of arrest and escaping from it, then her separation from her husband and deprivation of her children, and her biggest dream was not to feel alone in the face of all these tragedies.
After she was deprived of her children, Salma escaped to Turkey and tried to communicate with many organizations, but the futile attempts reinforced feelings of betrayal and loneliness inside her and made her feel that no one appreciated her tragedy, she told Enab Baladi.
Mohammed, 31, another former detainee who refused to give his full name for security reasons, said that the survivor's first need is for someone to hold his hand, explaining that getting lost between the prison cellars and reality requires that the survivor have someone helping him to overcome the gap between "death and life" to be able to get rid of it.
Mahmoud al-Hamawi, the Executive Director of the General Union of Detainees, revealed to Enab Baladi that after spending about four years in detention, he experienced a period of loss that made him face a real need to understand his condition in order to be able to overcome it and return to a normal life.
Illusion of survival
Everyone who comes out of the detention centers is called a Survivor to draw attention, after their survival, to those who have not yet survived, even though those who lived the experience still carry in their memory of the tragedy and torment enough to open the door to doubt about the reality of their survival.
In Amnesty International's report on detention centers in Syria, studies and testimonials provided by the detention survivors proved that the detention experience's impact does not end with leaving the prison and extends to changing the entire human life.
Salma, who was imprisoned by the question "did I really survive?" said that getting out of detention does not necessarily mean real survival, which requires many stages, and tremendous support from society and related organizations.
Salma considered that survival remained a lie for an extended period of her life because she did not find what would help her escape from the memories of detention that still chase her.
'The living is more important than the dead,' this phrase that Syrians always repeat, has been transformed by organizations to become 'the dead is more important than the living,' with these words, Mohammed criticized the efforts of civil organizations, mostly wasted for the sake of the dead, while the world disregard the needs of the living who are still stuck in the semi-death experience.
Mohammed made it clear that achieving justice and documenting the stories of victims is important and essential for all Syrians, but it does not give organizations the right to marginalize survivors.
Who is the first prisoner in history? Who invented prison? What was the shape of the first prison? Is there one prisoner in all the world, at all times, in all prisons, who has spent one year or more in prison, and then when he comes out, it is him?
Just Five Minutes…Nine years in the Prisons of Syria
Prioritization
The priorities of detention centers survivors varied, as did the priorities of the organizations concerned with their cases, according to the different circumstances imposed on them by the experience of detention, which prompted many of them to consider the real flaw in the organizations' work lies in the poor arrangement of priorities.
Medical care
Detainees are subjected to various types of physical torture, which leave a trail that accompanies the detainee throughout his life, and places him in great need of receiving medical care, especially female detainees.
Al-Hamawi talked about the medical care he needed after his release from detention, saying, "I suffered an eye injury when the regime's jailers used me as a human shield during the years of my detention, and I lost it completely because I did not receive treatment even after I left the prison."
 "In light of the medical need and the poor health condition of the detainee, psychological support seems worthless," al-Hamawi added.
Ahmed Hamada, another former detainee, said that his health condition was the first obstacle to returning to his normal life and family, but he did not receive treatment due to his poor financial situation and lack of support.
Amnesty International documented the need of all survivors for medical support, as most of them suffered from skin diseases, joint pain, and nerve damage as a result of the various types of torture they were subjected to.
The organization's report also classified patterns of torture into seven main axes, with each type branching out into several secondary methods, making a total of 72 torture methods used by the regime forces against detainees, pointing out that there are other methods that have not been identified and documented.
According to the Amnesty report, torture methods leave adverse effects on the detainees' bodies, which may last for years after their release from the prison, stressing that there is no survivor from the prison who was not subjected to any or all forms of torture.
Psychological support
The impact of detention is not limited to the health condition, but rather this experience affects the psychological state of the detainee, as many human rights reports have documented the Syrian regime's tendency to psychological torture to pressure detainees and detention survivors.
According to psychologist Najlaa Darwish, the experience of detention necessarily requires receiving psychological treatment.
Darwish told Enab Baladi that the method of psychological support varies according to the impact of the arrest experience, as some need psychological counseling or treatment sessions with specialists, while others need medication prescribed by a psychiatrist due to depression or other mental illnesses.
Most former detainees that Enab Baladi spoke to have confirmed that the psychological impact of the arrest experience changed their entire lives, but they did not find anyone to provide them with the required psychological support or treatment until life circumstances forced them to neglect this subject.
In his turn, Sariya, co-founder and coordinator of the ADMSP, said that the association focuses mainly on the psychological support service, stressing that during his work with survivors, he realized the priority of psychological support and the necessity of providing it even before obtaining testimonies.  
Dealing with survivors as people who have lived a harrowing experience and prioritizing their interests over anything else is the duty of all those concerned with the detainees, Sariya added.
"The Syrian regime adopts psychological torture to leave long-term effects on the lives of detainees, as psychological damage may last longer than physical damage, and the disappearance of its effects may be more difficult than those of physical damage."
Financial support
Financial support and the inability to obtain identification papers, especially for asylum seekers, have limited the survivors' ability to access many health, psychological, and scientific services until the impact of detention became dominant on the present and future of survivors.
Salma, who seeks financial support to reunite with her children and secure a decent life for them, says that her biggest concern has become to get enough money to get her children back from Syria.
Coinciding with the loss of hope in obtaining health care and psychological support, Hamada's biggest obsession also became not to starve his children and to find a place to shelter his family. For him, financial needs can obviate all other requirements.
In his turn, al-Hamawi recounts how cash need and inability to obtain identification papers led him to lose his eye, saying, "I was stuck between my need for medical care and my inability to obtain identification papers, and when I submitted a request for assistance from an organization, I was met with neglect."
The coordinator says that obtaining identification papers in Turkey and financial support for survivors in northwestern Syria are among the services provided by the Association of Detainees and the Missing in Sednaya Prison.
According to Amnesty International, the risk of being arrested at checkpoints on their way to treatment centers due to the lack of official residence permits is one of the main reasons that hinder former detainees' access to support organizations and mental health providers.
Documentation and awareness-raising
Many organizations are interested in recording the detainees' memos in Syrian prisons, hoping to present evidence and documents to international courts to hold the perpetrators of violations in Syria accountable.
Some organizations are also working to provide workshops to raise awareness among survivors of their rights, documentation, and accountability mechanisms in pursuit of justice.
The detainees' torture stories were not properly documented by many human rights advocacy groups or organizations as their stories turned into a "commodity" to gain more funds, al-Hamawi claims.
Salma, also, believes that many organizations used her story, and the stories of many former detainees, without providing any support to survivors who have had harsh experiences.
Limited funding and access or misestimation
Although most of the detention survivors Enab Baladi talked with considered the organizations' lack of support as a result of poor judgment or disorganization, the organizations justified their failure by limited funding and access.
Diab Sariya, the co-founder of ADMSP, has criticized many organizations for their poor judgment, most notably The Day After organization, considering that the organizations did not properly utilize the resources in the interest of the survivors.
He explained that documentation and awareness-raising workshops play a major role in seeking justice and holding perpetrators accountable, but the greatest need lies in providing health care and psychological support, refusing to turn survivors into an "information source."
Mutasem al-Syoufi, Executive Director of The Day After (TDA) organization, has refuted the allegations by saying that his organization is a human rights organization, not a relief one, and is concerned with providing human rights training.
The Day After refuses to provide services that are not within its specialization, al-Syoufi stressed, adding that many services, especially psychological support provided to survivors, must be provided by the competent authorities only.
Bassam al-Ahmed, the Director of Syrians for Truth and Justice (STJ), admitted a shortcoming but the bulk of the services provided to survivors require support which is limited, and "the need is greater than the organizations and their capabilities," he added.
The control of various parties over Syria has imposed limited access to most organizations, as most organizations cannot provide their services in regime-controlled areas or those of the Autonomous Administration of North and East Syria (AANES), according to al-Ahmed.
The Shell
The feeling of abandonment forces the detainee to remain in the "shell" of detention for fear of being further harmed or facing disappointment with the work of organizations that many of them consider useless.
"After working with organizations in an effort to help those who lived a similar detention experience, I suffered repeated disappointments due to the uselessness of this work in light of the organizations' poor judgment and lack of order. As a result, I chose isolation and avoided any work or place that would bring me back to the scope of the organizations' work," Salma said.
Journalist and sociology researcher Sultan Jalabi told Enab Baladi that the experience of detention imposed on many detainees a state of despair over the feasibility of any work that serves the Syrian public issue.
A study prepared by Jalabi on the impact of the experience of detention on the role of female and male survivors in Syrian public affairs concluded that the percentage of female and male survivors, who joined the organizations concerned with detainees, did not exceed 24 percent of the total number of people surveyed.
I spent there inside my shell in the desert prison thousands of nights, conjuring up and recalling hundreds of daydreams. I was planning that if I were to get out of this hell, I would live my life long and wide, and I would fulfill all these dreams that I had there.
Now, a year has passed, I have absolutely no desire to do anything. I see that all that surrounds me is only meanness and rudeness, and my second shell, where I now sit, is getting thicker and darker. I have no curiosity to eavesdrop on anyone. I try to close the smallest hole in it, I don't want to look outside, I close its holes to turn my eyes completely inward, at me, at myself, then I start snooping.
The Shell: Memoirs of a Hidden Observer Novel by Mustafa Khalifa
if you think the article contain wrong information or you have additional details Send Correction