Idlib: Forum Dialogues Bring Back to the Table the Cause of Survivors Women Detainees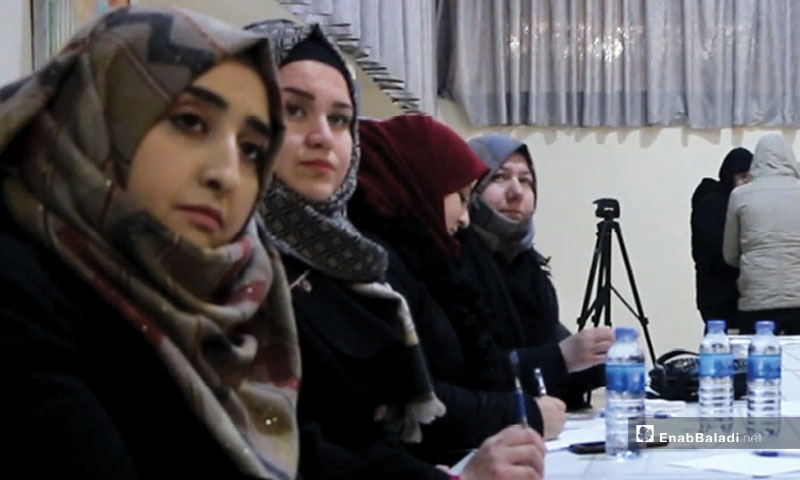 Syrian women activists have undertaken the responsibility of conducting forum dialogues about the suffering of women detainees at the Syrian regime's detention centers, the social challenges facing the survivors and the means to overcome the psychological impact triggered by the arbitrary detention's conditions.
Early this month, the Civil Feminist Network of Ana Hiya/I Am She organized the first forum in the city of Kafr Nabl, rural Idlib, as a reminder of the suffering of the women detainees and forcibly disappeared at the Syrian regime's prisons and bring back the cause to the table of discussion, demanding action on the part of the international community for their sake.
After they are released, survivors are put face to face with several challenges, on top of which is the difficulty of integrating back into society and the stares, reigned by traditions and heritage, according to Zakiya al-Mahmoud, a field coordinator at the Ana Hiya Network.
Zakia told Enab Baladi that the network is preparing for the launch of a series of forums, the aim of which is coming up with recommendations that own the ability at imposing pressure on the concerned entities and the international community as to support the detention women survivors and those who are yet held captive in the Syrian regime's prisons.
Since March 2011, the number of women held at the Syrian regime's prisons is about eight thousand detainees, 43 of whom died under torture, according to statistics published by the Syrian Network for Human Rights in March 2018.
The Syrian Network reported that women detained at the Syrian regime's prisons are subjected to various forms of violent systematic humiliation, insults, beating and torture, since the moment of arrest to that where the detainee reaches the detention center.
Psychological support centers warn against the deep impact, left by the detention's conditions, within the women detainees who survived detention at the Syrian regime's centers.
Ibrahim Quentar, the representative of the Youth Association for Social Development, told Enab Baladi that the forum also discussed types of discrimination and the violence which Syrian women are exposed to.
He added: "The violence against women increased in the Syrian society after the revolution, due to bombardment, displacement, evacuation, losing breadwinners and the arrest of family members."
Quentar believes that such forums might help impose pressure on decision-makers as to restrict violence against women, and "they might be a seed for the treatment of some problems."
On November 25 of every year, the world celebrates the International Day for the Elimination of Violence Against Women, adopted by UN in 1999.
Violence against women is a violation of human rights suffered by 70% of the women around the world, according to UN statists, of which legal and practical discriminations arise.
if you think the article contain wrong information or you have additional details Send Correction