"HTS" brings in new blood to its ranks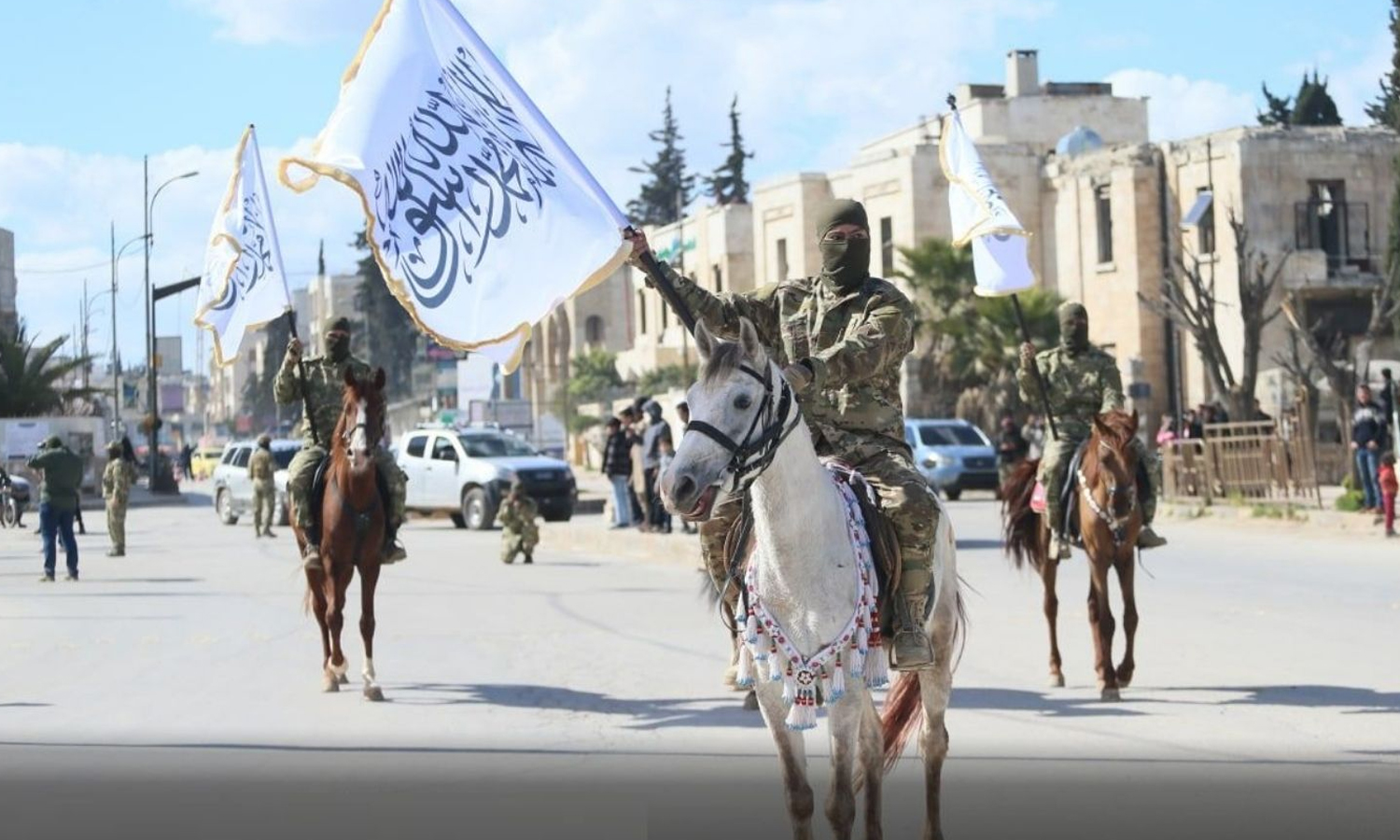 Enab Baladi – Hassan Ibrahim
Hayat Tahrir al-Sham (HTS) is the largest military force controlling Idlib governorate, parts of Aleppo's western countryside and Latakia, and the al-Ghab Plain to the northwest of Hama. 
In a quest to dominate and extend its influence, HTS dismantled other factions and joined new fighters and elements to its ranks after subjecting them to special military and sharia teachings training away from forced conscription.
HTS' recruitment campaigns list admission conditions to raise its fighters' combat capabilities and strengthen its ranks.   
Disbanding and enrollment
HTS managed to establish its military domination after clashing with other factions starting from 2014 following a clash between Hayat Tahrir al-Sham (al-Nusra Front at the time), the Syria Revolutionaries Front, and some factions of the former Free Syrian Army (FSA).
The infighting among armed rebel groups led to resolving several military formations incorporated in the FSA. HTS arrested a large number of these factions' fighters and seized their weapons, while clashes continued until HTS succeeded in extending its influence over the entire region to become the most dominant and powerful military body.
HTS did not only disband opposition factions or incorporate them into its ranks but also initiated military training and recruitment campaigns that enlisted new fighters. 
HTS' military wing and recruitment department increased their enrollment campaigns and military training during December 2021 under various designations and specialties.
The spokesperson of HTS' recruitment department, Anas al-Shami, told Enab Baladi that military training provided to those participating in recruitment campaigns is similar to the comprehensive training of infantry units, including physical fitness exercises, weapons training, and military science training.  
Military courses to level up fighters' capabilities
HTS' military training includes level-up courses and field commanders and special forces development courses.
Al-Shami said that the level-up courses are periodic military courses for fighters who undergo a well-planned training system because fighters must maintain their military capabilities and physical fitness and add some military information to their scientific attainment on an ongoing basis.
The field commanders courses are designed for fighters trained to command battles on the ground. In such courses, combatants receive military information and education on how to direct soldiers and weapons efficiently against the enemy in battlefields, al-Shami added. 
On 18 December 2021, HTS' Military Academy announced the graduation of fighters from the group leader course for combatants of military brigades and published images for dozens of graduates.
All HTS' military courses involve physical exercises to keep fighters in good shape regardless of their military specialties.
As for military tactics exercises, each fighter receives appropriate training in line with his military specialty. 
In May 2020, HTS announced the graduation of the largest batch of its elite Red League Forces and published images showing the presence of military commanders at the graduation ceremony.
The Red League fighters are special forces that conduct quality military operations and engage in battles and break-ins.
Recruitment conditions
The courses launched by HTS are accompanied by several conditions that must be met by the new elements to be accepted.
Al-Shami mentioned that the conditions include physical fitness and the absence of any disability preventing applicants from undergoing military exercises.
Another requirement is for applicants to be between the age of 18 and 35 to be able to carry weapons and conduct training. 
The duration of these courses is defined as follows: 30 days for enrollment courses, in which recruits receive sharia and Islamic jurisprudence education.
Then, a 30-day military course, where recruits receive basic military training and education.
After that, the recruits are distributed among brigades, where they take up military tasks and continue to develop their capabilities depending on the courses available. 
On 7 January, HTS' recruitment department launched a course entitled "Join the Heros" to enlist new elements among its ranks. The course was limited to educated and married men and was divided into two sections, sharia and military training, with 30 days for each section.
The objectives behind HTS' military courses
Al-Shami pointed out that training courses for new recruits are not inconsistent with those conducted by the Syrian Salvation Government (SSG)-affiliated Military Academy, which is responsible for training military commands and operational commanding officers.
On 20 October 2021, the SSG, which runs the administrative and service conditions in HTS-controlled areas, announced the establishment of a military academy to train applicant students and prepare them to become qualified officers to serve in military formations fighting in northern Syria.  
Military analyst Colonel Fayez al-Asmar told Enab Baladi that HTS is like the rest of factions, formations, divisions, and brigades in northern Syria, trying to attract new fighters of all ages and join them in specialist military courses because of the absence of a unified and organized revolutionary military body and the need to strengthen military influence. 
Al-Asmar added that HTS' recruitment and training campaigns enhance its strength and influence, enforce its rule, and are a step forward to gaining international recognition.
According to al-Asmar, HTS conducts these courses to maintain its numerical and qualitative superiority in its areas of control and field influence to face any internal or external challenges that might threaten or affect its existence.
The military analyst additionally added that HTS is working on depicting itself to the international community as the party most capable of mobilizing forces on the ground and running areas under its control in an integrated manner, including the affairs of the displaced. 
HTS wants to present itself as a moderate Islamic group to gain support from locals and recognition from the United States and the rest of the world to be seen as a political organization with no links to extremism and terrorism, al-Asmar said. 
He added that HTS changed its ideology and tried to send messages to Western countries through its leaders that HTS is no enemy to the West and its military actions are limited within Syria to topple the Syrian regime. 
Voluntarily not mandatory
Despite the establishment of the military recruitment department, the opening of recruiting divisions, and the use of military terms, such as military enlistment, HTS' recruitment campaigns are not compulsory.  
In May 2021, HTS announced the establishment of the military recruitment department, which incorporates eight recruiting divisions distributed within its areas of control in large cities and areas, namely Atmeh, Harem, Jisr al-Shoghour, Ariha, the central region, Sarmada, the northern region, and Idlib's city center.
HTS' increased recruitment campaigns have raised locals' concerns about the possibility of forced military service in HTS-held areas.
HTS distributed leaflets in several cities and areas under its control, calling locals to join courses within its armored division, the snipers division, the artillery division, and several other military divisions.
Al-Asmar said that HTS is unlikely to impose mandatory recruitment to join new elements to its ranks, as it relies on elite fighters and regular enlistees, focusing more on fighters' capabilities and desire to serve in its ranks and become one of its members.
Al-Asmar added that HTS is not interested in forced recruitment because it would weaken it or introduce undesirable elements and persons to its ranks.
HTS first emerged in Syria at the end of 2012, under the name of the al-Nusra Front for the People of the Levant. HTS was an affiliate of al-Qaeda and the Islamic State (IS), the most prominent jihadist groups on the world stage, but later HTS announced its independence from all jihadist groups, presenting itself as a local Syrian force.
HTS managed to extend its influence over the northern region after battling the Ahrar al-Sham Movement, the Nour al-Din al-Zenki Movement, and the Sham Falcons during 2017 and 2018.
HTS is designated on the United Nations Security Council (UNSC)'s terrorism lists and is used by Russia as a pretext for offensives and military advancement in northwestern Syria.
if you think the article contain wrong information or you have additional details Send Correction