Zeinab Masri | Hussam al-Mahmoud | Hassan Ibrahim
"There is nothing to do." These were the words of forty-something-year-old Sarah al-Mahmoud to Enab Baladi referring to the recurring flooding problem in displacement camps.
With rainwater dropping over her worn-out belongings, entering the tent from all sides, al-Mahmoud noted that she and her husband cannot change their tent or afford a new roof cover for it. 
"We face harsh conditions every winter without anyone paying attention to our suffering. Our lives in Qah displacement camps have become a living hell, with no heating, proper housing, or services. We are living on the margins of life," al-Mahmoud told Enab Baladi, depicting the displaced people's suffering every winter.  
The displaced living in northwestern Syria face dire conditions, particularly in winter, with low temperatures and muddy grounds amidst the absence of heating equipment and materials and the inability to afford them.
Every year since the beginning of the Syrian revolution in 2011 and the emergence of displacement camps, a new chapter in the endless suffering of the displaced in northwestern Syria is added without effective solutions to end this human tragedy by any of the two de facto governments running the region or by the many relief organizations operating there.
In November 2020, Enab Baladi prepared an in-depth article highlighting critical conditions in displacement camps and discussed the reasons causing this winter ordeal to continue without finding efficient solutions.  
In this lengthy article, Enab Baladi addresses the old-new flooding crisis in northwestern Syria's displacement camps and the tardy responses from relief organizations operating in this region.
The lack of winter support to the displaced in northern Syria
Another camp resident named Sumaya al-Alwani, aged 35, told Enab Baladi that her family could not afford to buy heating materials this year due to their "insane prices."
Since the beginning of this winter, al-Alwani and her children have been collecting sticks, nylon bags, plastic, and worn-out footwear from the outskirts of the Deir Hassan camp to use for heating.  
Al-Alwani said that relief organizations did not provide them with heating materials this year, as in the past years, and that aid supplies no longer cover their basic needs or even a part of them. 
The monthly offered winterization assistance is distributed to areas without others, al-Alwani added.
A shortfall in winter assistance
Ayman al-Khalaf, a resident of Deir Hafer town who was displaced to the camps of Aleppo's eastern countryside, told Enab Baladi that from the beginning of winter until this date, the "competent bodies" gave him eight bags of processed olive pomace for heating, with each bag containing 15 pomace-wood pellets; however, the quantity was insufficient. 
Al-Khalaf and his family of five resorted to using nylon bags, plastic, and cardboard collected from roads as a substitute for heating materials because they had no monthly income to buy coal.
Al-Khalaf said that last year's winter assistance was better than this year, as he received enough quantities of coal and pomace pellets. 
"This winter, the conditions are very bad. We received no support," al-Khalaf added.  
Hassan Abdul Salam, a displaced from the Eastern Ghouta to the camps of Aleppo's eastern countryside, told Enab Baladi that he also received winter assistance only once this year. 
"Soon, we will be burning our clothes and blankets," Abdul Salam said, noting that the absence of heating materials will force the camp inhabitants to burn their clothing to keep their children warm as much as they can.
The father of two, Abdul Salam, said that the lack of fuel or firewood forces him to set the fireplace on fire for only three hours a day (an hour a day and two hours at night) to warm the tent before his children's sleeping time.   
"If I set the traditional fireplace (sobia) on fire, the tent becomes warm, but if I put out the fire for ten minutes, the tent becomes as cold as a refrigerator," Abdul Salam said.
He pointed out that relief organizations operating in the region did not distribute adequate winter assistance this winter season and that the camp residents lack money or financial support to buy fuel or other heating materials. 
Harsh weather conditions threat displaced people's lives
Most Syrian displaced persons living in squatter camps face harsh conditions with no heating materials and worn tents damaged by weather conditions, increasing chances of the old and young to catch a cold or develop respiratory or skin illnesses. 
Moreover, there are genuine concerns about potential death cases among the displaced due to low temperatures, primarily among children, a statement by the Syrian Response Coordination Group (SRCG) read.
The SRCG's statement published on 23 December 2021 called on humanitarian organizations to respond rapidly to secure displaced people's winter needs, particularly heating materials.
The statement highlighted the need to compensate the displaced for the losses caused by heavy rains and expand humanitarian response operations as most displaced persons cannot afford to secure their basic requirements due to soaring prices.  
A report by the United Nations Office for the Coordination of Humanitarian Affairs (OCHA) issued in October 2021 said that 85 percent of tents in northern Syria's displacement camps are older than their expected lifespan and more likely to be damaged, less resistant to weather conditions and prone to leaks.
The report pointed out that without proper camp management systems and sufficient winterization response – preparing shelters and camps to withstand the harsh conditions and keep occupants warm – people in need could resort to harmful coping mechanisms, such as burning unsafe materials for heat, raising the risk of fire outbreaks and toxic fumes. 
The report added that the likelihood of accidental fires is increased by challenges in accessing safe fuels as a result of scarcity and high prices, as well as the general economic deterioration in northwest Syria. 
Providing protection against sub-zero temperatures is a lifesaving activity, especially for children and the elderly. 63 percent of people living in displacement sites lack access to fuel. The price of fuel has increased by 36 percent since the beginning of the year, according to the report.
The OCHA report added that 14 percent of displaced households live in small shelters without space for essential items like cookers and heaters.
With 76 percent of displaced people living in sites with no drainage for stormwater, humanitarian partners have been focusing on flood mitigation and winter preparation activities, the report said.
It also clarified that 594 campsites now have the capacity to repair minor damages in infrastructure and drainage systems. Humanitarian partners have conducted flood mitigation and winter preparation activities in 104 sites.
Care and maintenance activities in displacement sites prevent and mitigate flood risks and keep essential facilities functioning during the winter. They also ensure protection for beneficiaries at risk, according to the report. 
Government efforts are insufficient in the face of displaced persons' suffering
According to the SRCG, over a million Syrian displaced persons live in camps of varying spaces set in lands inappropriate for settlement after the bombing of their houses during the conflict, with at least 1.450 displacement camps established in northwestern Syria. 
Over the years, the camps transformed into small cities of makeshift tents whose occupants faced many challenges in a recurring annual suffering, as their urgent problems were met with emergency solutions touching upon the surface, not the reasons or roots of such problems.  
Efforts to improve living and service conditions in northwestern Syria's camps have fallen short in ending the suffering of the camps' inhabitants, who remain plagued by the lack of services or their poor quality, if available.  
Winter conditions create suffering of a different type to the displaced in northwestern Syria, with them having to worry about keeping a tent shelter above their heads amid extreme weather conditions such as strong winds, heavy rainfalls, low temperatures, frost waves, and snowfall.
These displacement camps spread over large areas outside cities, causing cold air temperatures to feel even colder due to open spaces. 
Muddy roads and puddles are added to the problems facing the displaced in winter. These roads were left unpaved or uncovered with gravel to prevent mud from forming after rainfall, leading to worser conditions and risking personal safety and hygiene in camps.  
On 1 January 2022, the Directorate of Humanitarian Affairs in the Atma area operating under the Syrian Salvation Government (SSG) in Idlib governorate and parts of Aleppo's western countryside oversaw the isolation of tent floors in the al-Muhajireen camp in northern Idlib.
In December 2021, the Directorate supervised the adding of gravel to the roads of the al-Birr, al-Ihsan, and Habit al-Khair camps in northern Idlib. It also replaced 53 old and worn tents with new ones in several camps.  
In November 2021, the SSG announced on its official Facebook account its intention to start a concrete housing units project to shelter the displaced against harsh weather conditions and prevent the formation of floods.
The SSG said that one of these projects would be set near the camps of Killi Mountain. 
The head of the SSG, Ali Kidah, visited the campsites where the project will be implemented in the form of concrete housing units, a mosque, a school, and a medical health center.
According to the SSG, the project is "part of a development policy aimed at improving the livelihoods of the displaced and the inhabitants of all the liberated areas."
On 14 November 2021, Kidah conducted a tour in one of the Mashhad Rouheen camps to inspect premises for the opening of a school and police station in the area that contains many displacement camps.
In December 2021, Syria's northern region experienced extreme weather conditions of heavy rains and strong wind, prompting the SSG's Ministry of Development and Humanitarian Affairs to call for the mobilization of all its workers and the activation of hotspot numbers for emergency situations. 
The poor weather caused tents to be ripped and their inhabitants to become shelterless.
Hisham Derani, the executive director of Violet Organization in northern Syria, told Enab Baladi that Syrian displaced persons continue to suffer every winter because their camps lack the infrastructure necessary before setting up a camp, including adequate land. The displaced have erected tents on agricultural lands, decreasing arable lands areas and risking quagmires formation as such lands have high water absorption capacity.
Derani added, since nearly 1.8 million Syrians live in camps and uninhabitable areas, humanitarian assistance is considered the lifeline to them and the northwestern region. However, the absence of paved roads to campsites impedes the supply of relief assistance to the displaced.
Derani told Enab Baladi in a previous talk that 97 percent of residents in northwestern Syria, both in and outside camps, cannot secure minimum food requirements and that 63 percent have no access to clean water for personal and domestic uses or drinking.
Three organizations, namely the Turkish Humanitarian Relief Foundation (İHH), the Molham Volunteering Team (MVT), and the Charity Cooperation Association, are working on housing projects for the displaced in northwestern Syria.
The "Molham Village" project is one of the most notable projects that began in early 2020. It aims to establish a housing complex to provide adequate shelter for displaced widows, those with war injuries, and families of no breadwinners. The village is planned to house nearly 250 families, according to the MVT.
The Syria-focused, UK-based charity Syria Relief has announced a project with Ataa Humanitarian Relief Association to build a city to accommodate the displaced in northern Syria.
The charity has completed the construction of about 100 houses in the city whose location was not revealed for security reasons. Another 150 houses are scheduled to be ready by next February.
The city will include approximately 1,000 houses for some 6,000 people and a school, hospital, garden, and mosque.
Winter response campaigns: Emergency response of no long-term results for the displaced 
Many volunteering teams and relief organizations operating in northwestern Syria work alongside government authorities in the region to provide services and assistance to displacement camps during winter.
The services provided by such teams and organizations include the provision of food baskets, heating materials, and equipment such as fuel, fireplaces, and tent insulation. Other on-site assistance includes transporting tents, covering campsites with gravel, and opening small roads to drive rainwater away from tents.   
Still, organizations operating in northern Syria face criticism for this year's delayed winter response campaigns, while many of the displaced rely on their relief assistance to cope with winter conditions.
Enab Baladi contacted the Molham Volunteering Team (MVT), the Syria Civil Defence (SCD), and Ataa Humanitarian Relief Association to obtain more details on their winter response campaigns. 
Molham Volunteering Team
The Molham Volunteering Team (MVT) launches its "Give Warmth" winter response campaign in November and December of every year, Faisal al-Aswad, one of MTV's administrative staff members, told Enab Baladi.
Al-Aswad pointed out that the campaign aims to distribute winter and heating materials, including fireplaces, coal, fuel, and other assistance, including blankets, mattresses, tent insulators, and winter clothes.
MVT carried out surveys and assessments months ago to identify targeted camps and their cities and informed local authorities of the camps selected for the delivery of winter assistance.  
Syria Civil Defence
The Director of the Media Office in the Southern Directorate of the Syria Civil Defence, Mohammad Hamada, told Enab Baladi that the team is working to assist civilians and provide services according to the resources available. As for winter, the team works on projects or in squatter camps as necessary.
Hamada explained that assistance provided includes the leveling and paving of foundation ground for stacking gravel, implementing rain drains, and moving camps set up on stormwater runoffs to prevent road blocking or flooding. 
The SCD intervenes in urgent situations and helps civilians drain rainwater from their tents and set earthen berms around tents and camps established on fragile soils or in valleys. The SCD also shelters families whose tents were flooded.     
Hamada stressed that the SCD has limited resources, but the humanitarian need is substantial, with over 400 informal camps drowned in rainwater and more than 1.5 million civilians living in tents and camps, more than one-third of which are makeshift camps.
The majority of these camps do not contain any rainwater drainage equipment or channels and are makeshift tents that fail to protect their inhabitants from high or low temperatures or stormwater, causing tragic conditions every summer and winter. 
Ataa Humanitarian Relief Association
Ataa Humanitarian Relief Association has launched this year's winter campaign under the slogan "the Warmth of Ataa," to cover displaced families' needs for winter requirements in the form of several humanitarian convoys.
Ataa Association's communication officer, Mohammad Karnibo, told Enab Baladi that the campaign would continue throughout winter to provide assistance to displaced persons in northwestern Syria through its offices in the cities and towns of Atma, Sarmada, the countryside of the coastal area, Azaz, al-Bab, Jarablus, Aleppo countryside, and Tal Abyad.
The assistance includes bread, heating fuel, fireplaces, winter requirements such as blankets, mattresses, and tents insulators. 
The Association has launched three humanitarian convoys so far, carrying gifts and donations from various parties outside Syria, according to Karnibo.
The Sufar'a al-Kheer convoy launched in October 2021 distributed assistance to 3,500 persons, donated from the Palestinian town of Arrabat al-Battuf.
The first convoy of "Warmth of Compassionate Hearts" was launched on 3 December 2021 and contained nine trucks loaded with 150 tons of flour, 400 fireplaces, 25 tons of pomace fuel for heating, 1000 blankets, and 1000 tent insulators, provided by cities and towns in Palestinian territories under the supervision of the Merciful Souls Association.
The second convoy of "Warmth of Compassionate Hearts" was launched on 18 December 2021 and contained 150 tons of flour, 250 fireplaces, 190 tons of pomace fuel, 1000 blankets, 250 winter clothing bags, donated from cities and towns in Palestinian territories under the supervision of the Merciful Souls Association.
Emergency response is not the answer 
The Director of the Media Office in the Southern Directorate of the Syria Civil Defence, Mohammad Hamada, said that available resources and campaigns, however beneficial, cannot end the humanitarian crisis in Syria, for they offer emergency and temporary solutions of limited support that help solve part of the crisis but are insufficient.
Emergency campaigns cannot meet the enormous needs of the displaced and fall short in securing their entire needs. 
Humanitarian response campaigns cannot solve the problem of flooded and torn tents during winter and are unable to provide solid infrastructure for displacement camps, according to Hamada.
Meanwhile, Faisal al-Aswad from the MVT said that the magnitude of the displacement crisis is beyond the financial capacities of organizations that rely on fundraising to secure camp needs, as long-term solutions require substantial budgets.
Al-Aswad added that although most local organizations are resorting to substitute tents with concrete housing units, such solutions are temporary and costly and do not mitigate the magnitude of the crisis in winter. 
As for Ataa Association's communication officer, Mohammad Karnibo, he said that humanitarian organizations are trying to fill gaps and respond to various needs; however, there is a large gap between the scale of needs and the funding available to the organizations, making it very difficult to cover all humanitarian needs in northwestern Syria.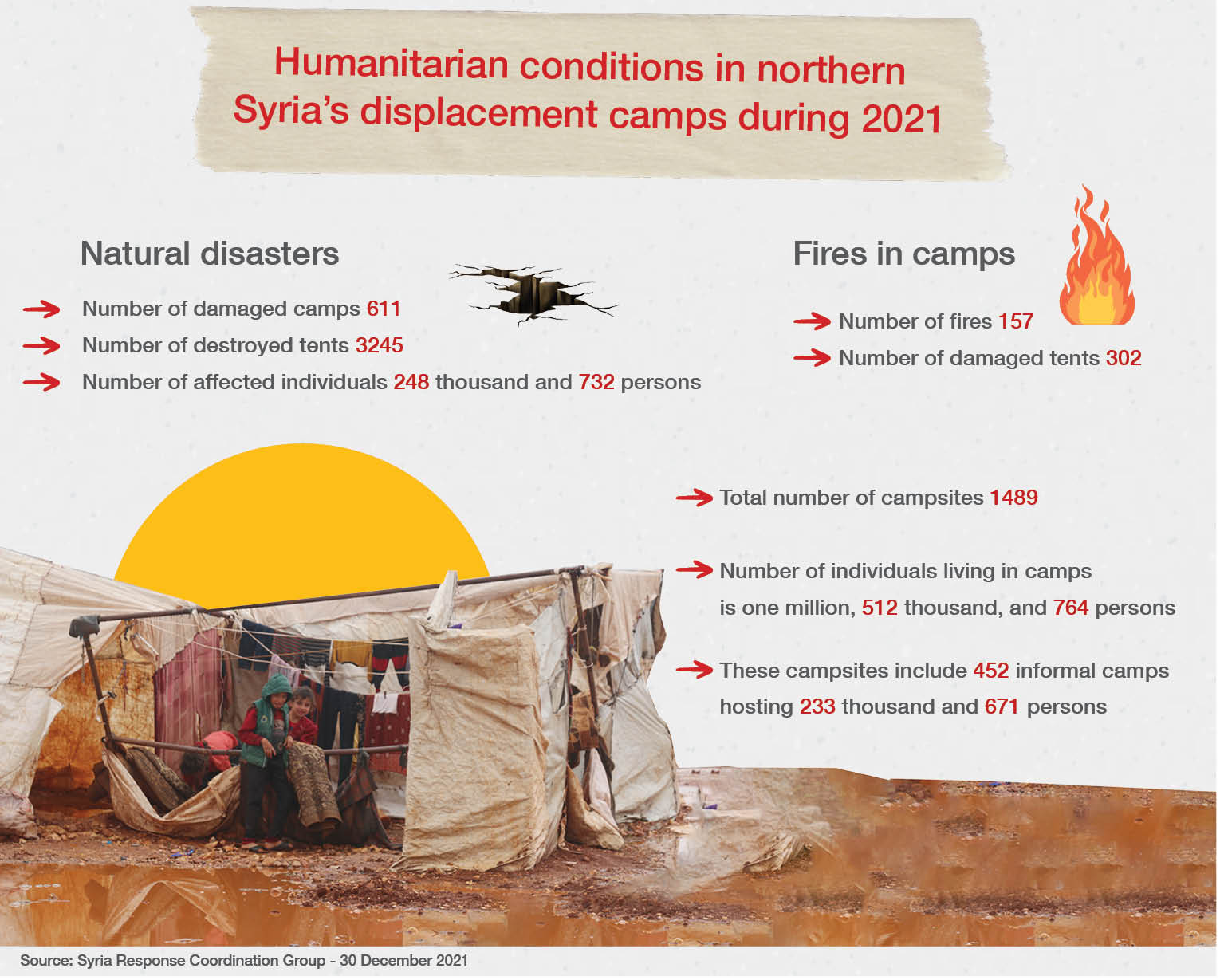 if you think the article contain wrong information or you have additional details Send Correction