Displaced people in northwestern Syria face freezing winter without adequate clothes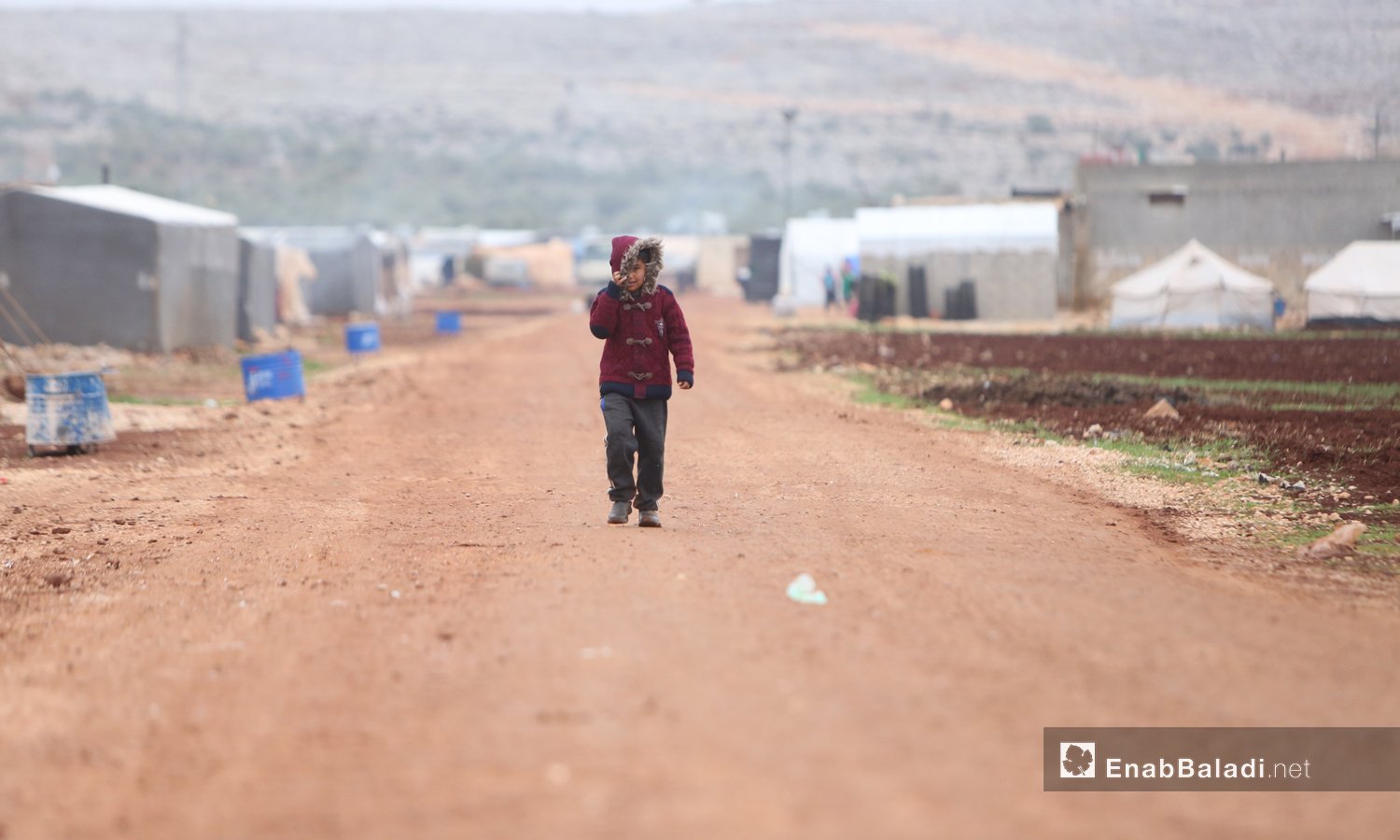 Enab Baladi – Idlib countryside
In the northern countryside of Idlib, northwestern Syria, young Salma stands in the mud, putting plastic bags on her feet under her open shoes to stay warm.
 Salma's photo went viral on social media, reminding everyone of the problems that camp life imposes on its residents. 
The Syrians living in displacement camps with no adequate infrastructure are highly suffering through adverse weather conditions. They are unable to get the clothes they need to keep themselves warm. 
Insufficient clothes aid
Muhammad al-Ibrahim, a displaced person living in Hass displacement camp in the nothern countryside of Idlib with his wife and three children complained to Enab Baladi that " aid is insufficient; we have nothing to meet our needs."
Al-Ibrahim pointed out that an individual needs coats, shoes, underwear, and outerwear, at the cost of no less than 50 Turkish Liras (6.8 USD). This is very costly for a displaced person, so he cannot provide his family members with clothes. He added, "We have never received winter aid. Actually, it happened only once. A year ago, an individual donor provided each family member with one winter clothes set. However, that was not enough to keep them warm."
Khaled Darwish and the rest of the families in the Cover of Mercy Camp in the northern countryside of Idlib have not received any kind of help. " Every year you need to get your children clothes. Children need to change their clothes several times because we are living in camps surrounded by mud. Your clothes can get easily dirty and need to get washed. Then, they take a long time to dry. Therefore, people need to have more than one winter clothing set." 
Darwish told Enab Baladi that, like the rest of the camp's families, they cannot afford the cost of winter clothes. "I, like many displaced persons, cannot buy what keeps me warm, neither for myself nor for my children," he stressed. 
Relief organizations include the distribution of winter clothes from their aid that targets the "most vulnerable" groups in the camps, but the assistance provided is insufficient.
In general, the internally displaced persons (IDPs) need at least three to four clothes changes. However, in the Syrian case, families can hardly get one change of clothes per year," the director of the office of Ataa Humanitarian Relief Association in Sarmada in the northern countryside of Idlib, Moaz Baqbish told Enab Baladi.
According to Baqbish, the aid targets children in particular. He highlighted that the winter aid includes a coat, a woolen sweater, trousers, a hat, scarf, gloves, and shoes, stressing that the relief campaigns "can never cover the needs of the IDPs."
Between 10 to 20 percent of the total aid provided by the association to the IDP camps are allocated for winter clothes. The aid distribution depends on assessing the primary and secondary needs of the population by statistical survey teams. The clothing aid is often granted by Arab funding sources, according to the director of Ataa Humanitarian Relief Association's office in Sarmada.
Bayan Sabbagh, the public relations officer at Bonyan organization, in an interview with Enab Baladi, said that the winter aid includes more than clothes, such as heating materials, carpets, blankets, food, detergents, and hygiene kits.
Most of the aid focuses on distributing outfits which are regarded as more essential than home-wear clothes, according to the organization's estimates, Bayan Sabbagh said.
Sixty percent of camp residents place winter needs among their most important priorities, according to an evaluation of the REACH Initiative based on statistical survey data collected during November. The data revealed that 78 percent of families cannot afford the costs imposed by winter, and 54 percent of them cannot buy clothes in particular. 
The United Nations Office for the Coordination of Humanitarian Affairs (OCHA) warned that the lack of winterization assistance, which only reached 250,000 out of 1.5 million people last November, is leading camp residents to rely on unsafe strategies for obtaining warmth. This includes setting fires, which can cause fires in worn-out tents.
According to the REACH Initiative data, the prices of basic materials that families need monthly in northwestern Syria have risen to their highest levels, reaching 107 USD. They were 104 USD a month ago. The average worker needs to work 73 days to earn the monthly cost of basic  Survival and Minimum Expenditures Basket (S)MEB items. 
Enab Baladi correspondent, Youssef Gharibi contributed to writing this article 
if you think the article contain wrong information or you have additional details Send Correction