Challenges facing women cotton pickers in Syria's al-Hasakah: low wages and health hazards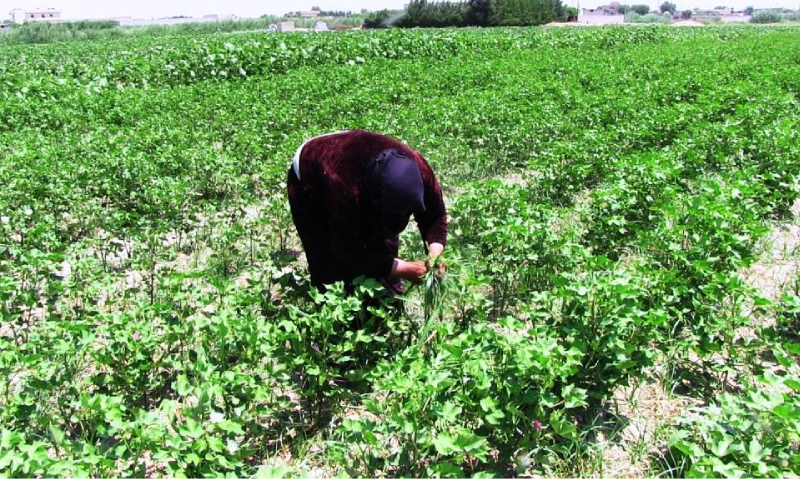 Al-Hasakah – Majd al-Salem
Shortly after sunrise, Mariam al-Hussien heads to work in a cotton field, along with dozens of other women. al-Hussein, who is a 21-year-old woman and lives in the southern countryside of Hamis, affiliated to the city of Qamishli, told Enab Baladi that they work from morning to sunset, with a 30-minute lunch break. 
She added that cotton-picking is too draining physically; it causes back pains and puncture wounds. Yet, since she is the oldest child in the family, al-Hussein emphasized her need to work; she has to help her father, a municipal official in the district, with meeting the needs of the family composed of five members. 
The young woman works hard only to earn about six thousand Syrian pounds (SYR=1,7USD).
Cotton pickers are to be paid the equivalent of 75 SYP(0.02 USD) per kilo picked.
 The fees could be more for other workers who can pick up to 100 kilograms per day.
Al-Hussein said, "She receives very little pay compared to her enormous efforts made in the cotton fields. Still, cotton picking with low wages is better than no work at all. It is very hard for women to find a job in the countryside. That's why cotton picking is like an opportunity for them. 
However, Najud al-Hamad, 29, and her two sisters (Ula, 25, and Afaf, 19) from the southern countryside of Qamishli see the cotton harvest season as an income opportunity that comes once a year.
The al-Hamad sisters are paid 20,000 SYP a day, which is very little in the absence of another source of income, and the deterioration of the economic situation, especially in the countryside. 
Furthermore, Najud al-Hamad told Enab Baladi that it has been only one month since they started picking cotton, yet they suffer from back pain, punctures, cuts, and scratches due to harvesting the cotton by hand. This forces them to purchase and use some expensive scar creams to help bring moisture to the skin and heal scars.
Yet, these creams have a limited effect because the sisters need to work 10 hours a day in the cotton fields.  
Who determines wages?
This year, Muhammad Suleiman, 45 years old, planted seven hectares of cotton in the town of Markada, located in the countryside of al-Hasakeh. He told Enab Baladi that this year has been "the worst for cotton farmers" in Syria due to the lack of support provided by the Syrian regime and the Syrian Democratic Forces (SDF), high costs of seeds, fuel, fertilizers, and vehicle maintenance and repair.
In addition, Sulieman added that farmers face difficulties in getting adequate fuel supplies. Out of 10 fuel batches allocated to him under a license granted by the SDF, he got only three batches at a subsidized price of 70 Syrian pounds per litre. Therefore, he had to purchase more litres of fuel on the black market.
That's why it is difficult for a cotton farmer to "make profits" from his produce this season. And if he is lucky, "he can cover production expenses," said Suleiman.
The farmer added that Shawish, who is responsible for organizing groups of female cotton pickers, also determines their wage.
Each shawish is in charge of organizing several groups and each group consists of 20 to 25 cotton pickers. He is responsible for providing transportation for cotton pickers to and from the cotton fields.
This year, the customary wage ranges between 125 and 150 SYR per kilogram of cotton picked by the cotton-picking group and determined by the SDF.
Some cotton pickers are paid 75 SYP, and others are paid 100 SYP for each kilogram, and the remaining 50 pounds are shared between the Shawish and the driver.
Low production
The farmer Sulieman complained to Enab Baladi that the cotton productivity is very low this year because of difficulties in securing irrigation water and droughts that hit the area. Furthermore, some cotton fields suffered bollworms, one of the world's most destructive crop pests.
 He is not happy with the reference price of cotton per kilo set by the Syrian government and the SDF. He said the price is too little in relation to the big costs incurred by farmers. It is noteworthy that a litre of diesel is about 450 Syrian pounds on the black market, and one empty burlap bag is sold at 1,000 pounds. He added that a ton of fertilizer is about 700 USD on the black market while its subsidized price is 400 USD.
The SDF set the price of one kilo of first-grade cotton at 2,500 SYP and 1,800 SYP for the tenth-grade cotton, depending on the colour, trash content, and smoothness of the sample; thus, the cotton in the area is rarely classified the finest. 
Since the beginning of the harvest season (September), 2,400 out of 4,800 hectares of cotton have been harvested. The Autonomous Administration-linked cotton gin facility in al-Hasakah received about 8,000 tons, reported Arta FM, the first and only Syrian radio station broadcasting in four languages in northeastern parts of Syria, on 5 October.
According to the farmers Enab Baladi met with, the harvest season usually continues until mid-November, amid competition between the regime and the Autonomous Administration to seize the current year's season.
 Enab Baladi noted that most farmers prefer to sell their crops to the Autonomous Administration, which has designated a cotton gin facility for receiving cotton in al-Hasakah. In contrast, farmers who deal with the regime must transfer their crops to cotton gin facilities outside the governorate in areas controlled by the Syrian government, such as Raqqa and Deir Ezzor.
if you think the article contain wrong information or you have additional details Send Correction