Low production and competition threatens cotton cultivation and industry in Syria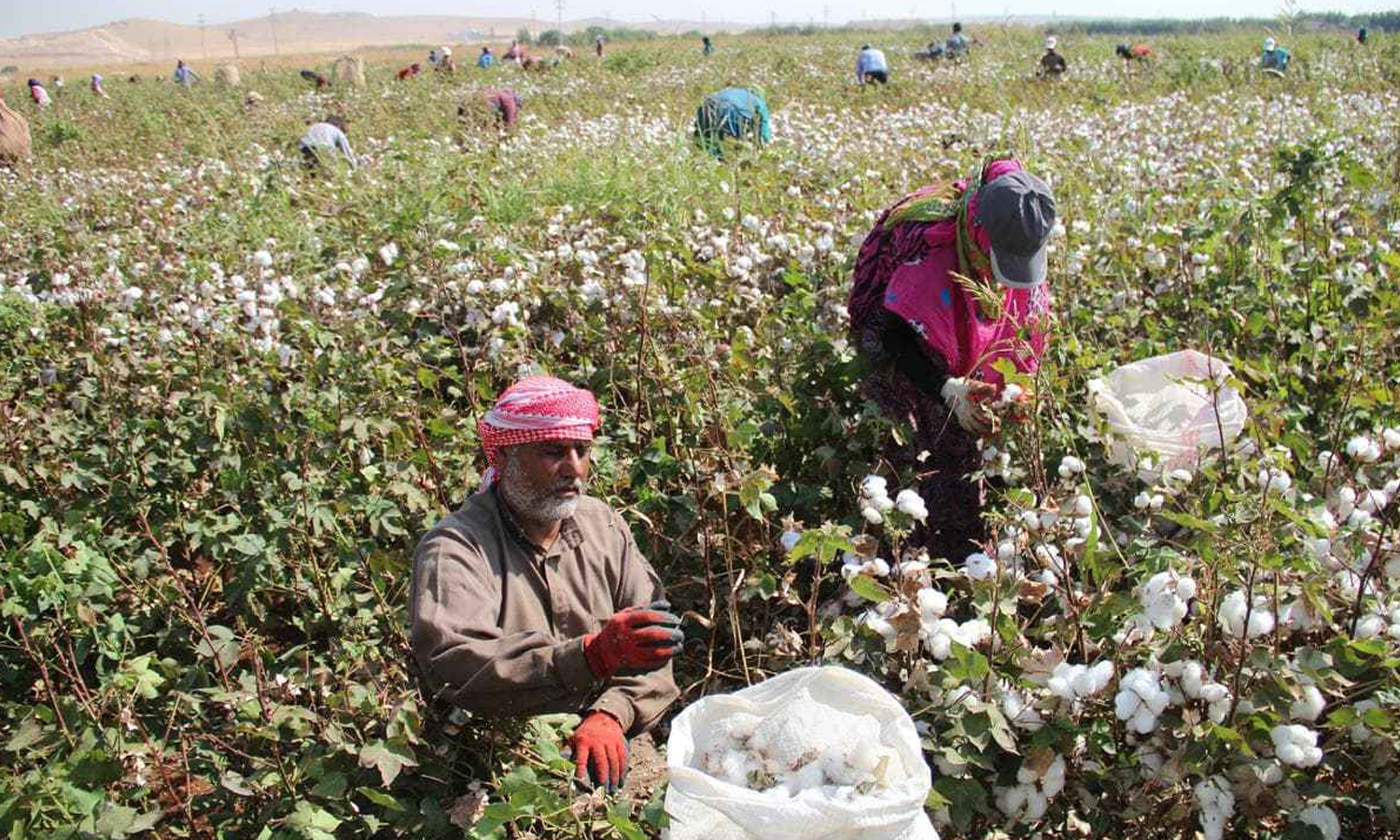 Enab Baladi – Amal Rantisi
"I can sell this season's cotton crop to the Autonomous Administration or the regime's government, but I will choose the side that pays the higher price."
With these words, forty-five-year-old Ali Elias, a farmer based in Qamishli's southern countryside, explained to Enab Baladi what he intends to do with this season's cotton harvest of his six hectares (14.82 acres) land.  
Elias said that he decided to sell his cotton harvest to the Autonomous Administration of North and East Syria (AANES) that offered him 1,950 Syrian pounds per kilogram, 450 Syrian pounds more than the Syrian government's price, adding that "It is a significant price difference that cannot be ignored."   
Elias added that other farmers in the region are likely to do the same as him, particularly those residing in areas controlled by the Syrian Democratic Forces (SDF), the military arm of AANES, which bans the selling of any quantity of cotton to regime areas through its checkpoints unless with the approval of AANES-affiliate Agricultural Community Development Company.     
Elias also said that some farmers in regime-held areas are considering smuggling part of their crops to SDF areas to sell them at higher prices. The farmers adopted this thinking after the regime failed to name cotton purchase centers in al-Hasakah governorate, forcing farmers to transport their crops to regime's controlled areas in Deir Ezzor and Raqqa governorates bearing the burdens of risks and high costs. 
This season's cotton production has declined due to drought, lack of rain, the threatening drop in the Euphrates River's water level, rising production costs, and the effects of the Syrian conflict on agriculture and farmers.
Last April, AANES estimated the decline of the Euphrates River at more than five meters from the river level, over four meters in Tishreen Lake, and over three meters in al-Assad Lake on the Euphrates River.
The AANES accused Turkey of reducing the Euphrates River's water flow to Syria to only 200 cubic meters per second since 27 January 2021.  
Competition over cotton purchase after a production decline
Karam Shaar, a Syrian Ph.D. holder in Economics and researcher at the Middle East Institute in Washington, told Enab Baladi that Syria's cotton production has declined over the past decades, not recently.
The majority of Syrian cotton is cultivated in the northeastern region that has been affected by water scarcity due to low rainfall in the past years, causing the production of cotton to drop, as cotton requires large amounts of water.     
According to Shaar, cotton production has decreased since 2005 for many reasons, mainly water shortages and the effects of war in Syria.   
These reasons caused the number of cotton farmers to fall and created competition between AANES and the regime's government over the purchase of cotton crops.   
Shaar added that the competition was not limited to cotton but included wheat and other basic materials. 
Over the past two years, the regime's government set cotton purchase prices before AANES as a proactive step to buy the northeastern region's cotton crops.  
The regime's government doubled this year's cotton purchase price to 1,500 Syrian pounds per kilogram, while it was 700 Syrian pounds last year.
For its part, AANES offered higher purchase prices to farmers, fearing that its regions' cotton harvest would be shipped and sold to regime-held areas, Shaar said.  
Last year, AANES opened internal and border crossings in response to cotton farmers' demands and allowed them to sell and export their production to regime areas and Iraqi Kurdistan.  
The Syrian Ministry of Agriculture and Agrarian Reform announced last September a special service to al-Hasakah farmers wishing to market their cotton production outside the governorate, where it offered to bear the costs of transportation and marketing to ease burdens on farmers.  
Cotton farmers and manufacturers' discontent with purchase prices
Cotton purchase prices determined by the regime's government and AANES have failed to impress farmers, amid high costs needed to cultivate a dunum of cotton.  
Enab Baladi viewed comments made by locals on AANES' Facebook account complaining that AANES' current purchase price of 1,950 Syrian pounds is low and does not commensurate with efforts and costs made by cotton farmers. 
Enab Baladi's correspondent spoke to a farmer from Raqqa governorate who was present at the cotton pricing meetings organized by the AANES Commission of Economy and Agriculture as a representative of the General Federation of Farmers in North and East Syria.
During the meetings, the farmer (Adel al-Najim) tried hard to explain the substantial costs needed to cultivate a dunum of cotton to representatives of the Agricultural Community Development Company of AANES' Commission of Economy and Agriculture, which is responsible for handing over cotton and other crops' purchase invoices in northeastern Syria.     
Al-Najim demanded a purchase price over 2,500 Syrian pounds, but to no avail. He pointed out that the price set by AANES does not cover the basic costs necessary for cultivating cotton, arguing that this year's production faced many challenges, mainly heatwaves and shortage of irrigation water, causing it to decrease significantly.   
Enab Baladi's correspondent in Raqqa reported that the Union of Farmers Associations in Raqqa held several meetings following the announcement of cotton's purchasing prices. In the meetings, the participants called AANES officials to reconsider the placed prices.   
Demands for pricing cotton in the US dollar
Hassan al-Rajab, an agricultural engineer from Raqqa, told Enab Baladi that cotton purchase prices must be in the US dollar, as its production cost is often paid in the US currency rather than the Syrian pound.
Al-Rajab expressed his resentment at AANES' selling of agricultural supplies like fertilizers, pesticides, and even seeds in the US dollar to farmers while pricing their crops in the Syrian pound.
For his part, Shaar told Enab Baladi that Syria's cotton production is at great risk due to the depletion of strategic groundwater storage.
Syrian economist Dr. Firas Shaabo told Enab Baladi that farmers' disapproval of cotton purchase prices while they suffer high production costs will cause cotton cultivation to "die or disappear." 
Shaabo added that farmers would resort to selling their crops in the US dollar to merchants, who in turn will smuggle and export it out of Syria, either to Turkey or to certain groups operating on the Syrian-Turkish borders with or without the knowledge of the AANES. 
High pricing impact on industrialists and textile sector
Mustafa Srouji (aged 48), a textile mill owner in Aleppo governorate, told Enab Baladi that AANES' purchase of cotton crops would impact the textile sector, as yarns' prices will rise, which will consequently increase clothes' prices.  
Srouji said, "The high custom duties on imported yarns and fabrics and the cessation of their importation forced us to buy cotton from merchants who have dealings with AANES at an acceptable price that is two times less than the import price."
He added, "We currently rely on our stock of fabrics and yarns until we need to re-buy large quantities."
AANES' purchase of cotton harvest from farmers in northeastern Syria has stirred resentment and anger among Aleppo merchants and industrialists in regime areas, for they will be forced to buy cotton at high costs from AANES.
Another textile factory owner named Khalil Omar told Enab Baladi that his factory could close down, with cotton price amounting to nearly 2,100 Syrian pounds per kilo added to delivery, transport, and packaging fees.
"The factory needs about 15 tons and sometimes more cotton every year," Omar said.
The unavailability of cotton for the regime government or its importation from outside its regions increases costs of production for the investor and producer, Shaabo said.
Increasing the prices of this commodity in the domestic and foreign markets will undermine its price or competitive advantage. Industrialists import cotton from outside Syria, process and manufacture it, and then re-export it abroad, causing additional production costs and decreasing Syrian citizens' ability to purchase the product, Shaabo added.
Shaabo said citizens' low purchasing power and the dramatic increase in prices weakened the commodity's competitiveness in external markets and made it unavailable for export due to economic pressures and sanctions and the closure of border crossings between the regime and its neighboring countries, which undermined Syria's textile industry.
On 1 July, the Syrian government allowed ginned cotton imports only to the public sector and industrialists, according to their production capacity for only six months. It also permitted industrialists to import 5000 tons of cotton yarns.
A report by the United Nations Food and Agriculture Organization (FAO) mentioned that Syria was a medium-sized producer of cotton, accounting for about 1.8 percent of global output before the conflict years.
Cotton's plantation area expanded substantially during the 1990s, from 156,000 hectares in 1990 to a peak of 275,000 hectares in 1998. This was principally the result of increased use of water from the Euphrates Dam and from dams commissioned in the early 1990s in al-Hasakah, according to the report.
Cotton is the most important export commodity in Syria after oil, with about 30 percent of cotton utilized in Syria's domestic spinners and the rest exported abroad.
---
Enab Baladi's correspondents in Raqqa, Qamishli, and Aleppo contributed to this report.
if you think the article contain wrong information or you have additional details Send Correction