Abortion in northwestern Syria: What are challenges facing women with unintended pregnancy?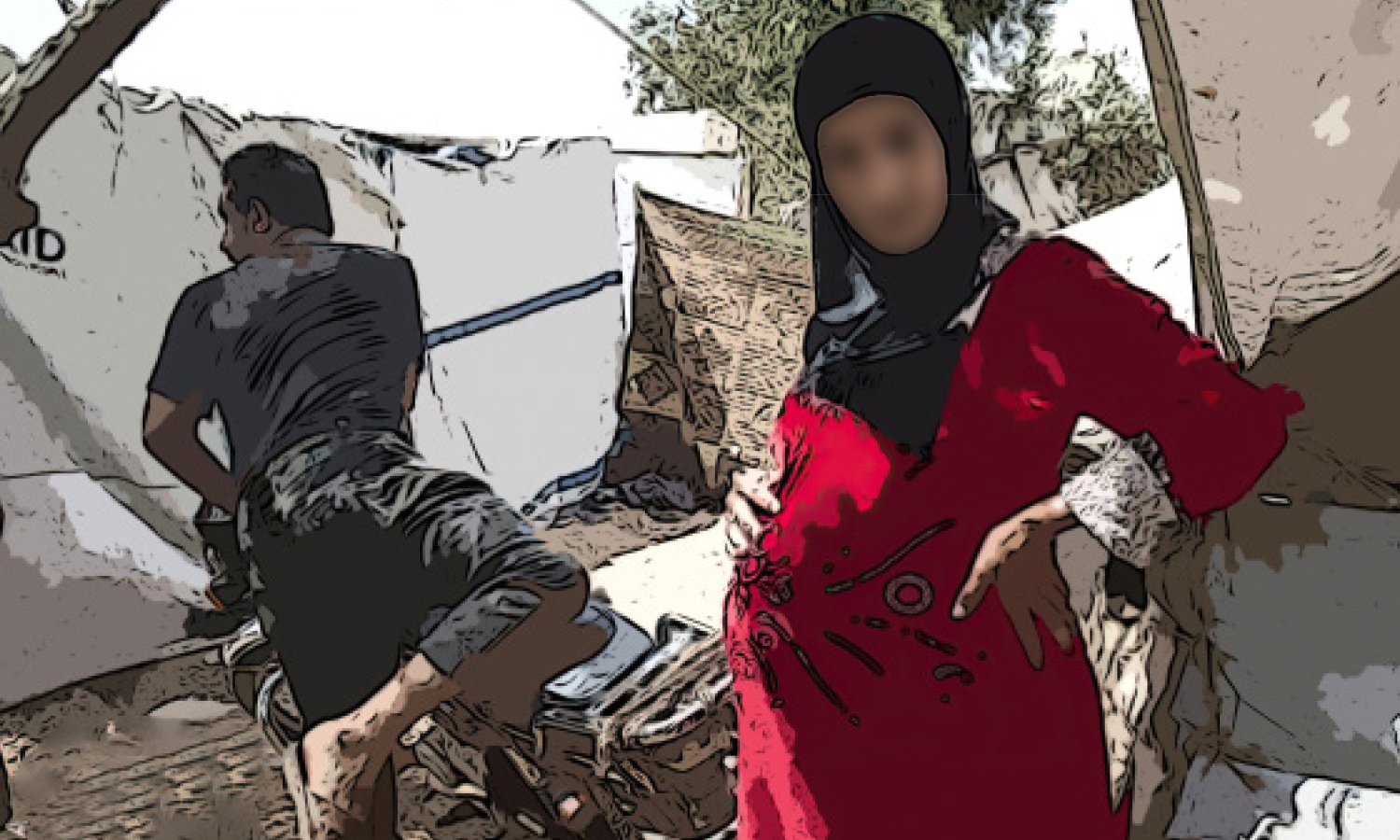 Enab Baladi – Diana Rahima
Mariam, a displaced person in Sarmada camp in opposition-held Idlib and mother of four children, told Enab Baladi that she did not have the choice to terminate her pregnancy even though her embryo had no heartbeat yet. 
Mariam wanted to get an abortion because she is older and suffers from a herniated disc and heart disease.  She knows that being pregnant at an older age may result in certain complications such as premature birth and birth defects.
Mariam, who declined to mention her real name for her privacy, visited a gynecologist when her pregnancy was less than 40 days old—In other words, the heart of her embryo did not start to beat yet. However, the gynecologist refused to provide her with an abortion service based on her personal beliefs, despite Mariam's multiple attempts.
 Mariam tried to persuade the gynecologist to let her have an abortion by a religious argument. She said that abortion is permitted in her case because continuing the pregnancy would put her life in real danger. However, the physician's answer was, "I will give nothing for the abortion, even if pregnancy will be the reason of your death a few hours later," Mariam told Enab Baladi. 
Thus, Mariam has been denied an abortion; she has to accept the status quo. Now, she is in her first trimester; she is three months pregnant.  
Abortion is denounced by many societies for religious or social reasons. Some countries recognize it as "cold-blooded murder," without considering the reasons that might compel the woman to do so.
For example, Syrian women, especially those who have been victims of rape or sexual assault, do not have the freedom to decide whether to keep the baby or not. 
According to the latest report of the Syrian Network for Human Rights (SNHR), the Syrian regime forces committed about 8,013 incidents of sexual violence, including 879 incidents that took place in detention centers, while the Islamic State (IS) committed 3,487 and the factions of the armed opposition committed 11 incidents of sexual violence, and 12 others were committed at the hands of the Syrian Democratic Forces (SDF).
In this article, Enab Baladi talked to several women who had abortions or were forced to continue their unwanted pregnancy within Syria, where circumstances surrounding abortion remain a challenge for women. It is noteworthy that almost all physicians do not accept performing or inducing abortions in many cases, even if the mother's life is in danger. 
Abortion is one of the most hotly contested topics worldwide. Restricting or criminalizing abortion is not confined to a specific geographic spot. 
Last September, the US state of Texas effectively banned most abortions after nearly six weeks of pregnancy when a fetal "heartbeat" could be detected and made no exceptions for pregnancies resulting from incest, sexual assault, and rape. Doctors, who perform abortions, can be fined at least 100,000 USD for violations, according to Reuters.
Newborn babies abandoned in rubbish bins
Amina, 20 years old, has another story about abortion that only a few family members knew about. Amina got pregnant from an illegitimate relationship, and her pregnancy began to show. Her family wanted to terminate her pregnancy. So, they went to many physicians to provide her medical or surgical abortion. However, they all refused.  
Amina's family had only two options: either to kill her in defence of "honor"–honor killings are widespread in the region– or to conceal their daughter's pregnancy for fear of the "scandal." However, they chose to send their daughter away; to her brother's home until she could give birth. 
Nine months later, she secretly gave birth to a baby boy. A few minutes after birth, the newborn baby was placed in a box and then dumped on one of the roads in the city of Idlib.
There are many stories similar to Amina's. Yet, society keeps them secret instead of addressing this severe social issue; many women are forced to hide their pregnancy and dump their babies in rubbish bins or the mosque's courtyard out of fear and shame. 
The cases of baby dumping have increased significantly during the war years. Scenes of babies being abandoned after birth have become so frequent and are no longer surprising for many. 
Although it is difficult to determine the scope of the phenomenon of abandoned newborn babies due to the absence of official statistics, the recurrence of these painful incidents confirms their worsening in the absence of institutions that handle such social issues. 
According to a report conducted by Syrians for Truth and Justice (STJ), at least 43 child abandonment cases were recorded between the beginning of 2019's second half and the end of 2020's first half. Hardly a month or two passes without a report of two or three cases of this kind.
Poverty is the significant factor, which forces many Syrians to abandon their children, especially those residing in displacement camps, because they cannot provide for them. In addition, the marriage of minors is another factor for the proliferation of this phenomenon. It is important to recall that 90 percent of Syrians live below the poverty line, according to United Nations figures.
Self-managed abortion 
Najlaa, a 30-year-old displaced woman living in one of the Sarmada camps, told Enab Baladi that getting pregnant and giving birth is no longer as easy as it was in the past. 
She complained," The situation is catastrophic as a result of extreme poverty, repeated displacement, high prices of everything, lack of job opportunities, and lack of health care. Moreover, pregnant women are often deprived of their right to privacy." All these factors together represent an obstacle to getting pregnant and raising children. 
Najlaa got pregnant even though she was using birth control. Once she learned about her pregnancy, she hurried to do all the domestic chores(including cleaning the floor, washing clothes, and mopping) and jumping rope to terminate her pregnancy.  
Najlaa added, "I have five children, thank God. But, we face harsh living conditions here in the camp, and we can barely provide them with enough food. So, having a new baby will put additional burdens on us and increase our suffering. This is why I decided to have an abortion without hesitation."
No medicines without the requirement of a doctor's prescription
Abortion-inducing drugs are available in the pharmacies of Idlib, but they are only dispensed with a prescription.
Muhammad Farid al-Hallaq, a pharmacist in the city of Dana, north of Idlib, told Enab Baladi that pharmacies are not authorized to dispense any abortion pills without a prescription stamped with the seal of the specialist physician.
The prescriptions must be dispensed within a certain time. And before they are issued to the patients, they should be hand signed by the prescribing doctor. Undoubtedly, the prescription should also have the patient's name and age, the pharmacist told Enab Baladi.  
According to al-Hallaq, the effectiveness of the drugs is determined according to each case by the doctor. The number of abortion pills is estimated based on the clinical situation. The abortion pills reach the fetus primarily by crossing the placenta, and they cause harm to the fetus and abnormal vaginal bleeding.
Medicines are used before and after the abortion to clean the uterus. When drugs do not work effectively, in some cases, a surgical abortion procedure( D and C dilation and curettage)must be performed.
When can a surgical abortion be performed?
Asmaa Shaaban, a gynecologist in the city of Idlib, told Enab Baladi that there must be medical conditions that require performing a surgical abortion, including the presence of a fetal malformation such as anencephaly.  
Anencephaly is a severe birth defect in which a baby is born without parts of the brain and skull because the mother takes drugs of category x during a stage when the organs are embryonic.
Some women with genetic diseases— uncontrolled hypertension, uncontrolled diabetes, and heart diseases such as mitral stenosis, pulmonary hypertension—should terminate their pregnancy. This decision must be taken in coordination with internal medicine physicians.   
According to Asmaa Shaaban, the mother's age cannot be grounds for the termination of pregnancy, except if she suffers from one of the previously mentioned diseases. Shaaban referred to some medicines that help to terminate a pregnancy—it is not necessary to mention their names in the context of a news story. They are not all available in Syria. 
All these medicines must be taken under proper doctors' supervision and in the correct dose to avoid complications. 
The abortion pill cannot be an effective way to end an early pregnancy, so some women have to undergo a surgical abortion. 
Shaaban concludes that the most effective way to avoid unwanted pregnancy is to use the appropriate contraceptives, which are available and safe provided that they are given within a medical prescription.
Is abortion as a surgical procedure safe?
Abortions are safe when carried out with a method recommended by the World Health Organization (WHO), and that is appropriate to the pregnancy duration and when the person carrying out the abortion has the necessary skills. These abortions can be done using tablets (medical abortion) or a simple outpatient procedure.
According to the WHO, "an abortion is unsafe when it is carried out either by a person lacking the necessary skills or in an environment that does not conform to minimal medical standards or both. The people, skills, and medical standards considered safe in the provision of induced abortions are different for medical abortion (which is performed with drugs alone), and surgical abortion (which is performed with a manual or electric aspirator). Skills and medical standards required for safe abortion also vary depending upon the duration of the pregnancy and evolving scientific advances."
Women with unwanted pregnancies often resort to unsafe abortions when they cannot access safe abortion.
According to the WHO, barriers to accessing safe abortion include:
restrictive laws 

poor availability of services

high costs

stigma

the conscientious objection of healthcare providers and

Unnecessary requirements include mandatory waiting periods, mandatory counseling, provision of misleading information, third-party authorization, and medically unnecessary tests that delay care.
Abortion law in Syria
Syrian law allows abortion only to save a woman's life making abortion in all other circumstances illegal. Lawyer Ali al-Omar, a member of Hama's Free Lawyers Syndicate, told Enab Baladi that the Syrian law does not clearly define abortion. However, the Syrian Court of Cassation defines abortion as an act intended to achieve a specific result; abortion is the termination of a pregnancy before the infant can survive. Feticide in the first degree involves specific intent to kill, which is the essential element of the offense. 
In northwestern Syria, the Syrian law of 1950 was applied, which took a decisive position on the issue of abortion. The law did not differentiate between initiating an abortion and performing an abortion, nor did it differentiate between the abortion at the beginning of pregnancy and abortion at its end.
The Syrian law punishes women who use any means or even permit any means to be used upon themselves for the purposes of terminating a pregnancy with their consent. 
According to Article 527 of the Syrian Penal Code, every female person who, being pregnant, with intent to abort by using any means or permitting any means to be used for the purpose of carrying her intention is guilty of an indictable offense and liable to imprisonment for a term that varies between 6 months to 3 years. According to Lawyer al-Omar, Syrian law differentiates the issue of abortion in terms of punishment into:
The first case: when an abortion takes place with women's consent for abortions. This is clarified in Article 528 of the Syrian Penal Code, which stipulates that "anyone who performs or seeks to perform an abortion on a woman by any means, with her consent, shall be punishable with a term of imprisonment of between 1 and 3 years."
The penalty shall be increased if the abortion causes the death of the woman. The perpetrator shall be punishable by imprisonment with hard labour from 4 to 7 years.
The second case: when the abortion takes place without the consent of the pregnant woman, the perpetrator shall be punishable by imprisonment with hard labor for at least five years, according to article 529. 
"The term of imprisonment shall not be less than 10 years if the abortion or the means used to lead to the woman's death." 
However, the Syrian law said that a woman who performs an abortion on herself to protect her honor shall benefit from mitigating circumstances. A person who commits one of the offenses defined in articles 528 and 529 to protect the honor of a descendant, or a relative up to the second degree, shall also benefit from mitigating circumstances.
Suppose the perpetrator of one of the offenses defined in this chapter is a physician, a surgeon, a midwife or a pharmacist, or one of their employees acting as a principal, an abettor, or an accomplice. In that case, the penalty shall be increased in accordance with article 247. 
Syrian law imposed harsh conditions on physicians who perform abortions in an extreme emergency, especially if the fetus threatens the woman's life. 
If a physician performs or induces abortion and violates the conditions, his license will be suspended; he will be prevented from practicing the profession in any capacity whatsoever for no less than one year by a decision of the Minister of Health. This decision is implemented immediately by the Public Prosecution.
If the physician repeats the same mistake, which is one of the reasons for increasing the penalty, the doctor's medical license shall be revoked.
Is abortion permitted in Islam?
 Dr. Mohammad Habash, founder, and consultant of the Islamic Studies Center and founder of the Enlightenment Writers Association told Enab Baladi that Islamic scholars have different views regarding abortion. Yet, there is an almost unanimous opinion that up to 40 days of abortion is permissible. 
Mohammad Habash explained that there are controversies over the period that the termination of pregnancy is allowed between 40 days and four months in Islam.
This permissibility is shaped by the Hadith, which refers to blowing the Rooh (soul) into the fetus after the four months of pregnancy. After that, abortion is not permitted unless there is a compelling medical necessity.
The Hadith says, that "Verily the creation of each one of you is brought together in his mother's womb for forty days in the form of a Nutfah (a drop), then he becomes an Alaqah (clot of blood) for a like period, then a Mudghah (a morsel of flesh) for a like period, then there is sent to him the angel who blows his soul into him and who is commanded with four matters: to write down his Rizq (sustenance), his life span, his actions, and whether he will be happy or unhappy (i.e., whether or not he will enter Paradise)."
All schools of Muslim law worldwide permit abortion if continuing the pregnancy would put the mother's life in real danger even when the gestational age of the embryo is more than 120 days. However, there are many different opinions when it comes to other exceptions to the prohibition of abortion.
Countries where abortions are legal
Tunisia and Turkey legalize abortions during the first trimester, no matter what circumstances the mother faces. 

Jordan, Kuwait, Morocco, Qatar and Saudi Arabia also allow abortion in cases of serious health risk.

Iran, Kuwait and Qatar allow the termination of pregnancy only for fetal anomalies in the first 120 days of pregnancy. 

Sudan, Egypt, Bosnia, Algeria, and Bangladesh allow abortion in cases of rape and/or incest. 
if you think the article contain wrong information or you have additional details Send Correction