Syrian children scavenging on dumpsters to survive in al-Hasakah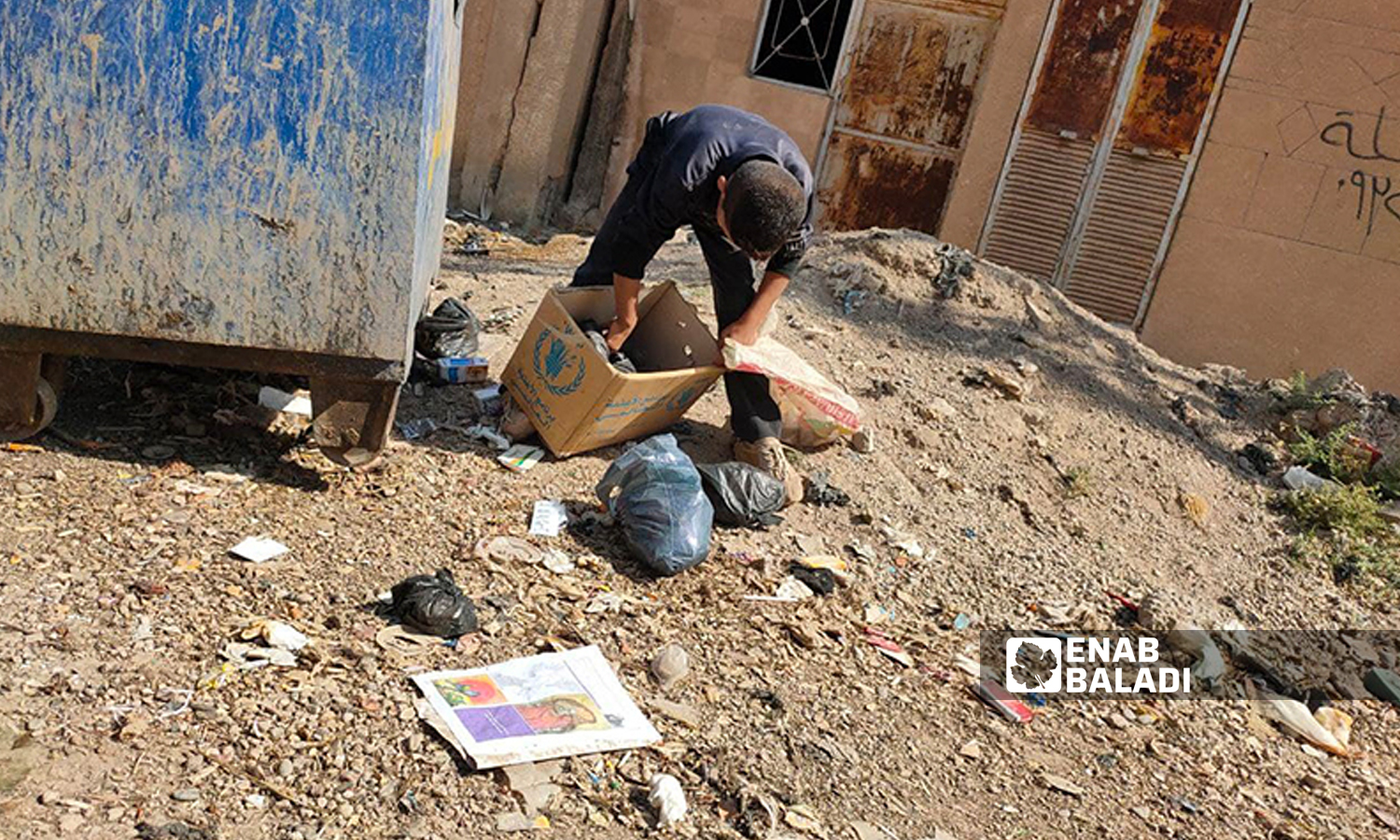 Al-Hasakah – Majd al-Salem
Thirteen-year-old boy Walid al-Hussein and his two brothers, Waed (16) and Muhannad (11), wander the Qamishli neighborhoods early in the morning, carrying bags filled with empty cans and plastic bottles.
After wading in rubbish dumps, the boys have to carry big bags filled with scraps.
"We know the locations of all dumpsters by heart because we have been doing this work for the past four years," Walid told Enab Baladi.
Every day except for Friday, Walid and his brothers leave their village, about 40 kilometers to the south of Qamishli, to pick whatever waste that can be sold or recycled from morning till evening and return late to their village.
Waed standing beside his brother Muhannad, dressed in stained and torn clothes, told Enab Baladi that they collect rubbish "to help their father secure their family's essential foodstuffs, including sugar, oil, bulgur, and bread."
The three brothers pick empty plastic bottles, cardboard boxes, and other waste items, which they sort depending on their material, and sell for 900 Syrian pounds (SYP = 0.25 US cents) per kilogram to the city's recycling factories.
The boys earn a daily wage of nearly 6000 SYP (1.7 USD) from working in dumpsites.
The three brothers, who had to drop out of school to work, face harassment by some residents. "We are suspects for any theft that may occur in the buildings next to our work, especially the stealing of water pumps, bicycles, and motorcycles," the boys told Enab Baladi.
Jamal al-Saeed,15, a resident of Qamishli city who has a disability in his left hand, has been searching the entire garbage containers in al-Corniche Street for seven years.
Jamal visits the street once every two days to find saleable items before the trash truck empties the dumpsters.
Jamal left school while in the primary level. He undertook several works, including sheepherding in the countryside and selling socks and other clothing items on a stall in one of the Qamishli city's streets. Jamal quit his vending work and started wading dumpsters to make an income, with good-doers granting him money whenever they see him making a living from garbage picking.
A "devastating" impact on children's mental health
Bassem al-Ali, an expert on psychological counseling, explained to Enab Baladi that children undertaking demeaning jobs like searching for scrap, plastic, and cardboard in dumps leaves a devastating impact on their mental health.
Society tends to view those with inferior works with contempt, al-Ali said.
Al-Ali added that the younger the age, the greater the impact was. Children who pick waste to survive lose their self-esteem and grow up filled with bitterness against themselves and their families.
The absence of education makes children prone to hold grudges against their society, facilitating their delinquency and engagement in all types of misdemeanors and felonies in the future, al-Ali added.
The expert pointed out that the presence of children in filthy environments is a direct threat to their health.
The situation is even graver for children forced by their families to take such risky jobs, for they would be left with deep emotional scars under the pretexts of a bad economy.
According to al-Ali, local authorities and children's parents are responsible for the rapid increase of this dangerous social phenomenon after ten years of war in Syria.
Al-Ali noted that this phenomenon is on the rise without any effective and genuine solutions from concerned authorities.
On 30 August 2020, the Autonomous Administration of North and East Syria (AANES) established the Child Protection Office in Armed Conflicts to receive complaints against military recruitment of children and other matters relating to the violation of children's rights.
Early this year, the head of the AANES' Child Protection Office, Murhaf al-Abdullah, said that the office had started working on the child labor file.
People in al-Hasakah governorate are going through difficult living conditions, despite the region's richness with oil, gas, grains, and livestock.
if you think the article contain wrong information or you have additional details Send Correction