Residents of Qamishli struggling to afford ice amid current heatwave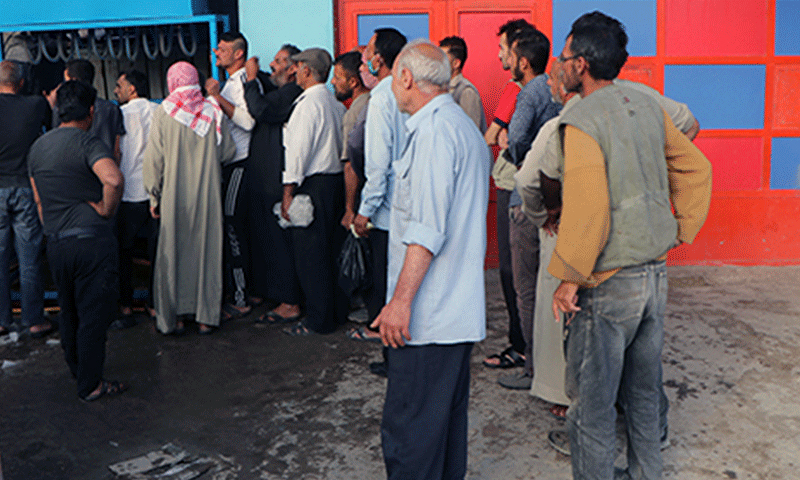 Enab Baladi – al-Hasakah
On an almost daily basis, thirty-one-year-old Adnan al-Hayawi takes a morning drive on his motorbike from his village to the Qamishli city, cutting nearly 12 kilometers just to buy slabs of manufactured ice for his family and neighbors.
Al-Hayawi told Enab Baladi that lengthy power outages, sometimes for 20 hours a day in his village and other surrounding villages in Qamishli's southern countryside, have made refrigerators and other cooling appliances useless.
The idea of how to get a nice cold glass of water to quench the summer heat has become the primary preoccupation of villagers, al-Hayawi added. 
Electricity crisis
This problem becomes more evident at social gatherings in al-Hasakah governorate, where it is a great challenge to provide tens of ice blocks to a large number of people. 
As monitored by Enab Baladi in al-Hasakah governorate, the lack of (amperes) power generators operated on monthly subscriptions, as in the cities, is also part of the problem of having no refrigerators or cooling appliances working to provide ice cubes or cold water. 
Amperes are not used in al-Hasakah's villages because there are not enough subscribers, making such a project a failing business that would not cover fuel costs apart from maintenance expenses. Most villages in al-Hasakah are home to only 30 to 100 households.
Syria's heatwave increases demand for ice blocks
The current heatwave in Syria that started a week ago and is expected to last until the end of July, according to the Syrian Center for Weather and Climate, has led to increased demand for slabs of manufactured ice.
Nowadays, people of Qamishli have to wait in long queues for bread, domestic gas cylinders, and ice blocks. Some of them wait many hours to get a single slab of ice, Louay Suleiman told Enab Baladi.  
Suleiman, along with 400 families, has been suffering from a complete power outage for two months in the al-Hilaliyah neighborhood in Qamishli.
A block of ice manufactured at ice-making factories is sold at the price of 2000 Syrian pounds (SYP = 62 US cents), while in the countryside, it is sold by street vendors at 3500 (SYP = about 1 USD). The vendors have been selling ice blocks at double prices taking advantage of long power cuts, even though relevant authorities of the Autonomous Administration of North and East Syria (AANES), the de facto authority in the region, have determined the price of a slab of ice at 1800 ( SYP = 55 US cents).
Manufactured ice is made by filling metal cans with water and brine (usually sodium or calcium chloride) besides other materials. The solution is then lowered into tanks filled with water and an anti-freeze solution. 
The tanks get electrocuted for four or five hours, depending on temperatures, which causes the water to freeze inside the cans. The ice blocks are then removed from the cans after several hours of freezing. Next, the cans are immersed in freshwater to release the ice blocks, which are then stored in large coolers powered by electricity.
if you think the article contain wrong information or you have additional details Send Correction