Hayat Tahrir al-Sham guards "virtue" by imposing restrictions on women in Syria's Idlib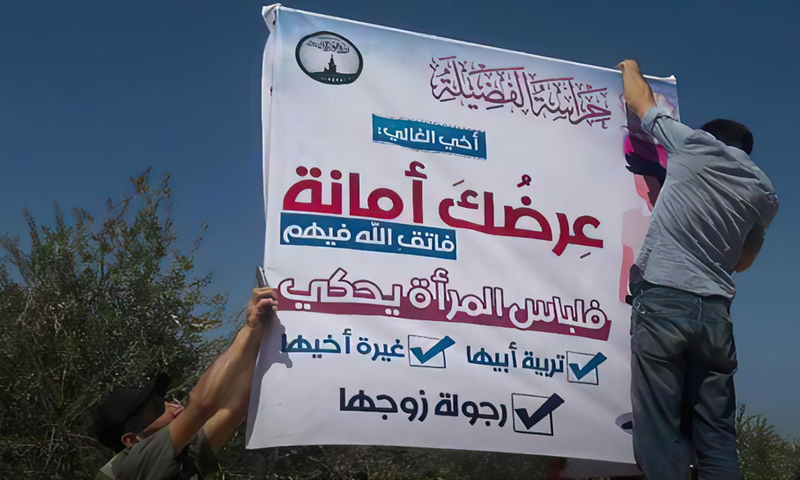 Enab Baladi–Zeinab Masri 
Safaa al-Omar, 30 years old, was in the market to buy some essentials for her family. Then, she stopped off at a store because she found a beautiful dress displayed on the front. She entered the store to buy it. While talking to the seller, suddenly some female and male hisbah forces broke into the store and asked the store owner to visit their security branches.
Hisbah is a committee established by HTS to "uphold community morals," according to the Quranic injunction to "enjoin good and forbid wrong."
The hisba forces brought moral charges against Safaa and the seller for being inside the shop alone, without a mahram. They blamed the seller for receiving her without a mahram, and for not hiring a female shop assistant, Safaa told Enab Baladi.
"I've never been more embarrassed in my entire life. For the first time, I was put in this shameful position. They represent extremism. They flagrantly interfere in our freedoms and  movement just because we are women." 
Safaa asked, "What do they think when a woman enters a clothes store in front of everyone in the market? Is it not clear enough for them that a woman enters a clothes store only to buy clothes and leave? What's all this questioning about the woman's behavior, morals and religion? They are underestimating her abilities to protect herself or secure her reputation? Their practices make people suspect something that doesn't exist."
Safaa believes that the hisba forces should support the poor, the displaced, the widows, and orphans, whose lives have already become stranded, instead of "disturbing" women and interfering with their freedoms and movements.
The work of Hisbah, previously known as the "Sawa'id al-Khair" or "Goodwill Corps," then, as " al-Falah Center", is focused on "the promotion of virtue and prevention of vice."They prevent the free intermixing of the sexes especially in markets—a woman is not allowed to be with a man without being accompanied by a mahram—and the occurrence of vices. In addition, they make sure that people are not showing off and boasting about their sins and women are not displaying their finery.   
The HTS-linked hisbah members interfere with the smallest details of people's lives in northwestern Syria, just like what happened with Mariam al-Mustafa. 
Mariam, aged 25, was wandering in Idlib Public Park. Then, a group of women, belonging to "the Committee for the Promotion of Virtue and the Prevention of Vice" stopped her and publicly scolded her for wearing "eye catching tight dress."
Mariam told Enab Baladi that she was really embarrassed by the hisbah members' inappropriate behavior. The hisbah members kept reprimanding Mariam for more than ten minutes in front of everyone in the park. They commanded her to dress modestly; they told her to wear the black abaya—the loose-fitting, full-length robes—and cover her face with a veil. 
Mariam felt so much discomfort for interfering with her personal freedom and dress codes. She had to listen to them even though she knew very well that she was wearing decent clothes, which were in accordance with the rules and customs of Islam, unlike their accusations. 
What are the powers of the al-Falah Center?
Last May, unconfirmed news spread that the HTS had replaced the "moral police" with the "Hisbah Committee", known as the "Falah Center."
Enab Baladi contacted Taqi al-Din Omar, director of media communication at the HTS in order to learn if moral police is established as an alternative for the al-Falah Center. Taqi al-Din Omar just confirmed the end of the work of al-Falah Center, without providing further information. 
He said, "By the end of that stage, al-Falah Center's role has ended. This type of work will be undertaken in another institutional form " in the coming days. He noted that the new center will be concerned with clear moral violations and does not interfere with people's privacy.
Accusations have been made against the HTS because it imposes general regulations, rules, or laws, reportedly to be very strict, on women's dress codes, work, and presence in public places.  
Commenting on the general orientation of its work with regard to the lifestyles of women in Idlib, Omar said, that " The Syrian people are Muslim. And they are proud of their identity and culture and their commitments to the Islamic teachings in public appearance and occasions, including the dress of men and women alike." 
He pointed out that "violations" sometimes occur in public places, "which are often handled promptly with appropriate direction and guidance. People, in return, receive that with open arms."
As news spread about the termination of the work of al-Falah Center, on 21 September local pages and Syrian activists circulated pictures of banners hung by the Salvation Government's Ministry of Awqaf(Islamic Endowments)operating in Idlib governorate, in the city of Harem, north of Idlib, as part of the "Guardians of Virtue" campaign. The banners read Quranic verses and phrases urging women not to wear makeup and adhere to Islamic dress.
These banners sparked outrage on social media platforms, given the unjustified restriction on women's dress in Idlib. In addition, the salvation government wastes public funds on placing banners in Idlib in order to promote such an issue, while the area is experiencing a deterioration in the health sector as a result of the outbreak of the novel coronavirus pandemic (COVID-19).
Keep going despite failure, why?
Even though the Hisbah Committee previously ceased its work for two years— after the people of Idlib went out to the streets in a protest against the committee's strict measures to curb their freedom— it continues its work under various names.
According to an analytical study issued by the Jusoor Center for Studies on 18 May, the HTS is keen to implement Hisbah for multiple goals. The HTS, via Hisbah Committee, aims to have a deeper penetration into society, balance between its groups and other religious groups in the region, ascribe to jihadist tendencies, and control society's movements and directions. 
Hisbah is considered a pivotal point in the thought of the Islamic groups since it was first approved and turned into an essential tool used to control markets and public sphere. "Some historical governors and sultans even went further and exploited the concept to exclude and in some cases execute their political rivals," according to the study.  
The study explained that Islamic groups call for Hisbah under the principle of "enjoining good and forbidding wrong." These groups gradually apply this principle; some use "the advice" and others use "force" in individual cases, to change what they see as "evil."
Previously, the so-called Islamic State (IS)was able to transform this theoretical concept into an integrated bureaucratic body, whose task is to subject the society to IS thought in terms of religious worship and rites.  
However, other groups including the HTS were unable to establish a stable body that implements the principles of "Hisbah" in their areas of control, despite the fact that the HTS assigned first Sawa'id al-Khair as a body to enforce it in Idlib two years ago, and then the body was canceled "as a result of abusing public liberties and suspicions of corruption," explained the study.  
Practices that violate human rights
In a statement issued on 13 May 2020, the Syrian Network for Human Rights (SNHR) condemned the "extremist" practices carried out by the HTS and its wing, al-Falah Center. The SNHR stressed that they are considered a violation of the most basic standards of international human rights law, which clearly stipulates the freedom of movement and dress.
The SNHR explained that the Hisbah Committee, composed of foreign nationalities, aims to increase restrictions on the population in the HTS-linked areas and to have more control over their private affairs.
The SNHR called on the international community to help the Syrians get rid of "extremist groups that thrive on chaos," by taking serious steps according to a specific and strict timetable to achieve a political transition towards democracy that guarantees stability and human rights.
if you think the article contain wrong information or you have additional details Send Correction