Female doctors and nurses fill the void in Idlib's healthcare sector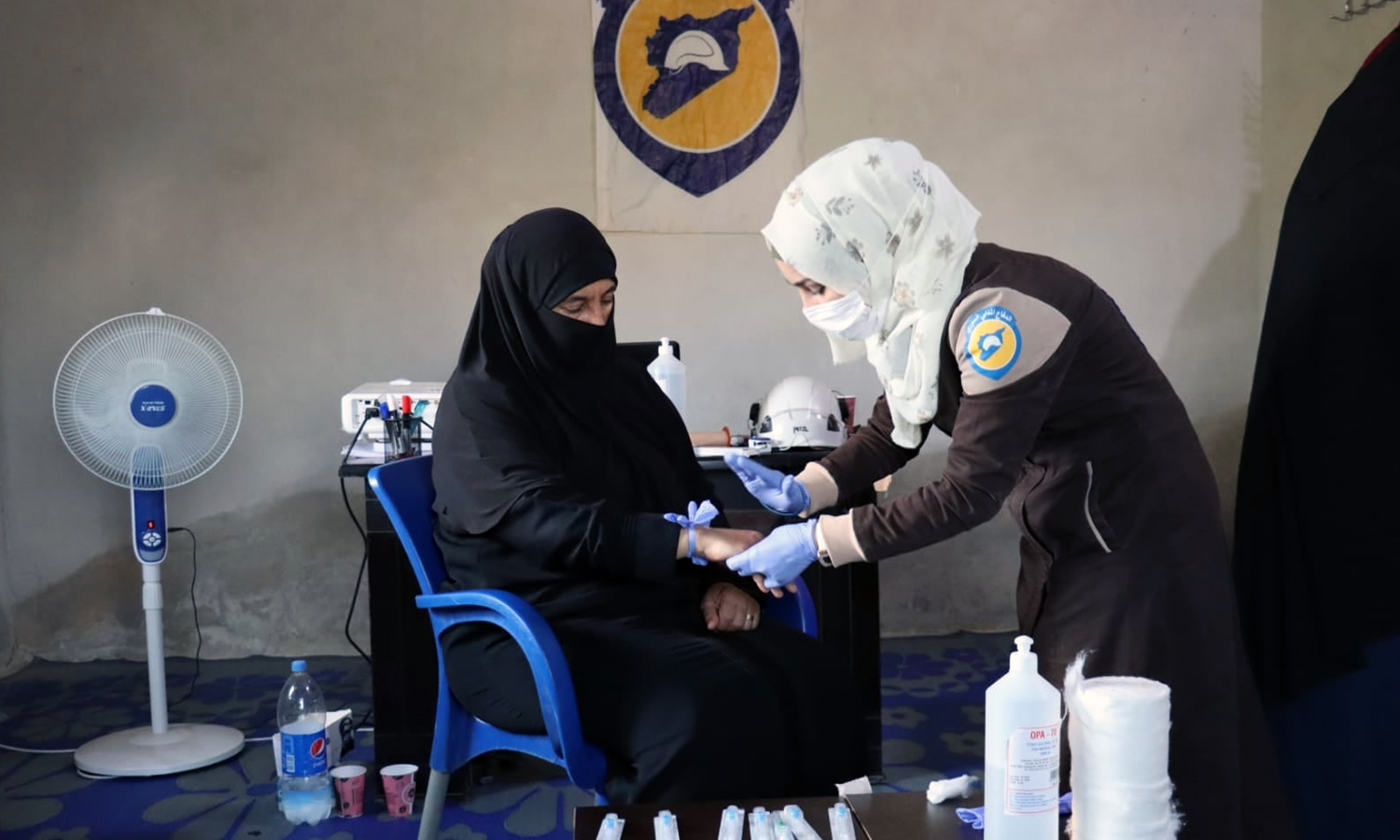 Idlib – Hadia Mansour
Work necessity was not the primary reason pushing Sarah al-Ahmad, 35, to spend long hours taking care of children and women in the Maternity Specialized Hospital in the al-Dana city, northern Idlib. Al-Ahmad's love for nursing and her belief in the importance of the medical and nursing profession within the coronavirus (COVID-19) pandemic and Syria's war circumstances in the last decade were the greatest motivation in her work.
Highlighting the significant role women are playing in the medical field that has been facing tremendous challenges in northwestern Syria, al-Ahmad told Enab Baladi that women's role cannot be ignored, as they filled the vacancies resulting from the migration of medical personnel out of Syria since the beginning of the conflict in 2011. 
Women have made inroads into various medical fields, including ambulatory care, physical therapy, and midwifery. They contributed to the success of many medical facilities and proved their capabilities in this field and other relief, education, and awareness-raising fields, al-Ahmad said.
As for her passion for the nursing profession, al-Ahmad said that she had chosen to become a nurse to help destitute patients suffering from poverty, siege, and war and who lost everything, even their physical health."
Driven by her passion, al-Ahmad graduated from the nursing institute and joined several medical courses and trainings, which helped her enrich her knowledge, improve her skills, and enter the field more strongly and with more confidence.  
Syrian female doctors on front lines confronting Coronavirus
The medical sector in Idlib and northwestern Syria is suffering massively after being depleted by war for more than ten years, during which the regime's and its allies' military machinery destroyed hospitals and medical centers and forced specialized medical professionals out of Syria.
Moreover, the COVID-19 pandemic has placed further pressure on the region's health sector, with a daily increase in infections due to the lack of awareness and prevention methods and the fragility of existing health systems.
Thirty-year-old Dr. Ranad al-Taweel talked to Enab Baladi about her experience in helping out large numbers of coronavirus patients arriving in critical conditions. She described how she takes care of her patients by offering them necessary medical care and following up their cases after putting them on oxygen masks and serving them their medicines. 
Al-Taweel informed Enab Baladi that even though the isolation hospital in the Kelli area is no longer accepting coronavirus cases, the medical cadres are working hard to receive new patients and refer them to other specialized hospitals. 
Al-Taweel emphasized the significance of coronavirus awareness-raising campaigns, especially after the spread of the currently predominant and more contagious strain of the coronavirus, the Delta variant. She also talked about the importance of vaccination and shunning rumors and false information, driving many civilians to refrain from taking the vaccine, fearing it would adversely affect their health.
Al-Taweel praised women's contributions to the medical field, where they managed to stand out, support their fellow male colleagues, and helped the health sector rise again.
"Women did not just stand by watching the health sector deteriorate after suffering acute humanitarian crises amid lack of necessary medical materials, equipment, and staff. Instead, several girls and women enrolled themselves in medical and first aid courses and then began working in hospitals, medical field points, and health centers," al-Ahmad said. 
The need for female medical professionals to treat critical cases of women patients 
Ghanem Khalil, the public relations officer in Idlib's Health Directorate, celebrated women's efforts and success under the most difficult circumstances, their ability to prove themselves in rescue operations, first aid services, anesthesia, nursing, and all other sorts of medical services.
"Women are driven by their passion to help those who need medical care, including regular patients and war injured. There are also critical cases of women patients that require the presence of female medical professionals," Khalil said.
Women's participation in the health sector is not limited to their work in hospitals and medical centers but also extended to the SCD, whose number of women's centers had increased to 33 distributed throughout Idlib.
The SCD's centers include scientifically and practically qualified cadres providing numerous medical services, security, and safety awareness campaigns, nursing courses, medical examinations, first aid, and psychological and community support services.
if you think the article contain wrong information or you have additional details Send Correction