Idlib's Health prepares specialized medical centers to confront Coronavirus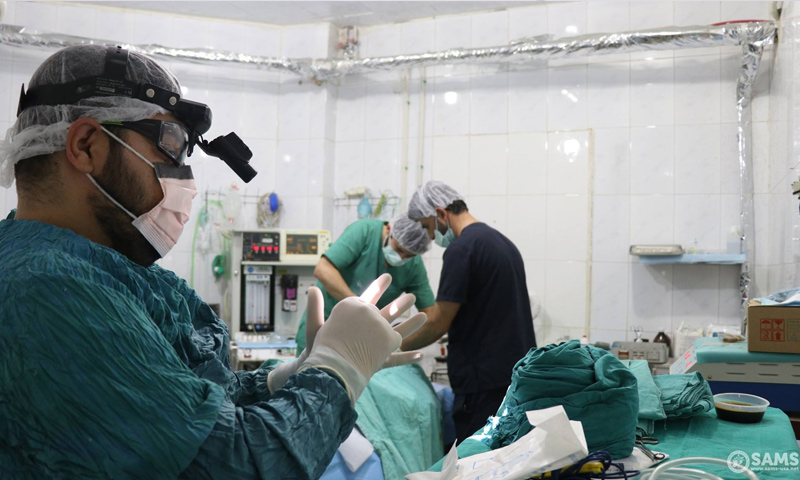 Idlib health directorate affiliated to the health ministry in the Syrian interim government has announced its readiness to face the emerging coronavirus, especially after its neighboring country, Turkey, recorded several infections.
Anas al-Dogheim, a health care official in the Idlib health directorate told Enab Baladi, Tuesday, 17 March, that preparing special medical centers and hospital units are under way to provide the needed treatment for those infected with the emerging coronavirus.
There will be three main medical units in the city of Idlib, Darat Izza, and Salqin, where a health team made up of health directorates and medical organizations operating in northern Syria.
30 hospital units will be equipped, each consisting of ten tents distributed in northern Syria, along with a health team which will set a tent next to each health facility designated for screening and identifying suspected coronavirus infections.
In addition, a trained medical team will monitor and detect infections at the gates and crossings points between opposition and regime held areas.
al-Dogheim pointed out that a central laboratory in Idlib will be equipped to help detecting infections where trained doctors, in Ankara, will use "the EWARN" system to follow up and monitor all suspected cases.
Deputy director of Idlib's healthcare directorate, Mustafa al-Eido, indicated in a previous statement to Enab Baladi that the directorate is conducting an awareness campaign on the coronavirus to prevent disease from spreading, as well as coordinating with humanitarian organizations to provide prevention kits for people.
The ministry of health in the Syrian interim government has not yet recorded any coronavirus infections northern Syria.
In addition to the precautionary measures taken by the ministry, the Syrian crossing border administrations with Turkey announced the closure of their checkpoints (Bab al-Hawa, Bab al-Salama, and Jarablus Crossing), as well as shutting down "Abu Zandain" crossing point linking the opposition held areas to regime controlled territory from the western side of al-Bab city near the village of Shamawiyah.
The education directorates in Idlib and Aleppo announced the suspension of schools and all educational activities over coronavirus fears.
The emerging coronavirus continues to spread across the globe, with more than 186,000 infections with a death toll that exceeds 7400 cases.
if you think the article contain wrong information or you have additional details Send Correction