Aleppo countryside teachers protest low wages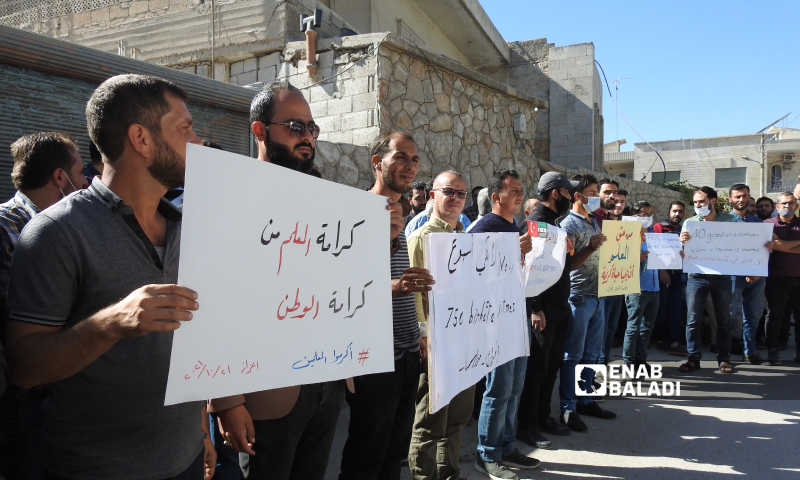 Teachers in Azaz city of Aleppo countryside have staged a protest and went on strike, demanding improvements to the educational process in the region and salary increase.
The teachers' protests and strikes were not limited to Azaz, as similar protests were organized in the cities and towns of Aleppo northern countryside since 14 October for better wages whose value fell due to the continuing depreciation of the Turkish lira.
The teachers' strike prompted local councils in the cities of al-Bab, B'zaah, and Qabasin to threaten teachers with salary cuts for the days they did not show up to work. The councils also threatened dismissal if teachers continued striking and did not return to work by 20 October.
In separate statements released on 19 October, the councils said that the decision is mandatory "to protect children's rights, including the right to education that is a fundamental human right."
The local councils' threats were rejected and denounced by Syrian activists who resorted to social media platforms to demand enhancements to teachers' rights and employment conditions.
Rightful demands
Sana Hassano, a primary school teacher in Azaz, told Enab Baladi, "We rose against the regime and made great sacrifices to restore our dignity and improve all aspects of life, including education and teachers' working conditions."
"Teachers are some of society's most suffering segments before and after the revolution," Hassano said, adding that teachers in Aleppo countryside do not receive any moral support or motivation to encourage them to continue teaching in exchange for the low wages they receive. 
Teachers' salaries can barely cover a week's living expenses due to high living costs and the economic crisis in northwestern Syria, according to Hassano.
Hassano believes she and her colleagues have rightful demands increasing the minimum salary to 2000 Turkish liras (TL = 208 USD), even though the amount is considered the minimum income to secure a living in the region, particularly with the Turkish lira's continuing plunge against the US dollar.
She added that the quality of education depends on the provision of all educational process requirements to ensure a decent living for teachers. This way, teachers would be motivated to give their best, unlike what is happening today.
The quality of education is at risk as long as teachers remain preoccupied with how to secure money to buy bread or pay their houses' rents, in addition to other life necessities. 
Hassano pointed out that teachers in Aleppo countryside do not have annual leaves or salary increases even with long teaching experiences.
She called for making new working contracts between teachers and the Education Directorate to ensure teachers' rights and preserve their dignity.   
Teacher Firas Hamasho told Enab Baladi that teachers' demands in northwestern Syria are focused on reforming the educational process in general and increasing teachers' monthly income on a regular basis in particular. 
He added that the Education Directorate needs a new internal system to ensure annual salary increases and safeguard teachers' rights by setting a law to protect them and guarantee their right to annual leaves and health insurance.
According to Hamasho, teachers' most urgent demand is to have a union to regulate the relationship between teachers and concerned bodies and ensure a decent life for teachers.
The reason why teachers had to bear with low wages and "unfair" laws, according to Hamasho, is their concern for students' future and their quest to raise an educated generation.
The pay rise decision is made in Turkey
The Director of Education in Azaz, Nader Hourani, told Enab Baladi the Education Directorate supports teachers' "rightful" demands expressed in recent protests.  
Hourani added that the directorate is constantly working to improve teachers' living and working conditions, adding that teachers' strikes disrupt the educational process and damage students' learning.   
According to Hourani, teachers' rightful demands should not be accompanied by any action that would impede education or distort the image of teachers in the region. 
He said the directorate would not take any decision or action to pressure or prevent teachers from exercising their right to demonstrate and claim their rights.
Enab Baladi asked Hourani whether the directorate intends to respond to teachers' demands of pay increase, to which he responded that the salary increase is up to the Turkish Ministry of Education and that the directorate has informed the ministry of the demands and is waiting for a reply.  
Hourani said the directorate welcomes any offer by civil society organizations to support the education sector, noting that they refused previous conditional support projects that included only a small percentage of teachers.
A deteriorating economy
On 13 October, representatives of the schools of al-Bab and Qabasin cities and their countryside announced a strike on 14 October as a response to the deterioration of the educational process, owing to a shortage in educational cadres and school books and the outbreak of the coronavirus (COVID-19) pandemic under lack of preventive measures. 
The representatives' statement mentioned that overcrowded classrooms (each classroom contains over 50 students) and teachers' poor financial and living conditions have contributed to disrupting the educational process. 
The statement denounced the word "grant," used to describe teachers' salaries worth about 85 USD, noting that this amount was worth twice as much years ago.
Teachers were paid 500 Turkish liras before protesting in October 2018, when they succeeded in raising their salaries to 750 Turkish liras.
The protesting teachers demanded a regular increase to their salaries to become 2000 Turkish liras as a minimum. They also called for enhancing the educational situation in all its aspects, warning officials that they would take further steps if their demands were not answered. 
Since 2017, the region's teachers have held several strikes and protests in front of the city's police station, demanding Turkish and local officials to improve their conditions and increase their salaries. These demands were never met except in the 2018 strike, and teachers were threatened with dismissal.
The Turkish lira continues to drop against the US dollar, with 1 USD equalizing 9.61 TL, according to the currency exchange rate specialized website Döviz.
---
Enab Baladi's correspondent in Azaz city Walid Othman contributed to this report.
if you think the article contain wrong information or you have additional details Send Correction