Partially destroyed buildings threatened with demolition in Raqqa province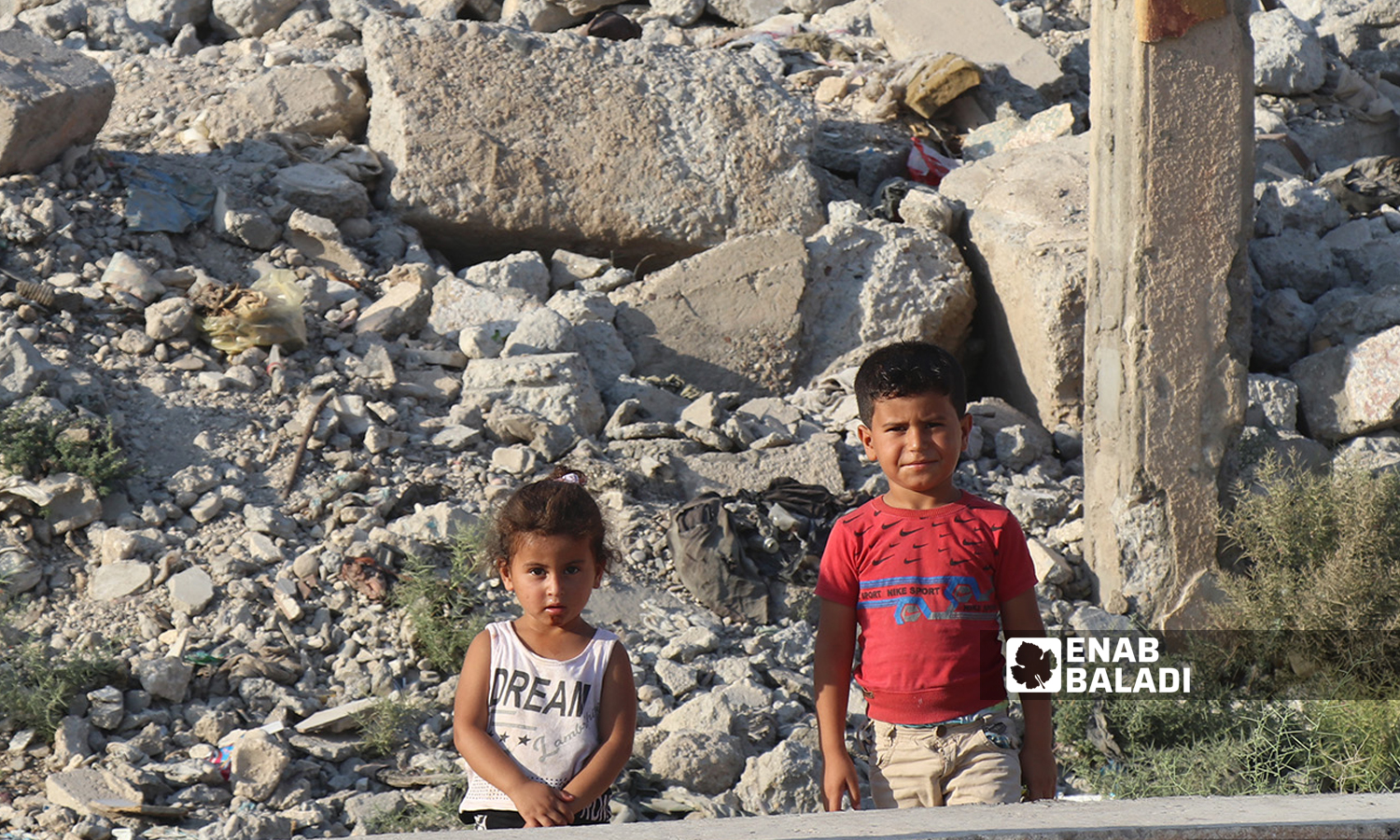 Enab Baladi – Raqqa
"They were demolished despite the possibility of benefiting from them." These words said by Rami al-Hassan (aged 30) have summarized the conditions of many government buildings that were partially destroyed during battles to control Raqqa province in northeast Syria or by the Syrian regime forces' bombardment of the city after they lost control over it.
Al-Hassan, an activist from al-Thakanah neighborhood in Raqqa, told Enab Baladi that several partially destroyed government buildings in Raqqa have been demolished recently to extract their steel bars instead of keeping them or repairing their destroyed parts to bring them back to public service.
Enab Baladi's correspondent in Raqqa has reported that public buildings built between 2000 and 2010 are being removed completely by contractors who have been taking steel bars out of these buildings and selling them in the city's markets at a time the city of Raqqa has been suffering from a decline in government services.    
Partial damage used as a pretext for demolition in Raqqa
The partial destruction that affected several government buildings was not included in the reconstruction plans of Raqqa city but was used by the city's municipality and Civic Council's Technical Services Department (TSD) as a pretext to carry out demolition works under tenders described as "suspicious" by al-Hassan.
"These buildings should have been preserved or repaired by removing only their destroyed parts instead of being completely removed for the sake of steel bars. The city of Raqqa will need millions of US dollars to build buildings similar to those being destroyed today," al-Hassan said.
One of the most prominent buildings to be demolished is the building of Children's Hospital, whose construction started in 2008 and was about to be completed when opposition factions controlled Raqqa in 2013.
Demolition for the sake of "urban aesthetic planning"
An employee at the TSD told Enab Baladi that partially destroyed buildings are removed for urban aesthetic planning. Meanwhile, concerned authorities in Raqqa have failed to restore damaged buildings for lack of financial resources. 
The employee, who asked Enab Baladi to withheld his name for he is not authorized to address the media, said that institutions in Raqqa had benefited financially from steel reinforcements extracted from demolished buildings by selling them in markets and supplying the public treasury with their revenues to provide other essential services in Raqqa. 
Used steel bars taken out from demolished buildings are being sold in Raqqa markets at prices competitive to those of new ones. They are sold to buyers after re-adjusting them for reuse in buildings under construction.
The ton of previously used and adjusted steel reinforcements is sold in Raqqa markets at 720 US dollars, while the price of a ton of new steel bars is 920 US dollars.
A legal act but under specific regulations!
The TSD employee mentioned that the demolition had not been limited to public buildings as there are partially damaged private buildings also being demolished, adding that removing these buildings is necessary to get rid of traces of destruction from the city in the absence of financial support needed for rehabilitation.
Early in 2020, the Raqqa municipality issued a circular necessitating the removal of war-affected buildings within a maximum period of ten days. The circular was intended for owners of damaged private properties in the city's main streets and neighborhoods.  
Syrian lawyer Mohammed Ayoub told Enab Baladi that public authorities have the right to demolish conflict-affected ramshackle buildings whether they were partially or completely damaged. 
Ayoub added that an established monitoring body must be responsible for observing the municipality's work and estimating whether to rehabilitate or demolish a destroyed building. He added, the municipality's monopolization of public and private destroyed buildings' removal tenders opens the door for corruption and embezzlement of public money. 
The loss of property rights
The random removal of partially or completely damaged buildings without higher oversight could jeopardize civilians' property rights and complicate their chances to a fair compensation equal to their demolished houses' rubble.    
The city of Raqqa must not be made a flat land devoid of any construction landmarks or signs of former buildings' locations under the pretext of urban aesthetic planning or lack of funds to rehabilitate these buildings, as this will make it easier for municipalities and other administrative units to control the fate of empty spaces in the future.
Moreover, unregulated demolition of war-affected residential areas gives room to the establishment of new zoning areas without regard to property rights, thus changing the city's demographic structure and transforming individual and independent property ownership into real estate shares in a zoning area under binding partnerships. 
Besides, property rights of those who have lost ownership proving documents to their apartments would be adversely affected by the demolition of buildings and removal of their traces.     
The breaking down of destroyed buildings and the removal of rubble in the city of Raqqa would cause the loss of many homeowners' rights in commonly owned buildings in addition to those who have bought properties under illegal or uncertified contracts or by real estate agencies or provisions' agreements not registered in the city's cadastre. These people would not be able to prove their ownership after the city's streets, alleys, and neighborhoods undergo new urban designs.
A general failure to reconstruction
Partially or completely damaged buildings are a great challenge to residents wishing to stay in their areas amid a general failure to rehabilitation that starts at concerned entities and ends at owners of destroyed properties. 
As official bodies in Raqqa province failed to take any real steps to reconstruct damaged buildings, some property owners bore the brunt and took rehabilitation works, while a large part of the city's real estate remains in ruins.   
In some instances, homeowners were forced to sell their properties to real estate brokers and contractors after failing to reconstruct them with their own money. 
The municipality of Raqqa city's role was limited to monitoring reconstruction activity through its affiliate Urban Planning Office, and rebuilding was carried out by the destroyed buildings' owners or contractors assigned to undertake rehabilitation works.
Meanwhile, relief organizations operating in the area whose job is to perform reconstruction and urban development projects with external funding made timid efforts in this regard.  
Locals in Raqqa have accused the municipality of condoning dozens of property code violations, including encroachment on public property in exchange for bribes by real estate brokers and building contractors to municipality members. 
In March 2019, the United Nations Institute for Training and Research (UNITAR) published the "Syrian Cities Damage Atlas," report which said that there are 12,781 damaged buildings in the Raqqa province, of which 3,326 buildings are entirely destroyed, 3,962 buildings are severely damaged, and 5,493 buildings are partially destroyed.
The report also showed the distribution of destruction in al-Raqqa's cities and villages. According to the report, the total number of damaged buildings in al-Tabqa city reached 487 buildings, of which 207 buildings were completely destroyed, 128 buildings were severely destroyed, and 152 buildings were partially damaged.
In 2017, Raqqa saw battles between Syrian Democratic Forces (SDF) fighters and Islamic State (IS) militants. The fighting lasted for 166 days and ended with the SDF controlling the city of Raqqa in mid-October of the same year and the destruction of many buildings in the city entirely or partially. 
Warplanes and rocket launchers were used in the battles that took place in the city's neighborhoods and contributed greatly to the destruction of many buildings. Land mines planted by IS militants also damaged properties there.   
Another report by the Action on Armed Violence (AOAV) organization released in December 2019 estimated that the US-led International Coalition Forces (ICF) fired 30,000 artillery shells on Raqqa city.
if you think the article contain wrong information or you have additional details Send Correction