Civilians in Raqqa selling destroyed properties under coercion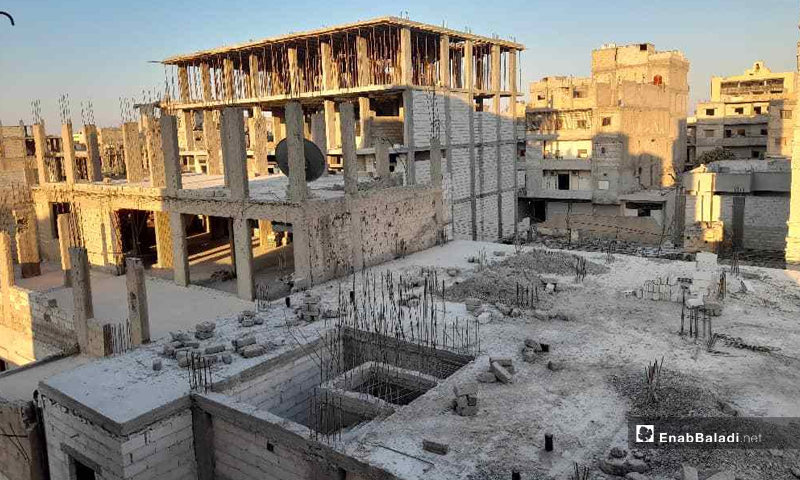 Raqqa – Hussam al-Omar
Under pressure, Ali al-Abdullah accepted 6 million Syrian pounds (SYP = 1,900 USD) from a construction contractor in Raqqa governorate as a purchase price for his war-damaged apartment, which he was unable to reconstruct in the city center.
Al-Abdullah told Enab Baladi that he gave up on the idea of rebuilding his apartment when he could not secure the amount needed for reconstruction to the contractor. 
The city of Raqqa has been witnessing a reconstruction boom lately. Still, some destroyed apartment owners were unable to cover reconstruction costs of their shares of damaged buildings and had to hand their properties over entirely or partially to contractors or real estate brokers in Raqqa governorate in northeast Syria.       
Compulsory sale of real estates
The amount given to al-Abdullah by the contractor was much less than the real price of his apartment had it been rebuilt again. The apartment's market value is worth more than 18,000 USD, al-Abdullah said. 
In 2017, Raqqa saw battles between Syrian Democratic Forces (SDF) fighters and Islamic State (IS) militants. The fighting lasted for 166 days and ended with the SDF controlling the city of Raqqa in mid-October of the same year and the destruction of many buildings in the city entirely or partially. 
Warplanes and rocket launchers were used in the battles that took place in the city's neighborhoods which contributed greatly to the destruction of many buildings. Land mines planted by IS militants also damaged properties there.   
A widespread problem
Al-Abdullah is apparently one of many citizens who, according to Raqqa-based broker Mohsen al-Naser, have been affected by the greediness of real estate brokers, eager to buy apartments of damaged buildings whose owners cannot afford reconstruction. 
The inability of some citizens to reconstruct their properties "must not stand in the way of active urbanization that Raqqa is currently witnessing," al-Naser said. 
The broker added that property owners who cannot restore their apartments should resort to the selling option so that other owners in the same buildings would not be affected or forced to postpone the reconstruction process.   
Al-Naser said, given that selling is the only possible option for owners of damaged properties, real estate brokers and contractors in Raqqa are taking advantage of the situation by offering low purchase prices. 
Illegal forced property selling 
Lawyer Mohammed al-Ayoub told Enab Baladi that no law entitles real estate contractors, construction companies, or brokers to pressure owners into selling their destroyed properties upon failure to rehabilitate them.  
In such cases, owners can maintain their rights to the destroyed building in the form of real estate shares divided between the building's owners, al-Ayoub said.
If coerced into selling, owners can file a lawsuit of compulsory sale, al-Ayoub said, adding that the relevant court, in this case, would rule for suspending the construction permit and ownership determination.   
Raqqa's municipality: limited role amid accusations of corruption
The municipality of Raqqa city's role was limited to monitoring reconstruction activity through its affiliate Urban Planning Office, and rebuilding was carried out by the destroyed buildings' owners or contractors assigned to undertake rehabilitation works.
Meanwhile, relief organizations operating in the area whose job is to perform reconstruction and urban development projects with external funding made timid efforts in this regard.  
Locals in Raqqa have accused the municipality of condoning dozens of property code violations, including encroachment on public property in exchange for bribes by real estate brokers and building contractors to municipality members. 
A member of the Raqqa municipality denied the accusations, pointing out that the code under which the municipality operates entitles it to sell or lease public property within the "public interest" requirements. 
The municipality implements service projects that would improve the quality of services provided in Raqqa, he added.
The municipality monitors reconstruction works in the city to ensure no building violations are occurring and that all works are in line with the city's zoning plan to prevent slums from being established. Slums' access to water, power, and sanitation services is limited, the municipality member, who chose to remain anonymous for he is not authorized to speak to the media, told Enab Baladi. 
Several neighborhoods in Raqqa have poor services, such as the Euphrates, al-Dariyah, al-Rumaila, and North of the Railway.
On 6 July, the Higher Technical Regional Committee of the Local Administration and Environment Authority of the Autonomous Administration of North and East Syria (AANES) approved the new zoning plan of the Raqqa city.
During a meeting, the Committee presented several files for discussion; seven of them were about the eastern countryside of Deir Ezzor, two tackled the al-Tabqa area, and four were focused on Raqqa, according to a statement issued by AANES. 
Some of these files included modifications to some established urban planning patterns, while new zoning plans were adopted for the Raqqa city and North of the Railway neighborhood in Raqqa.
if you think the article contain wrong information or you have additional details Send Correction