Families from Deir Ezzor recalls the Sheitat massacre on seventh anniversary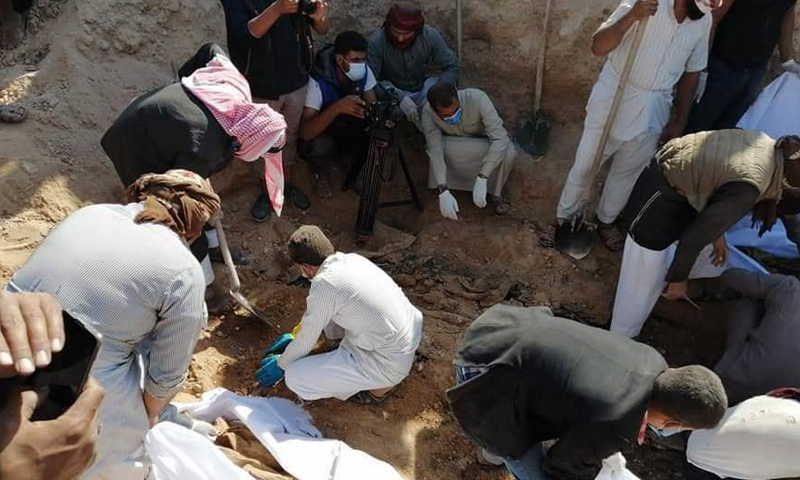 Deir Ezzor – Hussam al-Omar
Forty-five-year-old Khadija al-Ali and her husband made a decision along with hundreds of other families to flee the al-Kishkiyah town in Deir Ezzor's eastern countryside to neighboring villages without realizing that this move would bring them close to being killed.   
Al-Ali could never have imagined that members of her family would become victims of a massacre committed by the Islamic State (IS) militants in the summer of 2014 against the Sheitat clan in Deir Ezzor governorate. 
She told Enab Baladi that hundreds of families had to leave the towns of the Sheitat tribe after its fighters decided to leave following 14 days of battles with IS, which imposed a stifling blockade on residents.  
The results of the Sheitat massacre
In mid-August 2014, IS militants perpetrated a massacre against members of the Sheitat clan, leaving hundreds of deaths and dozens of missing persons.
Back then, IS commanders issued a fatwa (a formal Islamic ruling) accusing the clan of combating it and instructing militants to kill all male Sheitat residents over the age of 14 years and seize civilian assets.
To this day, residents of the eastern countryside of Deir Ezzor still recall the horrible details of the massacre that left hundreds of widows and orphans in the villages and towns of Deir Ezzor's eastern countryside.    
In May 2020, civilians in Deir Ezzor's eastern countryside founded the Martyrs of the Sheitat Massacre Association as an attempt to preserve the rights of the massacre's martyrs and secure their families' basic needs.   
The head of the association, Ali al-Amer, told Enab Baladi that the registered number of the massacre victims by the association is 850 persons, in addition to thousands of orphans and widows who mostly do not have a breadwinner. 
Events that led to the massacre
In the early months of IS control on large areas of Deir Ezzor's countryside in 2014, IS military equipment failed to force obedience on the Sheitat clan's members. 
Residents of the region told Enab Baladi that IS made a deal with the Sheitat tribe compelling the clan to allow IS militants to cross through its areas on the condition of IS non-interference in civilians' matters.  
Radi al-Fajr, a resident from al-Kishkiyah town, said that IS militants did not abide by the deal and assaulted residents leading to direct fighting between IS and clan members. The fighting heated up after IS militants slaughtered a local with a knife in front of his family, causing IS to be expelled entirely from the Sheitat towns.  
Al-Fajr added that days after the battles broke out between the Sheitat clan and IS, the two sides reached a truce in which it was agreed to exchange prisoners. As a result, the Sheitat released several IS militants captivated during battles but IS broke the truce and released a video recording showing the execution of all prisoners from the Sheitat tribe.
As a result, the Sheitat clan started to prepare for the fight with IS, which also brought reinforcements from its controlled regions in Syria and Iraq and started bombing civilian houses with artillery shells.
Islamic State's advancements and displacement of Sheitat members
After clashing with the Sheitat clan fighters, Is militants managed to advance to the center of Ghranij, Abu Hamam, and al-Kishkiyah towns and killed and displaced hundreds of their inhabitants.  
Families from the Sheitat tribe fled to some areas in Deir Ezzor controlled by the Syrian regime and to other areas in Raqqa and al-Hasakah countryside. Other families traveled towards Turkey after being prosecuted by IS.
In November 2014, the leader of IS Abu Bakr al-Baghdadi ordered to cease pursuit of Sheitat clan members and allowed them to return home on the condition of repentance and surrender of weapons. 
Joining Syrian Democratic Forces in retaliation against Islamic State
Rajab al-Jassim (aged 30) from al-Kishkiyah town joined the Syrian Democratic Forces (SDF) ranks and participated in most of the SDF battles in Deir Ezzor governorate during 2018 and 2019.
Al-Jassim said that many of the Sheitat tribe joined SDF in retaliation against IS, but some quit SDF after announcing IS defeat in its last stronghold in al-Baghouz town in March 2019. 
Those who joined SDF from Deir Ezzor governorate established the Military Council of Deir Ezzor, which runs large areas in the governorate and is linked directly to SDF's general command. 
Despite declaring its complete defeat, IS continues to claim responsibility for attacks against the SDF in Deir Ezzor countryside and other regions in Syria.
if you think the article contain wrong information or you have additional details Send Correction