Wolves of the North: 2000 fighters enlisted into Suleiman Shah Brigade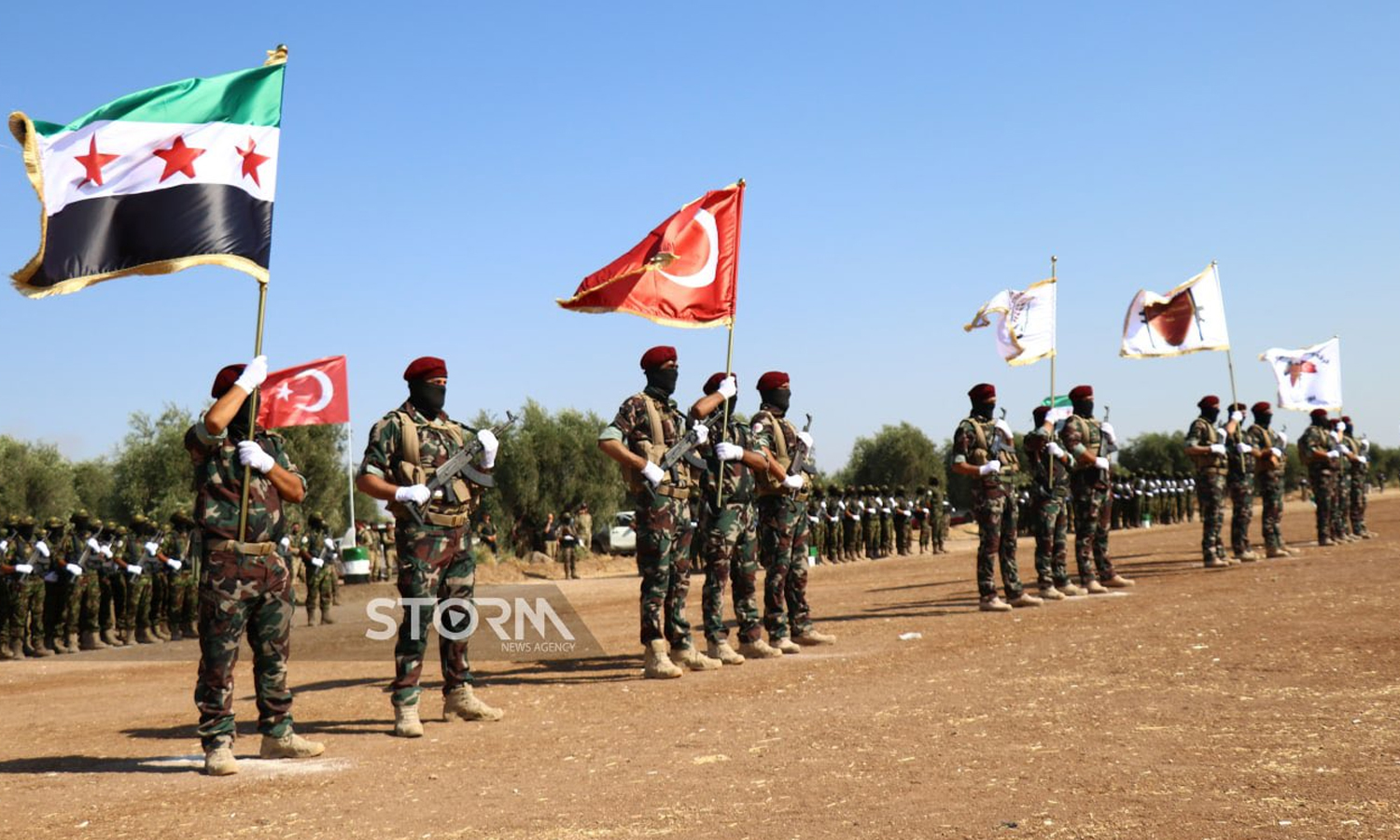 The Suleiman Shah Brigade, affiliated with the Syrian National Army (SNA), announced the graduation and subsequent enlistment of 2000 fighters into its ranks, under the command of Muhammad al-Jasim, known by his nom de guerre Abu Amsha.
The brigade posted several videos on its official media platforms today, featuring the graduation ceremony. The event was attended by the head of the Syrian Interim Government (SIG), Abdulrahman Mustafa, and several SNA commanders, tribal dignitaries, and Turkish officers.
The fighters were subjected to tactical, organizational, military, physical, and religious training, to be then distributed to units under the Suleiman Shah Brigade, Abu Amsha tweeted.
The ceremony also commemorated a number of faction commanders who died in previous years, their photos were held, including the Chief Commander of Liwa al-Tawhid (Al-Tawhid Brigade), Abdulqader al-Saleh, one of the brigade's commanders, Yousef al-Jader, Chief Commander of the Jaysh al-Islam (Islam Army), Zahran Aloush, and founder of the Harakat Ahrar al-Sham, Hassan Aboud.
Who is Abu Amsha?
Abu Amsha is originally from the Joussa village, administratively affiliated with Hayaleen region, in the northern countryside of Hama. He was an agricultural vehicle driver before the revolution.
When the revolution shifted into militarization, Abu Amsha formed a small armed group, called the Fireline Team, which later joined the Martyrs of Hayaleen Battalion.
In 2013, the battalion disbanded and former recruits joined the ranks of the Syrian Revolutionaries Front, then-led by Jamal Ma'rouf. Abu Amsha was assigned the command of one of the front's battalions,  a source close to Abu Amsha previously told Enab Baladi, asking that his name be withheld for security reasons.
When clashes between Jamal Ma'rouf and al-Nusra Front— back then operating under Qaeda— ended in the interest of al-Nusra Front, eliminating Ma'rouf's group, Abu Amsha moved to northern Aleppo. There he commanded a military group affiliated with the al-Jabha al-Shamiya (Levant Front).
When Turkey launched Operation Olive Branch in Afrin in 2018, he joined the Sultan Murad Division, also functioning as a commander. He continued to fight within the division until the Suleiman Shah Brigade was founded, which later joined forces with the SNA.
When the SNA established control over numerous cities and villages in northern Aleppo, Abu Amsha underwent an image shift. He was always filmed driving armored vehicles and surrounded by armed guards.
if you think the article contain wrong information or you have additional details Send Correction