Syrians denied grave visits on Eid holidays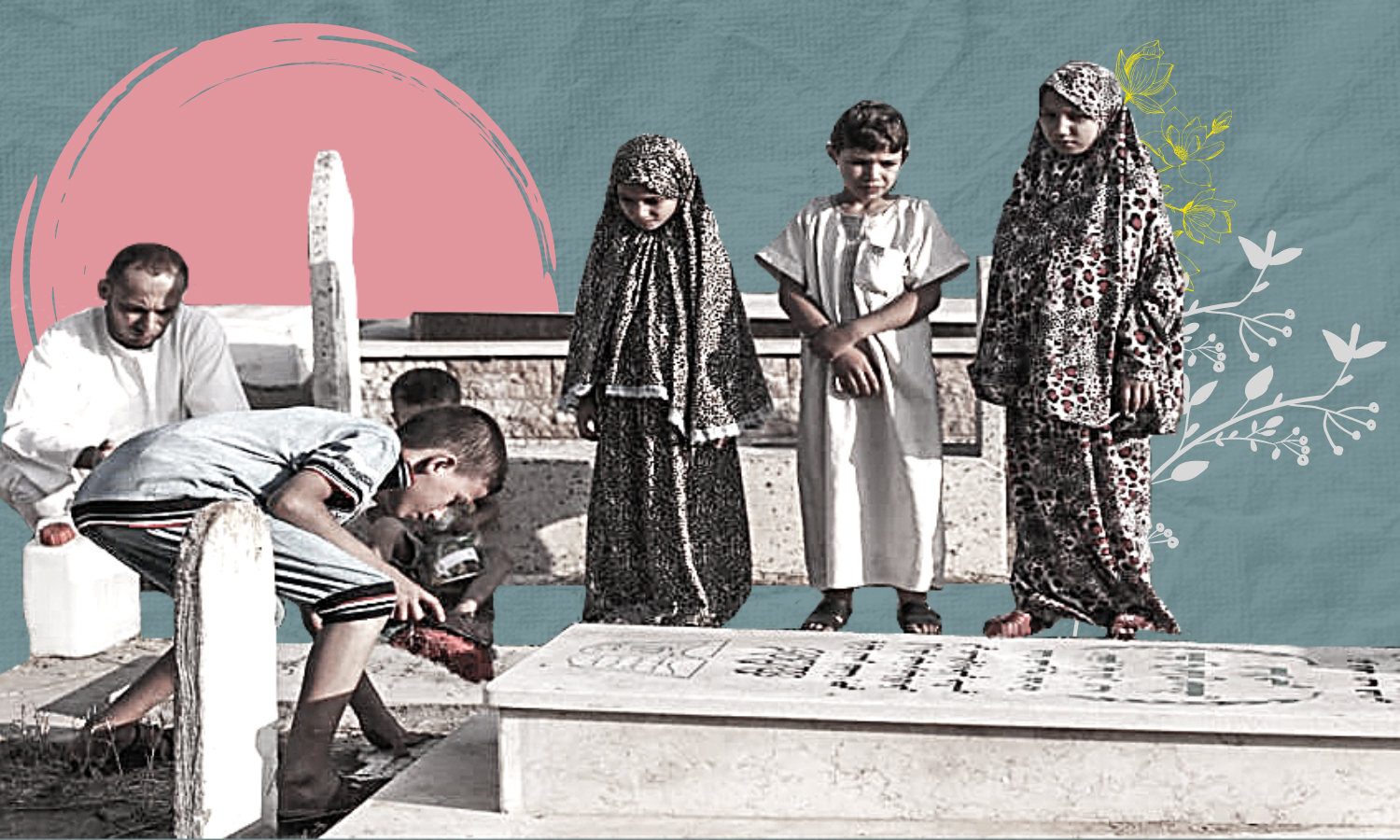 Enab Baladi-Khalid Jar'atli
Many Syrian internally displaced persons (IDPs) and refugees hope to return to their homes to meet their loved ones, having been kept apart for long years. Others wish for nothing else but to visit the graves of their loved ones; friends or relatives.
Visiting the graves on the morning of Eid, or the day before, is part of the Syrian cultural heritage. Syrian Muslims buy young shoots of myrtle to place them on the graves of their loved ones and water them. Then, they recite prayers for the deceased for forgiveness and peace.  
Ritual of remembrance not available to everyone
Over the past ten years, hostilities displaced numerous Syrian families, leading to a demographic transition and a deep cultural change. Being far from their original villages and towns, many families face great difficulty when trying to visit the graves of their relatives and friends. However, for the larger part, visiting the graves of their loved ones has become almost impossible. 
Mahmoud, 31, is from Salamiyah, east of Hama. He has been living in an IDP camp in the village of Atmeh near the Syrian-Turkish border for more than seven years. Mahmoud cannot return to his home in Salamiyah because he is wanted by the Syrian regime, for defecting from the army in 2012.
Mahmoud told Enab Baladi that, in the past, the traditions of visiting the graves of friends and family members used to bother him, bringing back all those sad memories and making him despair. He believed that the Eid holidays, too short to be wasted, should bring only joy to young people and children. 
Today, Mahmoud misses those moments besides the graves for their emotional value,  showing respect for the deceased and bringing the family together. 
Like Mahmoud, millions of Syrians, who live in northwestern Syria, cannot visit the graves of their loved ones, which exist in their original cities and villages, because they are now under the control of the Syrian regime or the Syrian Democratic Forces (SDF).
The UN estimates that there are nearly 6.7 million internally displaced persons (IDPs) throughout Syria. Of whom 2.7 million are displaced in northwestern Syria. The neighbouring countries host almost 5.5 million Syrian refugees. 
Graves out of reach
Issam, 35, died after falling off the roof of a building in the Turkish city of Sakarya near Istanbul during his work. He lived with his wife and his only daughter and a part of his family in Turkey. 
Since it has been impossible to perform burial rites in his native city of Hama, Syria, he is buried in Turkey. 
Therefore, the rest of his family could not participate in the burial ceremony. Moreover, they will not be able to visit his gravesite in western Turkey during the Eid holidays. 
Issam's parents have not only been deprived of attending their son's funeral, but they also have no chance to visit his grave. Because they are above 65 years, they cannot travel illegally to Turkey, which stopped hosting Syrians officially since the beginning of 2016.  
Tareq, Issam's cousin, said that Issam was buried in Turkey because he and his brothers are wanted by the Syrian regime's security services. So, it is not worth the risk to bury him in Syria.
He said, "This is the reality of the situation imposed on Syrians in general. Syrians cannot access their houses and properties, let alone visit the graves of their loved ones buried in different places and countries." 
Graves destroyed by Syrian regime forces
The Syrian Penal Code criminalizes the exhumation of graves without a legal reason. Article 467 of the code states that whoever(1)intentionally commits the crime of desecration of graves or monuments of the dead, or anyone who knowingly destroys, smashes, or defaces any tomb, monument, gravestone, or other structure established as a memorial, or (2) wantonly or willfully desecrates, destroys, damages, defaces or defiles anything else related to the rituals of the dead, or the maintenance or decoration of cemeteries, shall be punished by imprisonment of two months to two years.
 Even though there are multiple Syrian laws to maintain cemeteries, the Syrian regime has systematically destroyed cemeteries in re-controlled areas, including the Syrian southern governorates and Aleppo.
A video broadcast by activists on Twitter in 2020 showed the destruction of cemeteries by a group of soldiers affiliated with the regime forces in the city of Hayyan in the northern governorate of Aleppo.
The video illustrates that the soldiers broke the tombstone and removed it. Then, one of them began digging the grave to exhume the person's bones buried in it. It is apparent  from the dialogue of the people in the video that they are doing this as an act of revenge for a Syrian regime forces' affiliate named "Abu Kamal."
if you think the article contain wrong information or you have additional details Send Correction