Sulfur Daraa's farmers' new money-saving solution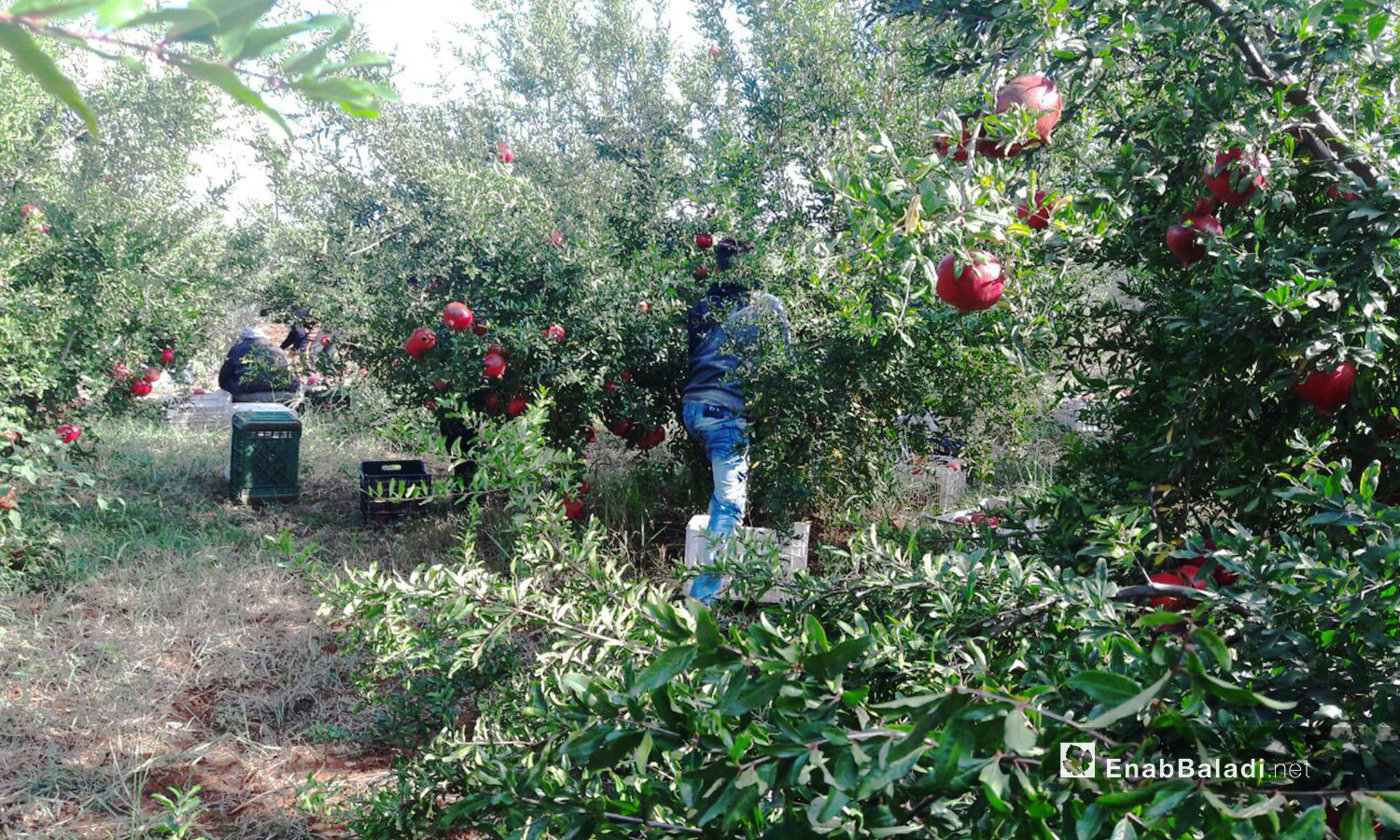 Daraa- Halim Muhammad
Ayman, a 43-year-old farmer from Daraa's western countryside, wakes up early in the morning to spray his crops with sulfur. With this routine, he intends to protect the plants from fungal diseases.
The area's farmers are using sulfur as an alternative to agrochemicals, which prices soared as the Syrian Pound (SYP) to US Dollar (USD) exchange rates hit several lows over the past years, Ayman told Enab Baladi.
He added that to reduce other involved costs, the farmers stopped hiring sprayers because the machinery's operators were charging them exorbitant fees.
Sulfur provides farmers with the time they need to save their crops. Using sulfur, farmers can put up with delayed access to pesticides and fungicides and also cut short the amounts needed of these costly materials.
Sulfur thus saves the crops and reduces production costs.
High prices breeding alternatives
Hiring a spryer and purchasing needed agrochemicals costs farmers an estimated 150,000 SYP, Ayman told Enab Baladi, withholding his last name for security reasons.
Sulfur-based treatments, he said, cut these costs by two-thirds, amounting to 50,000 SYP.
In addition to agrochemicals and the sprayer, farmers need to hire four workers at least, each paid a daily 25000 SYP.
Yassin, a second farmer from Daraa's western countryside, told Enab Baladi that agricultural engineers recommend that pomegranate crops be sprayed every 20 days to fend off pests and shield the trees against fungal diseases.
Yassin, 30-year-old, has a 10-dunum-land, all cultivated with pomegranates. He recently opted for spraying the crops with sulfur, "hoping to reduce the number of sprays over the season, from April to October, which is time for collecting the yield."
He told Enab Baladi that instead of applying regular chemicals to the crops every 20 days, he now can do it every two months.
Expert opinion
To reduce cultivation costs and guarantee that their crops are still protected despite minimized use of pesticides, farmers mix sulfur with other agrochemicals.
To fathom how sulfur works and whether it has any side effects, Enab Baladi reached out to a Daraa-based agricultural engineer.
Wishing to remain anonymous for security reasons, the engineer said that even though the measure the farmers are adopting is of paramount importance, sulfur-based approaches are only "precautionary solutions."
He added that "applying sulfur to crops does not substitute agrochemical treatments, supervised by specialized engineers."
The engineer stressed that farmers should check on the crops daily to make sure that they have not caught any diseases because sulfur is a precautionary measure, not a treatment.
Farmers apply sulfur to watermelons, eggplants, and tomatoes.
Sulfur should be sprayed in the early morning or in the evening when the temperature is relatively low because the heat might cause damage to the crops.
Sulfur has a foul smell and is extremely volatile. Due to this, farmers are often keen to apply it in high humidity, as to make use of dew that helps the material stick to the pomegranate leaves.
if you think the article contain wrong information or you have additional details Send Correction