Will the absence of precise definition of safe zone impact Syrian refugees in Europe?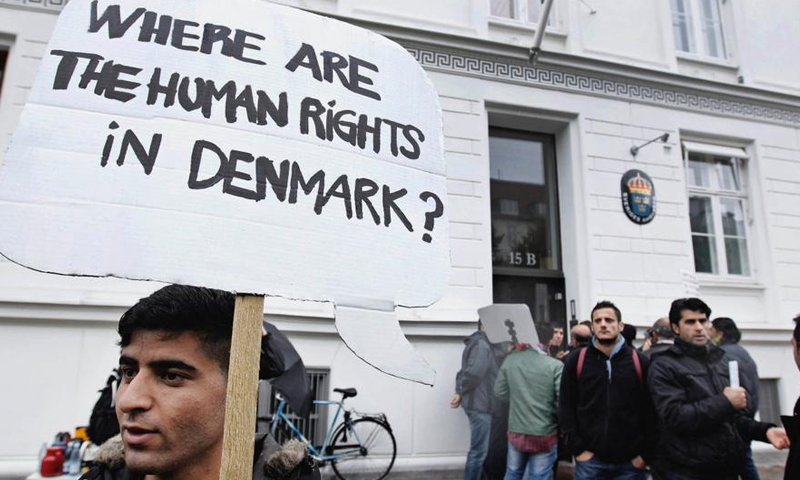 Enab Baladi – Saleh Malas
"My husband had to sell all his assets to raise money for the journey to Europe. We paid vast sums of money to be able to travel to Algeria from Damascus airport without being questioned by the security services. We made it to Algeria. Then, we had to walk for miles across the border in the blistering desert to Libya. We spent a month in Libya illegally. After that, we made the perilous boat trip from Libya. After three days at sea, we arrived in Italy, then headed to Denmark, where we finally decided to settle."
With these words, Asmaa al-Natour, 50 years old, recounted her harrowing journey to Enab Baladi.
She said that in 2014, they made their mind up to leave Syria for Denmark in search of safety for life became unbearable in Syria. Their house in the southern governorate of Daraa was bombed in 2013, which drove them to flee to Yarmouk Camp, south of Damascus.
After several demonstrations in Yarmouk Camp in the same year, the house in which al-Natour and her family were displaced was also bombed, forcing them to flee again to a place with no mortar shells.
Al-Natour's family, during their displacement to different parts in Syria, faced "repressive practices by the Syrian regime. Family members were either forced to perform military conscription or got arbitrarily arrested."
Al-Natour's family, consisting of three members, were under continuous threats of arrest in the Syrian regime-held areas. Therefore, they found themselves forced to seek sanctuary somewhere else by traveling to Europe over land and sea. Unfortunately, after they succeeded in making their strenuous asylum journey to Denmark, they are currently threatened with deportation.
In 2019, the Danish authorities released a report saying that the security situation in some parts of Syria had "improved significantly," and the report was used as a justification to start reassessing hundreds of Danish residence permits granted to Syrian refugees from the capital, Damascus, and the surrounding area.
When Asmaa al-Natour and her family arrived in Denmark, her husband managed to obtain a truck driver's license in order to work and support his family. Additionally, the family members started a small business legally; they opened a greengrocer.
"We used to pay taxes like the Danes. We have documents proving this," according to al-Natour. However, they had to shut down their store because of the lack of sufficient financial returns. Furthermore, the father stopped working as a truck driver "because he had a stroke after the Danish Immigration Service refused to extend the humanitarian residence permit of the family."
Al-Natour's family was granted the humanitarian residence permit after nine months of their stay in a special refugee camp, also known as a reception center. However, "because some politicians have recently decided that Damascus is safe," the humanitarian residence permit of al-Natour's family was withdrawn, even though they came from Daraa. Yet, "this was ignored by the Danish Immigration Service."
Last February, a Danish opposition party suggested finding a way to cooperate with the head of the Syrian regime, Bashar al-Assad, to return Syrian refugees, whose asylum applications had been revoked or not renewed, to Damascus, claiming that Damascus has become "safe."
Asmaa al-Natour is still waiting for her file to be reassessed by the Danish Refugee Council and has appointed a Danish lawyer to handle the case. In the meantime, the family is experiencing "mental distraction, psychological depression and instability," according to al-Natour.
No legal definition of "safe zone"
There is no precise definition of the concept of a safe zone in international laws, as highlighted by the Syrian lawyer and human rights defender, Hisham Masalma, who has been working on asylum cases since 2005.
The 1951 United Nations Convention Relating to the Status of Refugees is the first international legal instrument that deals with the fundamental aspects of a refugee's life and provides for the protection of the world's refugees. However, this convention has not stipulated detailed information about the concept of "safe areas," Hisham Masalma told Enab Baladi.
When numerous refugees come from areas of armed conflict, states make efforts to search for alternative solutions for flight due to a large number of applications by asylum seekers coming from a particular location.
"Safe zones" are designated by agreement of certain countries (maybe by parties to an armed conflict) in which military forces will not deploy or carry any attacks because the goal of this zone is to remove civilians from areas of armed conflict, according to Masalma. The term "safe zone" is used in the Security Council for one purpose, which is to protect civilians.
The lack of a precise definition of the safe zone term in the law results in the absence of a criterion that determines whether a certain place is safe for civilians or poses a threat to their lives.
The lawyer and human rights defender considers that the absence of an exact definition of a "safe zone" reveals "the international legislator's insufficiency and shortcomings in its briefing on this legal issue to protect civilian refugees who are outside the cycle of armed conflicts."
Several factors and political circumstances contribute to not issuing a decision to define the concept of a "safe zone," according to Masalma.
He also confirmed that these factors do not justify the absence of the legal mechanism to define the concept of "safe zone accurately."
Zero impact on refugees' right
The lack of a clear legal definition of the term "safe zone" will not affect the right of Syrian refugees in European Union countries or people, who have come from places that put their lives at risk of serious human rights violation and persecution, to get humanitarian residence permits, according to Masalma.
However, the UN Security Council and organizations concerned with the protection of refugees and persons seeking asylum established jurisprudence, which also reinforces the refugees' rights. The third report on the Expulsion of Aliens by the Special Rapporteur of the UN International Law Commission, released in 2007, says "No Contracting State shall expel or return a refugee in any manner whatsoever to the frontiers of territories where his life or freedom would be threatened on account of his race, religion, nationality, membership of a particular social group or political opinion."
The report also points out that "persons who are forced to flee their country because they are victims of armed conflicts or of events that have disturbed the public order, in whole or in part, of their country of origin, nationality or habitual residence —should admit them to its territory and scrupulously observe the fundamental principle of non-refoulement, including non-rejection at the frontier. Underlying this idea is a presumption that any member of a group of persons who has fled their country for the reasons indicated above is considered, prima facie, as a refugee, barring any evidence to the contrary."
Asmaa al-Natour tried to protect her family from the risk of deportation to Syria by amending her family's residency status from "humanitarian protection" to political asylum at the request of the Danish Immigration Service.
The Danish Immigration Service did not renew their humanitarian residence permits, "putting us under the threat of deportation, on the pretext that Damascus is safe and that we had lived in there for a while," according to al-Natour.
Masalma explained the difference between the right to asylum and "humanitarian protection." He said the right to asylum is granted to a person who acquired refugee status under the 1951 Convention of the United Nations, as he has been subjected to real persecution or a well-founded fear of persecution on account of race, religion, nationality, membership in a particular social group, or political opinion.
Humanitarian Protection is a form of international protection given to people who do not qualify under the asylum rules. It is granted at the discretion of the host country temporarily since it considers that the country of origin of a person is not safe in a certain period of time.
Only 25 percent of Syrians residing in Europe deserve refugee status from all sides because refugee status is conditional on a real feeling of persecution that threatens the individual's life, according to Masalma.
In an email interview with Enab Baladi on 30 March, EU High Representative for Foreign Affairs and Security Policy/Vice-President of the European Commission, Josep Borrell, said that "Our EU position on returns has not changed. While we understand and support the aspirations of some Syrians to voluntarily return home, we still believe that the conditions for large-scale returns are not there yet."
Borrell stressed that "the parameters set by UNHCR that make pretty clear that at present the conditions inside Syria do not lend themselves to the promotion of large-scale returns in conditions of safety and dignity in line with international law."
He elaborated, "We have seen what happened with the limited returns that have taken place and the many obstacles and threats still faced by returning internally displaced persons and refugees. I am thinking in particular of forced conscription, indiscriminate detention, forced disappearances, torture, physical and sexual violence, discrimination in access to housing, land and property as well as poor or inexistent basic services."
The Human Rights Watch reported that a group of analysts, researchers, and experts in the Syrian context released a joint statement in which they condemned the decision of the Danish government to remove "temporary protection" for Syrian refugees from the Syrian capital, Damascus.
The statement issued on April 20 said that the decision used their testimonies to the Danish Immigration Service for Country of Origin (COI) report on Damascus. Still, they did not acknowledge their views in subsequent government conclusions or policies.
The group does not consider that Denmark's Syrian refugee policy fully reflects the real conditions on the ground because the conditions do not presently exist anywhere in Syria for safe returns, and any return must be voluntary, safe, and dignified, as the EU and UNHCR have clearly stated.
Political decisions not respecting the law
Human rights defender and lawyer Hisham Masalma said that the policy of having "zero asylum seekers," which is adopted by most right-wing opposition parties in Europe, is just a "tactic of political prevarication to canvass the support of voters." Nonetheless, this does not exempt them from their legal responsibilities in countries where the law is the basis of their governmental institutions.
Those countries that have recently carried out the policy of deportation, including Denmark, will not deport any refugees to Syria, according to Masalma. He added that even deportation has a particular legal mechanism for the person who is granted "humanitarian protection." Syrians with no residency permits and who refuse to leave the country voluntarily will end up in deportation camps. Meals will be provided but not the right of asylum because they are from Damascus, which Denmark insists is a "safe area."
if you think the article contain wrong information or you have additional details Send Correction