Violence in Europe: Syrian refugees fear punishment for crimes that they did not commit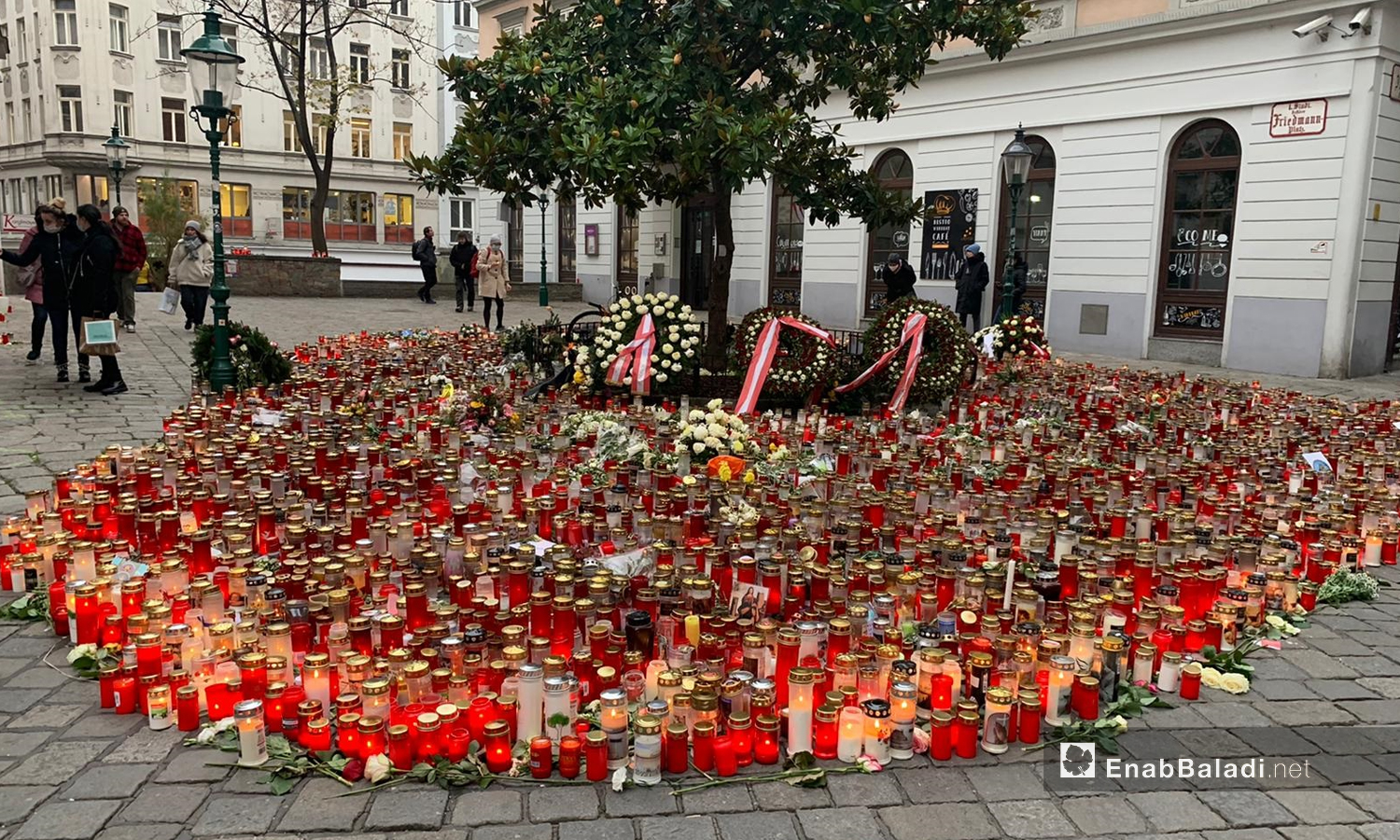 Enab Baladi – Louay Rhebani
"How will the world see us after this incident?" With these words, university student Bashir Salem, who studies trade and economics in the Austrian capital Vienna, expressed dismay with the acts of violence carried out by refugees or immigrants in several European countries, pointing out that during the four years he lived there, respect of religions and beliefs was a shared feature among a wide spectrum of the Austrian society. 
" Actually, this is very frustrating. I have been living here in this stable and safe country for four years, and I have never met a local racist or anyone who has a problem with someone because he is a foreigner,"  Salem told Enab Baladi, stressing that the perpetrators of the crimes do not represent a religion or a country.
Salem's most prominent questions were: " If the perpetrators of these attacks were Muslims, how would not the name of Muslims be linked to terrorism? How will we convince the host community that Islam is a religion of peace that has nothing to do with terrorism?"
Salem is afraid that the Austrian government will not renew his residence permit ( he already has a problem obtaining it) in response to the violent acts. 
On 2 November, a group of people in the Austrian capital, Vienna, launched armed attacks in six different city locations, killing four civilians and wounding 22 others, including a police officer. 
The Austrian Interior Ministry commented, at the time, that the gunman who carried out the attack had tried to join the so-called Islamic State (IS) group in Syria.
The Syrian people have similar fears in France; some refugees avoid speaking Arabic in the street for fear that a bypasser will physically or verbally assault them. They confirmed that the practices of "terrorism" that took place do not represent them. 
On the other hand, some Syrian people in France see that the situation has not changed in terms of dealing with citizens, pointing out that those who commit "reverse violence" are right-wing nationalists who reject others, even before any attacks carried out by refugees or immigrants.
On 5 November, the French police detained four ten-year-old children in the city of Albertville, southeast of France, on false allegations of "justifying terrorism."
Under a 2014 criminal provision, French prosecutors have been aggressively pursuing anyone who speaks positively of a terrorist act or group even if their intention is not to incite violence or promote the group, according to Human Rights Watch.
On 16 October, a young man of Chechen origin beheaded the French teacher Samuel Patty on the street of a Paris suburb because he showed his teenage students a cartoon lampooning the Prophet Mohammed as part of a class on freedom of expression.
Days later, a 21-year-old Tunisian immigrant who had recently arrived in the country conducted a knife attack on the Notre-Dame Basilica in Nice, in the southeast of France, which resulted in the deaths of three people. 
Restrictions imposed within framework of convention
The violence negatively affects the refugees' image and status as a whole, regardless of their nationalities, in the host countries.
Bassam al-Ahmad, a Syrian human rights defender and co-founder and executive director of Syrians for Truth and Justice, said that the violence and attacks adversely affected the countries' policies, but indirectly, on the refugees, highlighting that the complexity of procedures in issues and legal transactions of refugees became very noticeable, which was not the case in 2015. 
He referred to more than one case of Syrian refugees whose asylum was refused by France, under the pretext, it was not convinced of the reasons for their immigration requests.
Al-Ahmad, director of Syrians for Truth and Justice, ruled out that there would be government decisions to refrain from "receiving refugees and immigrants explicitly." Still, there would be tightening procedures to reduce the numbers of refugees and immigrants at a large scale, which is what happens."
In turn, Hisham Masalma, a Syrian lawyer residing in France, believes that next year the European Union member countries will adjust immigration standards more in line with their national and European security, as well as scrutinize the files of asylum seekers, taking into account humanitarian standards and the Union's need for young people.
 Masalma added that refugees live in countries that respect human rights and are committed to the United Nations Refugee Convention, reassuring that governments will not take anti-refugee measures directly because refugees "have full rights and protection, in countries that respect human rights and are bound by the United Nations Refugee Convention."
He added, "I do not think that there is a policy of restriction by the European Union countries on those who want to renew residency permits, except in the event of legal violations."
"Right-wing populism and calls for deporting refugees
The recurrence of violence in recent weeks has created a state of apprehension in the European Union, as voices against immigration to Europe began to rise, especially from the right-wing parties.
The right-wing parties are taking more seats in the elections, which indicates the existence of real concerns in the host countries, according to lawyer Hisham Masalma.
He indicated that the right-wing parties began to exert great pressure on the democratic and liberal parties, which have long called for openness to others and consolidating the state of integration in their societies as a means of fighting extremism.
"It will be a hot file on the table of European Union countries," added lawyer Masalma, speaking about the refugee file.
Government's all ears to right-wing parties
The Danish Minister of Immigration and Integration, Matthias Tesfaye, said, on 28 June, that the Immigration Department should begin reviewing the residence permits granted in Denmark to Syrian refugees coming from Damascus, according to what the Danish Immigration and Integration website reported.
The Ministry of Immigration and Integration is working to accelerate residence permits for Syrians so that the Independent Refugee Board can assess as soon as possible whether residence permits can be withdrawn from Syrian refugees coming from Damascus because conditions in the Syrian capital no longer warrant their temporary protected status and it is considered as a safe area. 
Tesfaye pointed out that nearly 100,000 refugees have returned to Syria from the surrounding areas, believing that Syrians in Europe should return if circumstances permit.
He also stated that "In recent weeks, the Independent Refugee Board has ruled that five people from Damascus Province are not entitled to temporary protection because conditions in the area have improved."
Tesfaye added at the time, "We have already dedicated a large bag of travel money, for those who have to return and rebuild their lives in Syria."
However, the human rights activist and Syria researcher in the Middle East and North Africa division at Human Rights Watch, Sarah Kayali, told Enab Baladi, "The main reasons that forced Syrians to flee in the first place still exist, such as arbitrary arrests, torture inside prisons, the tragic humanitarian and economic conditions, especially in the Syrian regime-controlled areas. 
Kayali also said that the Syrian regime violated property rights and land rights even after the manifestations of war have receded in many areas in Syria.
if you think the article contain wrong information or you have additional details Send Correction