Syrian war criminals reaching Europe through opposition areas and Turkey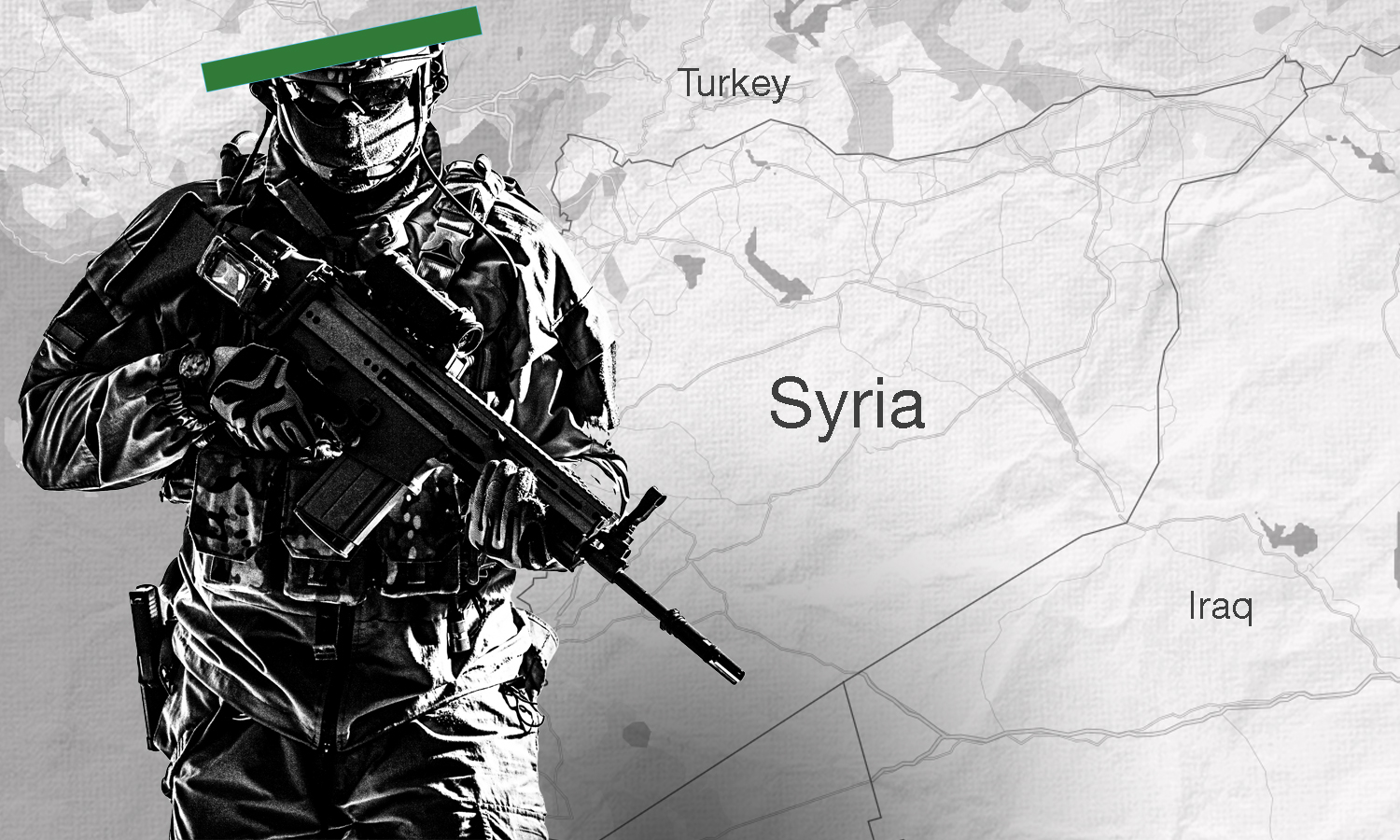 Enab Baladi – Khaled Jeratly
Despite their knowledge of illegal border crossings attempts by individuals suspected of war crimes seeking to flee to Turkey and then to Europe through their control in northern Syria, the opposition factions, failed in detering such smuggling operations because they are often organized in coordination or facilitation from human smugglers who have links with prominent opposition figures or people close to them.
The smuggling trip of war crimes suspects fleeing Syrian regime areas to opposition-held territories is a hazardous one. These people are often subject to retaliation acts or prosecuted in field courts when captured by opposition factions.
However, the situation has changed recently as many people affiliated with the regime or known to have been extreme loyalists to the regime (shabiha) are crossing regime areas to territories controlled by the Syrian National Army (SNA) in Aleppo countryside and from there to the Turkish side of the borders more easily.
Smuggling operations increased in the last two years and are being carried out in exchange for exorbitant sums paid to smugglers residing in opposition areas or Turkey.
Ali al-Saleh, a volunteer at the regime's affiliated popular committees, arrived in the Turkish city of Mersin last February. His smuggling journey started at al-Salamiyah city in Hama countryside; then, he crossed the SNA territories to arrive in Mersin in Turkey.
Al-Saleh participated in suppressing early demonstrations against the Syrian regime in 2011. He was among the first to use weapons against protesters in support of the regime in al-Salamiyah city despite his young age back then. After the regime re-established its control over the entire eastern Hama countryside, reaching Deir Ezzor in eastern Syria and the cessation of combat, al-Saleh got involved in kidnapping and killing civilians making lots of money.
In 2019, al-Saleh became wanted for the Criminal Security Forces in Hama, along with his brother Mohammed on charges of robbery, murder, kidnapping, and human smuggling.
While his brother was arrested in April 2019, al-Saleh remained on the loose and undercover until he managed to reach Mersin.
Smuggling routes from Syria to Turkey
Enab Baladi investigated the smuggling trip of al-Saleh and discovered that he crossed SNA areas with other shabiha members after paying more than 3000 USD to a smuggler based in Mersin. The smuggler turned out to be related to a member of the opposition Syrian National Coalition (SNC).
A Syrian refugee who entered Turkey illegally gave Enab Baladi some information he came to know while on his recent smuggling journey. After requesting that his name be withheld for security reasons, he said that smugglers are paid between  3000 and 5000 USD to secure the smuggling route from Hama governorate to Turkey, depending on the entranceway to Turkey.
Smugglers have created two methods to enter Turkey; illegally crossing Turkish borders undercover or traveling through official crossings between Syrian and Turkish borders with fraudulent identity documents. The second method is safer but more expensive.
Smuggled persons pay their entry fees to Turkey in stages. They pay part of the amount to Syrian regime-affiliated people upon crossing Nubul and al-Zahraa towns in Aleppo countryside in the regime's controlled areas and continue their trip from there to Turkish borders after crossing the SNA territories. 
The second part of the payment is paid upon reaching Turkish borders. On the borders, people wait for smugglers' instructions to move with other groups into the Turkish side, the illegal refugee immigrant told Enab Baladi.
The crossing of Turkish borders does not mean the end of the smuggling journey as most Syrian illegal refugees think. Their journey continues within Turkish cities; for example, those heading to Istanbul city must pay an extra 300 USD to reach their destination because they do not own legal papers enabling them to move freely between Turkish territories and would be deported back to Syria if ever caught by Turkish border guards (Jandarma).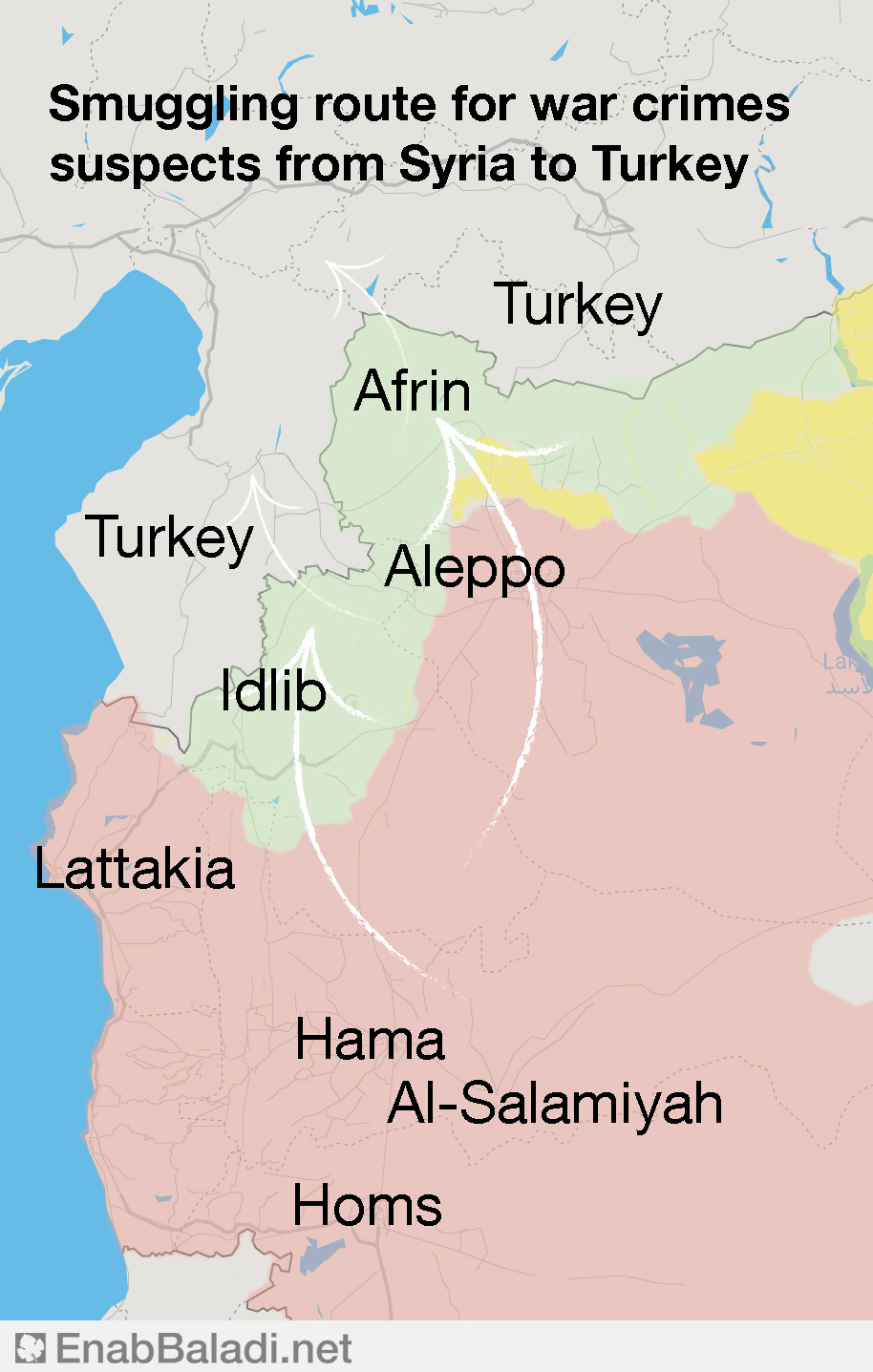 Opposition figures' relation to human smuggling
In March 2020, Vice-president of the SNC, Oqab Yahya, posted on his Facebook account "Once the Defense Minister of the SNA, Salim Idris, was informed of the matter, he immediately made calls and commendable effort to set free Raymon Mustafa Sefo and his family." 
After researching information on Sefo, Enab Baladi found out that he used to work for the Iranian Islamic Revolutionary Guard Corps (IRGC) in Syria, as mentioned by his Facebook account.
Sefo is originally from al-Salamiyah city, which he left in early 2020 to the SNA areas. There he was arrested for a week to be released later with the help of Oqab Yahya. After his release, Sefo headed to Turkey and then to Greece.
Enab Baladi reached out to Oqab Yahya several times to comment on the matter, but the latter refused to give any answer or statement.
Yahya wrote on Facebook explaining his position regarding the questions sent to him by activists and media platforms saying that he had no previous information about who Sefo was or what he did because he has been in forced exile for over 40 years now.  
Human smugglers exploit connections with opposition figures
One person overseeing smuggling operations from regime-controlled areas to Turkey and Europe is Karam Yahya, Oqab Yahya's nephew and a former prisoner of Hay'at Tahrir al-Sham (HTS) in Idlib, where he was imprisoned for about two years until 2019 when he left to Turkey.
Enab Baladi contacted civilians who entered Turkey after paying smuggling fees to Karam Yahya. They said that Karam made use of his kinship to Oqab Yahya, the prominent figure in the SNC and the Syrian opposition, to convince people of the legitimacy of his activity and prevent them from holding him accountable in case of a future dispute.
Enab Baladi asked Oqab Yahya about his relation to Karam's release from the HTS' prisons, how he entered Turkey, and the fact that his name as a prominent opposition figure was exploited to carry out smuggling activity in Turkey, but he did not respond.    
Enab Baladi researched Karam Yahya on Facebook and found images published by him when he was a member of the regime's National Defence Forces (NDF) in Damascus, which he later deleted from his account.  
Karam Yahya is allegedly linked to the death of Tawfiq Zreik, a Syrian man in his thirties who froze to death at the end of 2020 after he got lost in the forests between the Turkish-Greek borders, one of Zreik's close friends told Enab Baladi on the condition of anonymity for fear of any vengeful acts.
He said that Tawfiq arranged his smuggling trip from Turkey to Greece with Karam Yahya and paid him an amount of 2,200 euros for that purpose. However, Tawfiq was found dead by Greek border guards after apparently getting lost between the forests of the Turkish-Greek borders for 14 days. The official Greek authorities informed Tawfiq's family of his death circumstances on the Turkish-Greek borders.  
SNA procedures to curb human smuggling
Even though Enab Baladi obtained information from sources about organized aid provided by SNA members in smuggling activity, the SNA said that it is working consistently to capture smugglers and stop smuggling operations within its territories.
The spokesman for the SNA Major Youssef Hamoud told Enab Baladi that arrest cases against some of those coming from the regime-controlled areas are investigated by the military police and the military judiciary of the SNA.
Once those suspected of having relations with military bodies affiliated with the Syrian regime or its militias are proven guilty, they are prosecuted according to the SNA's military justice code, Hamoud said. 
An official source in the SNA's military police told Enab Baladi on the condition of anonymity that smuggling is active in all countries, even the safest and most stable of them, and that it is normal for smuggling operations to be very active in areas of security chaos. 
According to the military police source, those coming from regime areas travel undercover in the SNA's territories under smugglers' directions, making it difficult to track them. When arrested, they are questioned about the smugglers who brought them to the Turkish borders.  
"If regime affiliates ever reach Turkish soil, we coordinate with the Turkish side to track their moves, arrest them, and send them back to be prosecuted by the SNA's military judiciary," the military police source added. 
The smuggling trip begins at the towns of Nubul and al-Zahraa in Aleppo's northern countryside towards Afrin city with the help of Syrian regime officers.  
Groups of people hoping to enter Turkey wait for smugglers' directions in an area between Nubul and al-Zahraa for several hours or days sometimes. These people are then transferred to Afrin and from there to Turkish borders.  
Shabiha on security undercover missions
Strategic and military expert Major General Mahmoud Ali told Enab Baladi that it is very likely that shabiha members are leaving regime areas to Europe or Syrian refugee-hosting communities to perform security missions.
The majority of war criminals flee to Europe or Syria's neighboring countries to escape their community's pressure. They flee to live undercover abroad for some period, Ali said.
War criminals seeking to flee Syria are easily exploited by organized crime groups in host countries or the Syrian regime, Iran, or other military agents. Wanted war criminals are willing to cooperate with any side just to escape and save their lives, Ali said.
He added that war criminals, when not linked to intelligence works with extremist or terrorist groups, seek refuge to evade accountability, and start a new life in host countries.
In spite of their attempts to live undercover, war criminals will eventually be detected in their new communities and will be sent back to their natural place, i.e., prisons, to end their leisure in Europe, Ali said.
Justice must be applied against war criminals, especially those outside Syria. But to achieve this end, host countries must handle war-criminals accountability issues with more firmness because these people are no longer a threat to the Syrian society they left but to their new communities.
Fugitive war criminals' prosecution decision is a political one that must be taken by the countries sheltering them, Ali said.
Syrian war criminals trialed in Europe
Syrian human rights activists in Europe continue their attempts to bring fugitive war criminals to justice and shed light on their cases in European host communities, as these people constitute a real threat to their new places of residence.  
Europe-based Syrian activists tried many times to raise cases against war criminals and people involved in killing and torturing Syrians. However, the lack of evidence stood as a barrier between criminals and accountability, a source at the Commission for International Justice and Accountability (CIJA) told Enab Baladi after requesting his name not to be revealed for fear of his family's safety in regime-controlled areas.
Syrian human rights lawyer Anwar al-Bunni told Enab Baladi that the arrival of war criminals to Europe is actually a good thing, for, in this way, they can be brought to justice, while had they stayed in Turkey, it would have been very difficult to prosecute them. 
In Turkey, the legal process is difficult, and there is no role for Syrian human rights organizations in communicating with Turkish legal experts, al-Bunni said. 
Enab Baladi contacted Turkish lawyers and jurists to inquire about how Turkish law acts against foreign war criminals on Turkish soil, but no clear answers were received in this regard. 
Most of the information provided by Turkish jurists was centered on what threat foreign war criminals would hold against Turkey's national security directly or indirectly.
However, some legal experts did mention that it is possible to prosecute foreign war criminals in Turkish courts, even though Turkish law does not include explicit laws on such cases. They said any complaint submitted to the prosecutor would be sufficient to initiate a lawsuit against those suspected of war atrocities. 
Position of International protocol and Turkish law on human smuggling
A 2000-United Nations Protocol on Crimes of Human Smuggling speaks of effective measures to prevent and combat the smuggling of migrants by land, sea, and air, which requires a comprehensive international approach and addressing the root causes of migration, particularly those related to poverty.
Turkey is one of the countries that signed the UN convention against transnational organized crime and its protocol on smuggling migrants. 
The protocol included many terms on human smuggling, which is described as a "crime violating human rights," and spoke of penalties against human smugglers and those facilitating or involved in migrant smuggling operations.
The Syrian-Turkish borders are the hotspot for Syrians' illegal migration to Europe, followed by Lebanon and then Jordan, according to the Office of the United Nations High Commissioner for Refugees (UNHCR).
In Turkey, human smugglers are punished with eight to 12 years of imprisonment if convicted by a relevant court along with a fine between 20 to 100 Turkish lira per day for 30 years. The court would determine these rules in view of each case's circumstances.
if you think the article contain wrong information or you have additional details Send Correction