How seasonal drought will affect Lake Muzayrib as a visitor destination?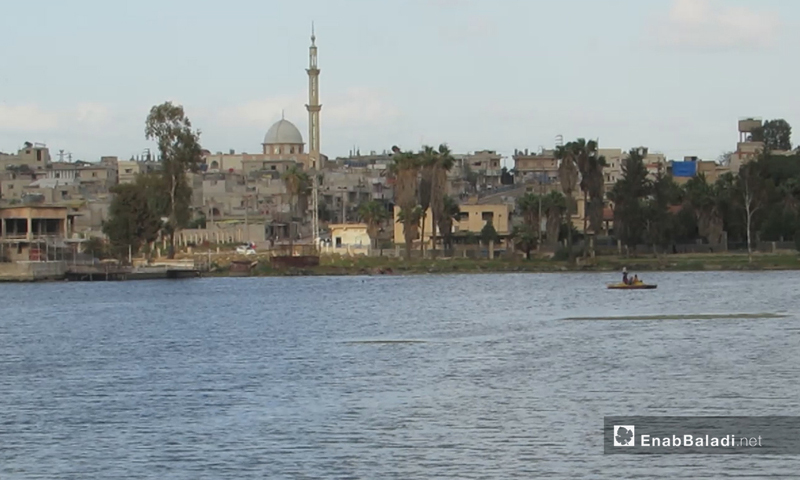 Daraa – Halim Muhammad 
Domestic tourists coming from different parts of Syria's southern province of Daraa enjoyed sitting near the shores of Lake Muzayrib in April, the last month in which the levels of its freshwater are high.
Locals expect the lake will go dry in early May because farmers will start irrigating their summer crops from groundwater wells, which are indiscriminately and intensively scattered across fields surrounding the lake with no government control. These wells contribute to turning this beautiful lake into a swamp each summer and autumn, in addition to causing economic losses.
Groundwater depletion is a reality 
After the Syrian revolution erupted in 2011, most areas in Daraa raged out of the control of the Syrian regime, which used to prevent drilling wells without prior permission from the Ministry of Irrigation.
Random wells negatively affected water bodies and underground springs. The wells led to a gradual decline in the lake's water level until it dried up completely in the summer of 2017 and turned into a seasonal lake that dries out in summer and refloods in winter, but with lower water levels than before.
Refusing to mention his full name for security reasons, Abdul Karim, a former employee in the Irrigation Directorate, told Enab Baladi that the drilling of these wells has been random, causing a gradual decline in the groundwater levels, especially to the water veins and springs. Some have completely dried up. 
Abdul Karim added that Lake Muzayrib provides water to the province of As-Suwayda, the city of Daraa, Daraa al-Balad, and al-Yadudah. Even though Lake Muzayrib was filled back up during winter, its water levels remained low. 
"I anticipate that water pumping stations will not be able to operate due to the impact on the supply lines."
The former employees of the Irrigation Directorate pointed out that previously people had to obtain a license first from the government to drill a well in order to determine its impacts on the groundwater reserves. However, nowadays, people are only looking for water channels (veins, faults, and aquifers) without considering the damage random drilling might cause to springs.  
Abdul Karim said that the possible solution is to backfill random wells, particularly those surrounding the lake and springs. 
He pointed out that because of the desiccation of Lake Muzayrib, the Water Resources Directorate started to search for alternatives to secure drinking water for the Daraa region and its surroundings from al-Ash'ari springs and Khirbet Ghazaleh wells, east of Daraa.
No alternative options
Withholding his last name for security reasons, farmer Ali decided to dig a well in his agricultural land in 2014. He relied on an "expert" man who used two olive branches to detect the underground water, the only method currently used in Daraa. "He drilled a well to a depth of 100 meters, and with an abundant water supply of 2 inches."
Ali was driven to search for alternative ways to secure water for irrigating his crops by lack of the government's pumped storage projects. "The excess irrigation water did not find a way to my land from Lake Muzayrib; therefore, I dug a well as an emergency solution to irrigate my crops." 
Farmers do not find drilling wells a cheap solution because the cost of operating a generator to pump the water is very high, mainly due to the rising fuel prices. One liter of diesel is sold for 2,400 Syrian Pounds (SYP-0.8 USD.)
In a July 2020 interview with the state-run Syrian Arab News Agency (SANA), Director of Water Resources in Daraa province, Munir al-Odeh, estimated the number of illegal wells drilled on the springs feeding Lake Muzayrib at more than a hundred wells, while the number of illegal wells, which affected the springs adversely in Daraa, amounted to 4,000, causing the drought of 13 springs and a decline in the water levels of some others. 
No water, no source of income 
Many fish stores are spread on the road to Lake Muzayrib. A few years ago, these stores stopped selling fish, which was caught directly from the lake. Meanwhile,  the fish products sold in these stores are brought from the coastal provinces of Latakia and Tartus, and Hama. 
Daraa residents preferred to purchase fish from the lake because of the freshwater source, and among the most common fish species used to be sold in Daraa were the Tilapia, Carp, and Catfish.
Lake Muzayrib, one of the largest surface water bodies in the southern province of Daraa, lies 11 km west of Daraa. The lake covers an area of two kilometers in length and 500 meters in width. 
 Zuhair, a 30-year-old recreational fisher, told Enab Baladi that the residents caught the egg-laying fish when the lake dried up the first time. Therefore, there are no more fish in the lake.
Zuhair added that fish farmers invested in the lake water under contracts with the Ministry of Agriculture.
The tourist season was also affected by the seasonal drought of the lake; the season lasted only for a few weeks of spring, during which eucalyptus trees spread on the banks of Lake Muzayrib and wooden boats on its surface.
Muzayrib residents used to benefit from hosting visitors given tourist money is returned to the local economy as it is spent over on different services and products.
Tourism season was the only source of income for many. "Selling refreshments to tourists was my source of income that supported my family," Haitham, 35, told Enab Baladi.
Haitham, who declined to mention his full name for security reasons, works in the tourism sector only during springtime while for the rest of the year, he is forced to look for job opportunities.
The lake is not the only recreational place in Daraa. There are dozens of tourist attractions, but most of them were affected by the wave of summer droughts. These include Tell Shihab Waterfalls, west of Daraa, Lake Zizoun, and Lake al-Ajami, which dried up completely.
if you think the article contain wrong information or you have additional details Send Correction