Despite a decline in its prices, Daraa residents cannot afford red meat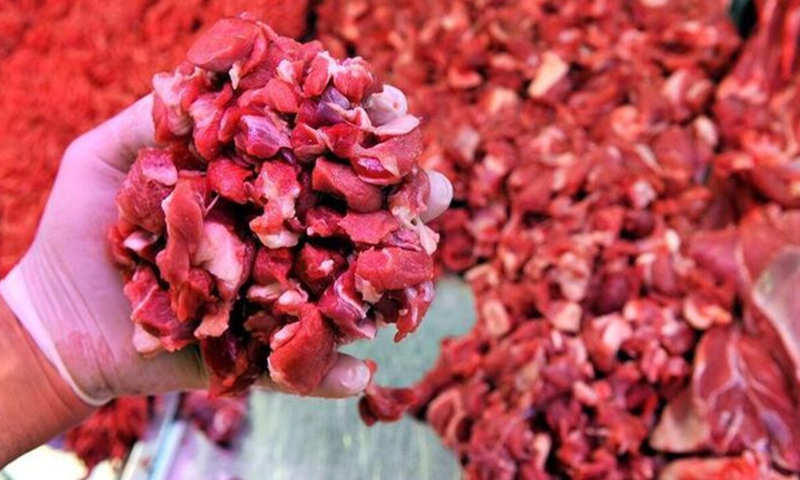 Daraa – Halim Muhammad
Even though the prices of red meat have declined slightly, due to the stagnating livestock prices which resulted from the lack of rainfalls and pasture lands, Daraa residents cannot afford to increase their share of meat, which has decreased dramatically over the past years. 
A rise in fodder prices leads to a decline in meat prices
The Syrian regime's General Organization for Fodder increased fodder prices last April, which prompted Daraa farmers to let their livestock feed on pasture grass, even though they do know that this would affect the health of livestock and their milk production. 
However, the pastures, which usually remain adequate for grazing until the end of May, dried up early this year due to the low rainfall in April.
Buffeted by the high costs associated with raising livestock, farmers started to sell their livestock, Abu Assaad, a 40-year-old sheep farmer who did not mention his true name for security reasons, told Enab Baladi.
From the town of Khirbat Qais in the western countryside of Daraa, Abu Assaad said that he is thinking about selling some of his sheep due to the lack of pastures and "financial strain" he is experiencing due to the high costs of raising them. He also pointed out that the selling prices of livestock have become so low. 
Abu Asaad added that reduced rainfall removed the barley and wheat crops from the production process and caused the price of a kilogram of hay to rise from 150 to 400 Syrian Pounds (SYP-0.04 to 0.12 USD).
Different prices of the same product
Meat prices have fallen slightly. Yet, Muhammad al-Hussein, a 34- year-old resident of Tafas in the western countryside of Daraa, is still unable to purchase red meat. 
Al-Hussein said that there is a low demand for red meat given merchants are controlling prices. Citizens are still suffering poverty and a lack of purchasing power.
The price of one kilo of ground veal has dropped to 19 thousand SYP (5.9 USD) after it was 20 thousand SYP (6.25 USD) before mid-April. 
A kilo of ground lamb reached 23 thousand SYP (7.1 USD) after it was 26 thousand SYP (8.1 USD). 
The price of a lamb has decreased from eleven thousand SYP (3.4 USD) to eight thousand and five hundred SYP (2.6 USD) per kilo. The price of a calf decreased from nine thousand SYP (2.8 USD) to seven thousand SYP (2.1 USD)per kilo. 
Al-Hussein was only able to buy meat twice during Ramadan. In fact, he bought ounces of meat each time, not kilos as used to be the case in the past. "Every butcher charges people differently, amid the absence of government control over meat prices."
Hassan, a 50-year-old employee from the town of Saida, east of Daraa, used to buy more than one kilo of meat for his family, especially in the holy month of Ramadan, since meat is used as an essential staple in most dishes of the Syrian kitchen. However, he began to save on meat after its prices went up. 
He added, "a kilo of meat costs about half my salary."
Low demand 
"The Syrian citizen used to buy red meat in kilos, not in ounces," Admon Qutaish, the head of the Butchers' Association in Damascus and its countryside, told the al-Watan website, on 4 May, in an attempt to make a comparison between the current state, where most people suffer high prices of everything with the state before "the Syrian crisis."
Qutaish attributed the stagnant red meat' sales to the decline in the citizen's purchasing power. He also pointed to the high cost of meat during Ramadan in Damascus, in contrast to Daraa, as the price of a kilo of lamb reached 30 thousand pounds (9.3 USD) and 23 thousand SYP (7.3 USD) for a kilo of veal.
Daraa residents fear meat fraud. Male and young slaughter animals are more pricey than old or sick ones.
Hassan prefers to be present at the time of the slaughtering process because he wants to make sure of the meat type and its quality standards. Hassan believes that it is better when butchers display their meat in their shops, tell their customers about types of slaughtering animals, and the time of slaughtering. He added that some butchers cheat people by selling them "a blend of lamb and beef," instead of lamb only, noting that only a few people can tell the difference. 
Abu Ibrahim, a butcher from the western countryside of Daraa, complained about a slump in meat sales. 
"We used to sell one slaughtering animal or even more every day, but now it takes days to sell just one slaughter animal."
He noted that keeping the slaughtering animal in a refrigerator costs money. They need to purchase fuel to ensure a continuous supply of fuel for running refrigerators and freezers.   
Abu Ibrahim attributed the difference in prices between one butcher's and another to the type of meat slaughtered, whether beef or lamb or from a weak or sick slaughtering animal.
In a 27 April report, the World Food Programme (WFP) said, " the cost of basic food items is up a staggering 313 percent on figures for 2019. Today, a record number of Syrians don't know what they will eat tomorrow. More than 12 million people in her homeland don't have enough to eat."
if you think the article contain wrong information or you have additional details Send Correction