New stopgap solution: Syrian government issues loans to low-income citizens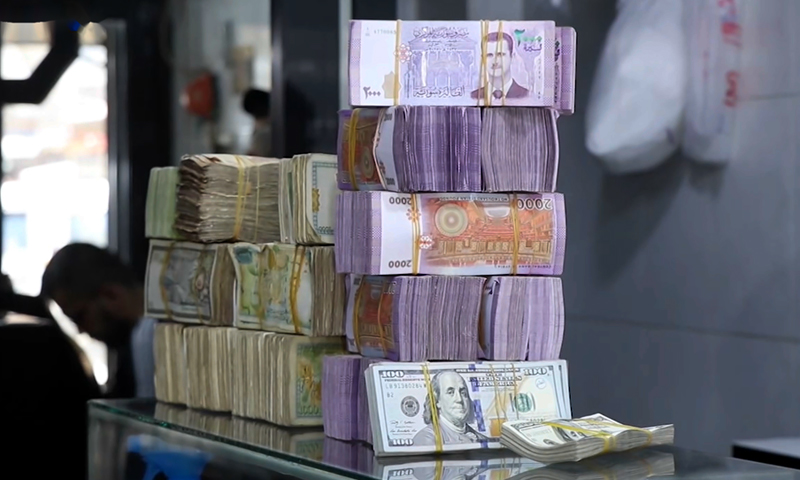 Enab Baladi – Zeinab Masri
In the past few weeks, the Syrian government announced that a variety of laon types are now available, while previous laon amounts are amneded and boosted. These loans target population in its areas of control to support them financially, covering low-income people, students, and other resident groups. Loans are intended to replace the hard work of finding solutions to the structural problems impacting Syrians' lives.
The Syrian government says that now low-income individuals can have access to loans, provided through state-owned and private banks operating in its areas of control. However, these banks offer loans under a hard-to-meet set of conditions, particularly to target groups. Applicants must be paid high salaries and have guarantors, as well as close previous loans, if any.
The constant depreciation of the national currency makes the actual values of these loans low and reduces their purchasing power in light of high prices in various sectors and markets in Syria.
Syria's economic crisis is fast slipping out of control. There have been high inflation and volatile exchange rates. The Syrian pound, for instance, fell to new lows, trading approximately 5,000 to the US dollar at a certain point, before it recuperated to 3,725 per 1 US dollar.
Furthermore, the regime has been increasingly lacking access to fuel supplies, which was the main reason for disrupted national production, with the growth of the gross domestic product (GDP) frozen at point zero. 
The Syrian regime is tightening its security grip on those dealing in currencies other than the SYP in its areas of control, while hammered by different EU and US sanctions that restrict business activities, including exports and imports. 
The economic crisis— particularly the general instability of prices— has adversely affected income distribution, consumption, employment, and citizens' livelihoods. As a result, 90 percent of the Syrian population lives under the world poverty line, according to UN estimates. Nearly permanent long queues are formed at gas stations, bakeries, bus stops, and main bus terminals.
What are loans?
A loan is a sum of money lent in cash or in-kind by the banks to individuals or companies to finance an economic activity within a specific time frame. The loan is to be repaid with the principal amount plus interest. Loan terms are agreed upon by each party before any money is advanced. Loan terms are used to determine monthly repayments by borrowers.
Types of loans
A commercial loan is a type of financing for businesses to increase the working capital. It is granted to those making marketing operations and international and domestic trade. 
 A consumer loan is a loan given to consumers to finance certain kinds of expenditures.
Investment loans are loans and credit facilities granted to productive projects and institutions to provide investment and production requirements.
Speculative financing loans are loans used to buy and sell stocks and bonds for making profits.
Eligibility criteria for granting loans
There are many specific bank loan requirements that a loan applicant needs to meet in order to qualify.
When reviewing a loan application, banks will consider the consumer's personal credit scores— a considerable income and the borrower's capacity to repay the loan principal amount and interest. A borrower can receive loans by submitting collateral, which refers to a personal asset or property that a borrower puts up to guarantee the repayment of a loan. Furthermore, the bank studies the customer's circumstances to find out their impact on the economic activity or the project to be financed.
 Spending from the future
The type of bank loan a consumer is applying for, whether a consumer or an investment loan, determines his goals. The investment loan helps repay the loan principal amount and interest, while the consumer loan only enables a consumer to finance certain expenditures. Thus, after spending loan money, the consumer may encounter difficulty repaying the loan principal amount and interest.
 Bank loans have offered many advantages to the consumer as long as he is repaying an installment loan off at the scheduled time. 
Due to the economic crisis that is gripping Syria, taking out loans is "like you are spending from your future money," said Syrian economist and researcher at the Middle East Institute in Washington Karam Shaar.  
 Shaar told Enab Baladi that taking out loans is a mechanism for changing consumer behaviors and patterns so that they do not appear extreme over time. This means that when borrowing, the consumer can make changes in consumption patterns (spending) somewhat constant or less fluctuating.
The Syrian government said that the goal of granting loans is to ease the economic hardship and suffering of its citizens, according to Shaar. 
He indicated that it is important to know the mechanism of financing loans adopted by the Central Bank of Syria, noting that if the financing is mainly from the cash in the market, this will not have major inflationary consequences on the economy, but it will have such consequences if the new amounts of money that will be lent to people are to be pumped back into the market.
Shaar expected that there will be no changes in inflation rates in either case because the demand for this type of loan will be low due to the difficult conditions set for obtaining one.
Opting for credit facilities
On 16 March, the head of the Syrian regime, Bashar al-Assad, directed his government to provide financial aid of five billion and 200 million SYP to the Student Credit Fund. Thus, the fund's capital would be six billion SYP, with the aim of enabling the fund to increase the value of the student's monthly loan to 40 thousand SYP and the students' personal loan to 300 thousand SYP.
The state-run Syrian Arab News Agency (SANA) reported that raising the monthly loan amount will ease the financial burdens on students and their families in light of the current worsening living conditions. The Student Credit Fund will start granting loans to students only after a month of adding the specified aid to the fund.
The Popular Credit bank raised the limit of low-income loans to two million SYP for five years, with an interest rate of 7 percent per annum. The bank has started to give loans to its consumers since the start of March.
Despite its name, "low-income loan," not all people with low incomes can obtain this loan, which is about two million SYP. This is because taking out this loan requires that the monthly salary is within the limits of 100 thousand SYP, the bank manager Adnan Hassan told Tishreen last February.
Salaries in Syria range from 37 thousand SYP (8 USD-lowest average) to 663 thousand SYP (about 146 USD highest average). A person working in Syria, in both the private and public sectors, earns 149 thousand SYP (32 USD) per month, according to the Salary Explorer website.
 Last February, al-Assad issued Law no. 8 for the year 2021 to establish the Micro-Finance Banks.
These banks can grant those who have low income or zero-income operating loans in order to secure additional income and achieve sustainable development.  
In September 2020, the Central Bank of Syria released a decision to allow local banks to resume loans and credit facilities to the agricultural sector, the real estate sector, small and medium enterprises, and low-income persons after a suspension of three months. 
The decision stipulated that the credit facility granted must not be more than 500 million SYP and 400 million SYP in case the credit facility granted is a mortgage.
if you think the article contain wrong information or you have additional details Send Correction