Northwestern Syria gears up to start an anti-COVID vaccination campaign next May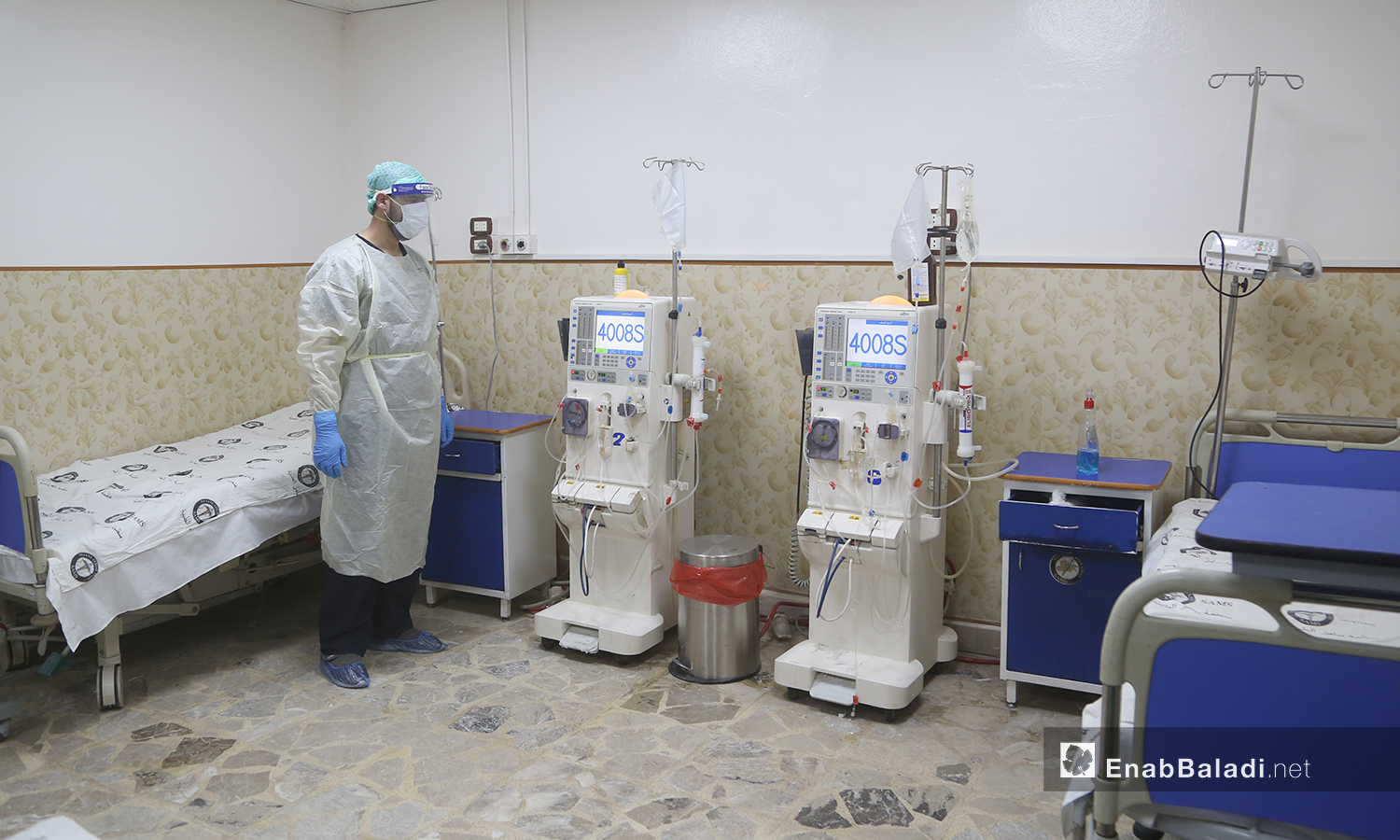 Enab Baladi – Diana Rahima
Northwestern Syria is gearing up to distribute 224 thousand doses of the Oxford-AstraZeneca COVID-19 vaccine with the help of 123  COVID-19 vaccination teams. 
On 24 March, the World Health Organization (WHO) announced that it will oversee the AstraZeneca COVID-19 vaccine campaign in war-torn Syria, to inoculate 20 percent of the Syrian population by the end of 2021. 
However, it is still uncertain when this campaign will start, amid the delayed arrival of the promised coronavirus vaccines.
Enab Baladi spoke with the authorities responsible for receiving the vaccine doses about how vaccine doses will be distributed in health centers, taking into account that precautionary measures must be followed to prevent the spread of the virus.
How big is the vaccine campaign?
The director of the WHO's office in Turkey's southeastern Gaziantep, Doctor Mahmoud Daher, told Enab Baladi that approximately 224 thousand doses of the COVID-19 vaccine will be available through the WHO to northwestern Syria, possibly in May. However, more than 1.7 million doses will be delivered in the second part of this year.
Daher said that in order to avoid the formation of crowds in immunization centers and further transmission of this infectious disease, there will be 123 vaccination teams deployed across different medical centers in northwestern Syria.  
UNICEF and its partners developed a social mobilization plan to deliver appropriate messages to the public regarding vaccination centers and set dates.
They will provide the necessary equipment and tools to maintain vaccines at the required temperature in all the immunization centers.
 93 Vaccination distribution centers
According to the director of Syria Immunization Group, Doctor Yasser Najeeb, 93 vaccination distribution centers will be set up to administer vaccines. Around 30 teams will visit hospitals and health care centers to start the coronavirus vaccination drive.  
The vaccine doses will go first to health care workers. They will receive a call from the health centers and hospitals they work at in order to be vaccinated. 
According to Dr. Yasser Najeeb, those doses will also go likely to teachers and other service groups such as humanitarian workers because they are at a greater risk of contracting coronavirus disease due to their constant contact with people.
The vaccination program will target workers aged 60 years and older and those with chronic diseases. The program can reach out to this group with the help of local councils. In addition to that, signs will be placed to show people their way to the vaccine clinics. 
Najeeb pointed out that it is not clear when the vaccine will be delivered. The WHO has set three dates before for the delivery of the vaccines. The vaccine has not arrived yet, amid doubts over the actual time of its delivery. As for vaccine storage equipment, there are five freezer rooms and solar-powered refrigerators.
COVID-19 file official in Idlib health directorate, Dr. Hussam Kara Mohammed, told Enab Baladi that the COVID-19 vaccination program will include routine vaccination clinics that provide vaccines such as Poliovirus and others, with social distancing and personal protectives measures to be followed.
Idlib's health directorate began to adequately prepare places for delivering COVID-19 vaccines, as well as vaccination teams.
The directorate also published forms to be filled out by those who want to join the vaccination teams. After the vaccination teams are selected, they will be trained and well-equipped with the skills to give the vaccine jabs. 
The procedures taken in the northern countryside of Aleppo to fight the coronavirus pandemic are similar to the ones in Idlib; the minister of health in the Syrian Interim Government (SIG), Maram al-Sheikh, told Enab Baladi that the ministry has allocated 123 fixed and mobile teams to be deployed in rooms, and COVID-19 vaccination tents, close to the health care centers. 
In stages
While many factors, including logistics challenges, hamper the arrival of the vaccine, it is expected that the first batch of vaccines will be distributed in the second quarter of this year. 
The procedures for the arrival of the vaccine fall within a series according to a program called the central cold chain. It is a system used for delivering, keeping, and distributing life-saving vaccines in good conditions. It consists of a group of technically studied centers designated to keep vaccines at an acceptable temperature range (2°C–8°C), in addition to ensuring proper ventilation. The vaccine doses will be stored in walk-in freezer rooms then transported throughout the Bab al-Hawa border crossing to reach the final users.
 Nearly one million and 600 thousand doses are expected to be shipped to Syria and distributed to around 800 thousand beneficiaries. Only 20 percent of the population in northwestern Syria, known as "the liberated areas" will get vaccinated. It is a long-term program that will last for nearly a year.
NGOs that support the vaccination campaign with its infrastructure
Dr. Mazen Kewara, Regional Director of the Syrian American Medical Society (SAMS), said the organization is cooperating with the Syria Immunization Group, which is considered responsible for the vaccination distribution campaign in northwestern Syria. This group will use the vaccination centers of the humanitarian organizations as well as their health workers. 
He highlighted that the SAMS will support the vaccination distribution campaign through its infrastructure, which will be used as COVID-19 vaccine centers. 
On the other hand, Doctor Firas Abu Ali, a member of the Union of Syrian Medical Relief Organizations (UOSSM), told Enab Baladi that the organization is currently working on allocating certain places (unique rooms) for getting people vaccinated, in a way that prevents congestion in centers and organizes a mechanism to supply the vaccine doses.
Doctor Firas Abu Ali considered this a real challenge because not all health centers have a separate room for administrating vaccine doses. Therefore, tents are being set up next to health centers for the abovementioned purpose.
Non-governmental organizations play a role in communicating with health facilities through their representatives to collect information on medical staff and patients with chronic diseases. They also prepare lists of the numbers of people in these groups and contact information in order to communicate with them when the vaccine arrives. 
Delayed arrival of COVID-19 vaccine
The WHO has postponed distributing the coronavirus vaccine in Syria after it was supposed to arrive in March. 
 WHO Representative to Syria, Akjemal Magtymova, told Enab Baladi via email on 26 March that the vaccine distribution depends on the availability of the vaccine at the global market, procurement, and investment in delivery.
"It is likely that distribution will need to be adjusted in light of circumstances that are difficult to anticipate and variables that are constantly evolving. We were hoping to secure the arrival of vaccines by the second half of April 2021 but there are delays affecting a number of countries across the globe due to production for March-April plans. A confirmation of arrival in May has not been yet secured." 
In response to fears and concerns about receiving the University of Oxford/AstraZeneca (AZ) COVID-19 vaccine in Syria after 15 European countries have paused its use following report of several suspected deaths from clotting after inoculation, Magtymova said that it is just a precautionary measure; a few countries in the European Union (EU) have suspended use of a specific batch of AstraZeneca vaccine distributed in the EU.
She also indicated that WHO Global Advisory Committee on Vaccine Safety (GACVS) COVID-19 subcommittee recommends that the AstraZeneca vaccine continues to have a positive benefit-risk profile, with tremendous potential to prevent infections and reduce deaths worldwide.
"It is routine for countries to signal potential adverse events following immunization. This does not necessarily mean that the events are linked to the vaccination itself, but it is good practice to investigate them."
She also highlighted that the available data do not suggest an overall increase in clotting conditions including deep venous thrombosis or pulmonary embolism following administration of COVID-19 vaccines. Furthermore, reported rates of thromboembolic events after COVID-19 vaccines are in line with the anticipated number of diagnoses of these conditions. Both conditions occur naturally and are not uncommon. 
if you think the article contain wrong information or you have additional details Send Correction