Diana Rahima| Saleh Malas|Nour al-Din Ramadan
"We are lost and scared as if held in a prison; deprived of passports, residence permits and even travel outside Denmark."
With these words, Syrian refugee Radwan Bartawi, 43, described his situation in Denmark, gripped by fear over possible deportation.
He wondered, "How can they describe Damascus as safe? How can I return when I am wanted with my family for the regime? Arbitrary arrests, kidnappings, killings, and forced disappearances are widespread practices. The regime, the main reason for our departure and our flight from Syria, is still in power!"
Bartawi escaped his bombed house in the countryside of Damascus after the Syrian regime's security services threatened to arrest him. He arrived in Denmark in July 2014 and obtained a residence permit on humanitarian grounds.
At the time, Bartawi did not care what type of residence permit he was granted, particularly because it is renewed only every five years. His only concern was to reunite with his family that was still in Syria. The family arrived in Denmark five months later.
Five years later, Bartawi was summoned to an interview, scheduled by the Immigration Service to investigate his status as a refugee, as well as the extent of his integration into the host society.
Bartwai told Enab Baladi that, besides learning and mastering the Danish language, he and his family were quite active in the Danish community, and were not on any aid programs, governmental or humanitarian.
However, Bartawi's positive self-assessment failed to make the interview any less stressful, which he described as nine continuous hours of pressure. He felt that the immigration investigator had his mind set on deporting him the minute he started the interview.
Several European countries are competing to get rid of some of their Syrian refugees, who poured into Europe in numbers barely registered since World War II.
To alleviate that burden the refugees constituted, some countries have been trying to circumvent a number of refugee-relevant laws to justify deportations.
Deportation methods varied from one country to another. While Netherlands and Denmark denied refugees access to a lawful residence, Germany passed laws that empowered decisions on extraditing perpetrators of crime.
Host countries are caught in a gridlock. Many recognize the crimes and violations committed by the Syrian regime, while at the same time attempting to tighten measures for legal residence.  As a result, Syrian refugees have been increasingly viewing countries of asylum as small prison cells, arousing in them the same feelings of fragmentation and loss they once felt at their homeland.
In this extensive article, Enab Baladi discusses Syrian refugees' potential deportation from host countries where they sought asylum, approaching the reality they are today experiencing, and the divergent methods host countries are following in this regard.
For these purposes, Enab Baladi interviewed refugees who have been stripped of residence permits, officials of countries that have been upfront the deportation issue, and decision-makers within the European Union (EU).
Deportation: three states, three contexts
After a worrisome year and nine months, during which Bartawi's file was thoroughly assessed, the verdict came in the form of a deportation order.
Bartawi and his family will be forced to return to Syria after they were denied renewal of their residence permits on the pretext that Damascus is now safe. His wife and children must leave Denmark because they came through the family reunification procedure.
He said that his children were dismissed from school as if they were "criminals."
Baartawi has four children. The youngest, a three-year-old boy, was born in Denmark. The other two sons are in high school and his daughter is currently studying engineering.
The Bartawi family hired a lawyer two years ago, but the court has not yet made a decision on their case.
Immigration investigators accused Bartawi and his family of not showing marks of belonging to Denmark. He pointed to his and his three children's proficiency in the Danish language, the financial sufficiency he achieved, his refusal to get any aid, as well as his commitment to the country's laws. Bartawi said, "if this is not affiliation and integration [into the country], then I am not sure what integration is."
The catastrophic situation that Bartawi is stuck in is an example of the consequences of shifting refugee policies not only in Denmark but throughout the EU, which started surfacing in 2019.
In a 2019 March article, Foreign Policy said that the EU "tries to present a united front to the world," but the issue of rebuilding Syria has been increasingly dividing the continent against itself.
The article went to say that "although formally united behind a policy of sanctions against the Assad regime, individual countries are beginning to ask whether the current maximalist position should be maintained. While France, Germany, and the United Kingdom want to maintain a tough anti-Assad stand, others in southern and eastern European nations, particularly those with populist governments, want to moderate it."
Even though the EU countries have relatively taken in the smallest numbers of Syrian refugees, their polices against asylum seeker are not feared for their local impact, but more essentially for their influence on neighbor countries, which admitted larger numbers of refugees.
Denmark: "large bag of return travel money"
In June 2020, the Danish Immigration and Integration website quoted Mattias Tesfaye, immigration minister, as saying that the immigration department should begin evaluating residence permits granted to Syrian refugees coming from Damascus.
He added, "We are ready with quite a large bag of return travel money for those who have to go back and rebuild their lives in Syria."
Under its changing immigration and refugee policies,  Denmark has on 17 March announced plans to clampdown on disadvantaged neighbourhoods by reducing the number of "non-western" residents, "scrapping the controversial term ghetto in its proposed legislation."
The ghetto is a part of a city, especially a slum area, occupied voluntarily or forcibly by a minority, ethnic, cultural or religious.
The Guardian reported that the interior ministry proposed to limit "non-western origin's share in each neighbourhood a maximum of 30% within 10 years."
The UK-based outlet added that "Denmark has for years had one of Europe's most restrictive immigration policies, which the Social Democratic Prime Minister, Mette Frederiksen, has continued since coming to power in June 2019."
The Danish Prime Minister and Social Democrat leader, Mette Frederiksen, reiterated the new stance against refugees, telling the Parliament that she wants to put an end to asylum requests in the country.
"We cannot promise zero asylum seekers, but we can set up that vision, as we did before the elections," Frederiksen said.
"We want a new asylum system, and we will do what we can to introduce it," she added.
Denmark is a signatory to the European Convention on Human Rights (ECHR), which prohibits the deportation of asylum seekers whose applications were rejected and thus denied refugee status, if their return is to put them in jeopardy from torture or persecution in their countries of origin.
Netherlands: an eye on refugees visiting Syria
In February 2020, a Syrian youth, 14, committed suicide in a refugee center in the town of Gliz, Netherlands. He reportedly took his life after the country denied him asylum following years of travel between Spain and the Netherlands.
The teenager's family said that he could no longer live without a stable home after nine years of precarity.
In September 2020, the Netherlands announced it will hold Syrian regime responsible under international law "for gross human rights violations."
Syrian regime officials responded to these statements, saying that "the Netherlands is the last country to talk about human rights."
Enab Baladi addressed this paradox within the Netherlands's policies, discussing with the Ministry of Foreign Affairs the grounds on which Syrian refugees are being denied asylum while the government fully recognizes the grave sum of violations committed in Syria.
The ministry replied via email, saying that applicants to asylum in the Netherlands are granted residence permits on a variety of grounds. "There are several reasons why a residence permit could be granted. The general principle for Syrian asylum seekers is that, upon possible return, they would face a risk of serious harm, as laid out in Article 3 of the ECHR. This means that in general, there is an assumed risk of real reasons to fear inhumane treatment in the country of origin."
The ministry added that there are two exceptions which influence applicants' access to such permits, "members of the Assad regime and Syrians that have travelled back to Syria without facing any risks. If one of these two circumstances applies, the risk of inhumane treatment might not apply. If this is the case, the residence permit will not be granted."
The ministry added that asylum applications falling under these two special cases are "individually assessed by the Immigration and Naturalisation Service (IND)."
Although Enab Baladi did not point out to specific cases that suffered from the withdrawal of residence permits, the ministry said that "the IND did not withdraw 29 residency permits of Syrian refugees in July 2020."
In July, the case of several Syrian asylum seekers sparked controversy in the Netherlands as an IND investigation demonstrated that they provided incorrect information during residency permit interviews. One of these applicants is reportedly "involved in war crimes."
No forced return
"If asylum seekers from any country of origin do not have reasons to fear persecution or inhuman treatment, the application for asylum might be rejected. All foreign nationals without a right to stay, are responsible for their departure from the Netherlands," the ministry added.
Regarding involuntary return, the ministry said that "forced departure is only applied when the foreign national fails to leave the Netherlands voluntarily and does not accept the assistance from the Repatriation and Departure Service. As said, the Netherlands does not carry out forced returns to Syria at the moment due to the current situation."
In an earlier statement to Enab Baladi, the former Dutch ambassador to Syria, Nikolaos Van Dam, said that some political parties argue that Syrian refugees can be returned, but their position is completely unrealistic, because it would be dangerous for almost all Syrians to return.
The involuntary repatriation of refugees is not allowed if evidence is obtained that they will be at the risk of prosecution by the Syrian regime.
Germany: lifting ban on deportation
On 11 December 2020, the German Interior Ministry decided not to renew the ban on deportations to Syria.
Letting the ban expire, according to Die Welt (DW), means that "from January 1, courts can decide on a case-by-case basis whether to deport those Syrian nationals convicted of crimes in Germany."
Even though a date has been set up for courts to assess cases qualified for deportation, Lower Saxony's Interior Minister Boris Pistorius pointed out that "technically and practically, deportations would still not be possible due to the ongoing violence [in Syria]."
This deportation drive is spearheaded by the vice chair of the parliamentary CDU/CSU faction, Thorsten Frei, who plans to deport Syrian criminals and serious offenders to northern Syria.
Frei even suggested examining whether it is possible to send these individuals to northern Syria, which the Turkish army runs.
On 22 January, State Interior Minister of Baden-Württemberg, Thomas Strobel, highlighted the conditions under which individuals confirmed as posing a threat to Germany's security can be deported.
He added that even though the ban was lifted many obstacles still disrupt carrying out deportations of unwanted Syrians.
Earlier to cancelling the ban, Strobel said that his state could deport about 10 "criminals or those considered a security threat" to Syria should the Federal Authority for Migration and Refugees make the decision to lift the ban on deportation, considering each of the 10 cases separately in view of the European Convention on Human Rights.
Strobl told DW that there should be a possibility to return any individual, which means that there should be safe areas in Syria that these individuals can be deported to.
DW quoted the minister's statements to the German News Agency (DPA), as saying that "those considered as a security threat in our country can no longer rely on the ban on deportation."
According to the Federal Ministry of the Interior, "89 Syrian Islamists are classified as posing security threats in Germany."
The ministry defined people that can be tagged thus as "those who German security authorities suspect can commit grave politically motivated crimes."
EU's position on deportation
"Our EU position on returns has not changed. While we understand and support the aspirations of some Syrians to voluntarily return home, we still believe that the conditions for large-scale returns are not there yet," European Union High Representative for Foreign Affairs and Security Policy and the Vice-President of the Commission, Joseph Borrell told Enab Baladi on 30 March.
He emphasized that "the parameters set by UNHCR that make pretty clear that at present the conditions inside Syria do not lend themselves to the promotion of large-scale returns in conditions of safety and dignity in line with international law."
Borrell even referred to the limited returns that have taken place and the many obstacles and threats still faced by returning internally displaced persons and refugees. He said that "I am thinking in particular of forced conscription, indiscriminate detention, forced disappearances, torture, physical and sexual violence, discrimination in access to housing, land and property as well as poor or inexistent basic services."
Not deported, but held captives
Steve Valdez-Symonds, Amnesty UK Refugee and Migrant Rights Programme Director, told Enab Baladi, "I do not think Syrians have been deported from any European country to Syria. However, Denmark has revoked the protection status of some refugees, and I think they are hold [sic] in centers, with their right to liberty restricted."
"Germany has also changed its policy and theoretically, Syrians accused of serious crimes, could be deported," he added.
"Some of these measures are cruel and horrific given the situation in Syria. Some are part of the political posturing, given that there are no agreements with the Syrian government to carry out these deportations."
Protected by international laws
Several right-wing parties in the EU countries adopt anti-refugee policies, accusing asylum seekers of competing with local people for jobs, education and services. These policies constitute a violation of the principles of international law relevant to refugee status.
The International Refugee Law (IRL) lists the major instruments on which international protection is based, encompassing two documents which constitute its cornerstone— the 1951 Convention and the 1967 Protocol.
These documents layout provisions that prohibit returning refugees and asylum seekers to countries where they could be at the risk of persecution, safeguard their right to international protection under the principle of non-expulsion, and demand that all refugees be treated according to the principle of non-discrimination.
According to the 2007-published "Third report on the expulsion of aliens," by Mr. Maurice Kamto, Special Rapporteur, "the international law does not question a sovereign State's right to take measures to expel foreigners it considers dangerous to its security, admitting that such expulsions are "logical and necessary consequence of its sovereignty and independence."
The report adds that the international law thus recognizes the right to expel as "a natural right of the State emanating from its status as a sovereign legal entity with full authority over its territory."
Although a State's right to expel foreigners is well-established in the international law, it is not an absolute right. Rather, the report states, "[the right] must be exercised in manner consistent with human dignity."
The report explicitly states that "freedom to expel is not absolute, that it is subject to limits."
The right to expel is restricted by several obligations that the concerned state must adhere to. According to the report, a State "must try to reconcile its duty to maintain order in its territory . . . with the need 'to respect the laws of humanity, the human rights of every individual'."
The report further adds that although it falls under a State's right to sovereignty, expulsion "is not conceived as an absolute right which confers discretionary power on the expelling State," this right corresponds to the idea that such a power is not "arbitrary" and, "consequently, that the State should not abuse the discretion accorded to it in such matters."
Of the fundamental international principles applicable to the expulsion of foreigners are the principle of non-refoulement and the principle of prohibition of arbitrary expulsion.
Non-refoulement is a basic principle of the international law that bans a country hosting asylum seekers from returning them to a country where they would be threatened with persecution based on "race, religion, nationality, membership of a particular social group or [political opinion]."
The decision to strip people of their refugee status in some EU countries is "inconsistent with the additional provisions and protocols related to providing full protection for refugees escaping areas of armed conflict," Syrian lawyer and human rights defender, Hisham Masalmeh told Enab Baladi.
Accordingly, Masalmeh added decisions made today against any Syrian refugee who has access to protection under the 1951 Convention is "illegitimate and unlawful. Such decisions violate the principles and clauses laid out in this agreement," because no part across the Syrian territories is considered safe. "[Syria] is one of the most dangerous places to live in."
He added that refugees are usually granted asylum because they suffered actual persecution that threatened their lives. Therefore, any decision to return them involuntarily can be "contested and challenged before the European Court of Justice because the return would be an explicit violation of the provisions of [the protection agreement]."
According to Article 33 of the 1951 Convention, "no Contracting State shall expel or return ('refouler') a refugee in any manner whatsoever to the frontiers of territories where his life or freedom would be threatened on account of his race, religion, nationality, membership of a particular social group or political opinion."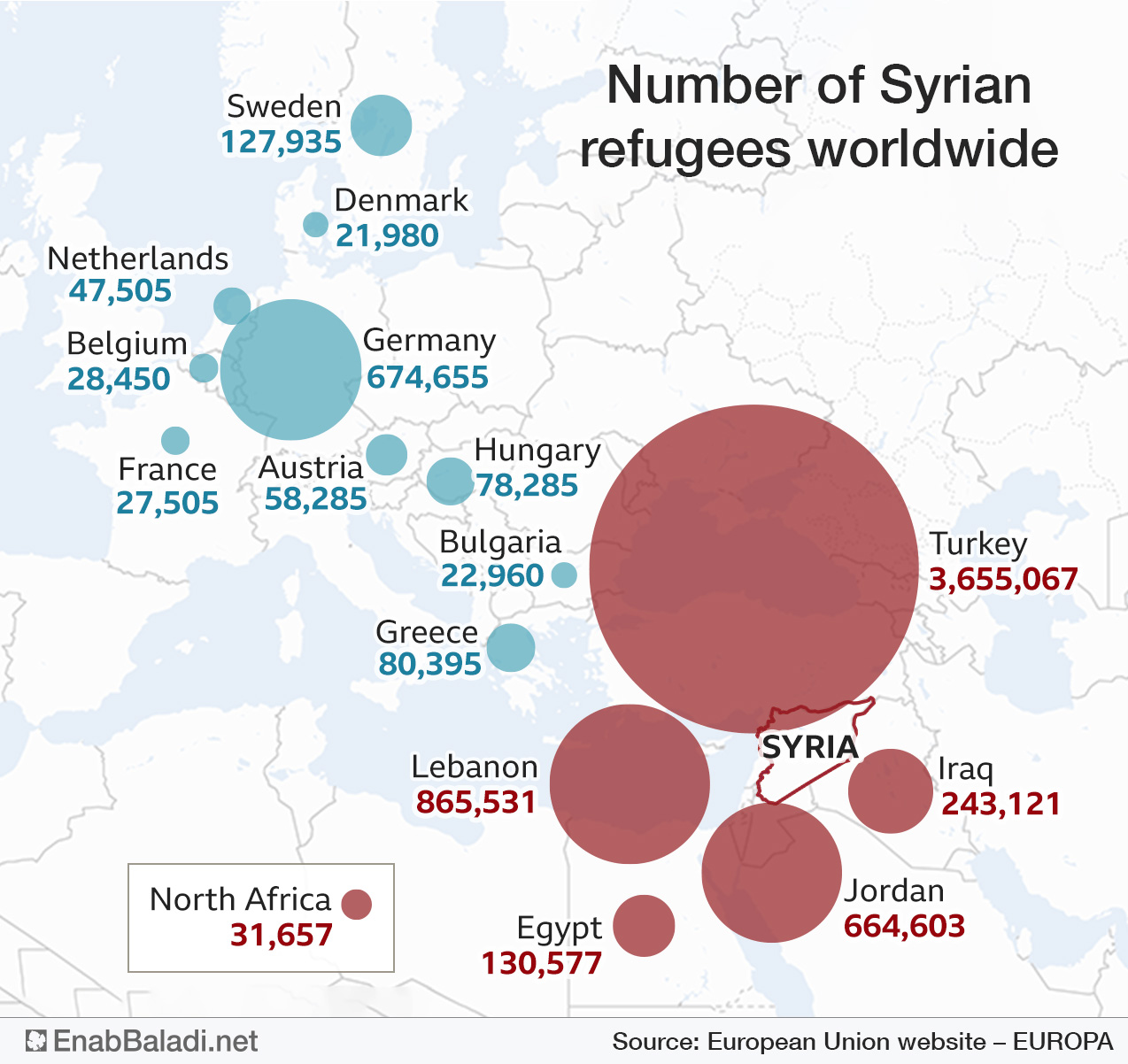 Any safe areas in Syria?
Last February, a Danish opposition party suggested finding a way to cooperate with the head of the Syrian regime, Bashar al-Assad, to return Syrian refugees whose asylum applications had been rejected or who have been stripped of the refugee status, considering Damascus a "safe area to return to."
However, lawyer Masalameh, who has been in charge of asylum cases since 2005, said that international laws do not provide a precise definition of a "safe area."
The 1951 Convention is used as a source of legal reference. But the convention does not define what makes an area safe, according to lawyer Masalmeh.
He added that during conflicts which result in large numbers of asylum seekers, States of host countries attempt to find alternative solutions to immigration.
Masalmeh said that, at times, solutions to national conflicts that target civilians materialize in establishing demilitarized zones under international supervision to protect civilians so that they would not seek asylum in other countries.  Such solutions tend to be initiatives by certain States, but in the context of the Syrian conflict "there are not any safe areas. None of Syria's parts can be called secure."
Syrians stripped of the refugee status can appeal before a local court, complain to an administrative ministerial body, or request an appeal before the higher courts whose decisions are binding on the State because it is violating an international agreement.
"I am not concerned over the fate of Syrian refugees. Of course, they are experiencing pressure from right-wing parties throughout the European continent, but Europe is governed by law not by politicians," Masalmeh added.
In a report, "Indicators of Security Stability in Syria and Refugee Return: An Evaluation of Select Cases," by Omran Center for Strategic Studies, researchers study security related indicators that significantly influence refugees' decision to return, including "a safe security environment"
The report says that a safe environment in this context would be made available through effective cessation of hostilities, the restriction of security services' powers over the public life of citizens, limiting violations against civilians by these services or by militias and military factions spreading across the country.
Refugee: someone owing to well-founded fear of being persecuted for reasons of race, religion, nationality, membership of a particular social group or political opinion, is outside the country of his nationality and is unable or, owing to such fear, is unwilling to avail himself of the protection of that country; or who, not having a nationality and being outside the country of his former habitual residence as a result of such events, is unable or, owing to such fear, is unwilling to return to it.
Refugee's family members: a beneficiary's spouse, minor children and dependent adult children.
Asylum-seeker: A foreigner who submits a formal application to a certain country to be granted the refugee status under the 1951 Convention. The only privilege that a candidate/applicant seeks is obtaining the State's protection by allowing him or her to stay within its territories.
Protection: States establish laws to protect their citizens. However, when Sates fail or are unwilling to protect their citizens, many seek to flee their countries of origin, particularly during armed conflicts to other countries where they gain access to the refugee status. Accordingly, international protection arose as a necessity to answer the needs of such individuals who lost the protection of their State.
Source: United Nations High Commissioner for Refugees (UNHCR) and the Schengen Agreement
Is normalization with Syrian regime looming over refugees?
It might be too early to talk about normalization of ties between the EU and the Syrian regime, particularly since the EU stipulates that the regime change its stance and observe the political solution to be realized under the UN Security Council Resolution 2254, which the Brussel Conference, held on 30 March, reiterated.
Refugees are concerned that European governments will normalize their relations with the Syrian regime with the rising voices of some right-wing parties that follow anti-refugee policies.
Germany-based refugee Mahdi Ramadan, 22, expressed his fear of a precarious future, particularly because he is granted a temporary protection status. "We fear that governments will change their policies and start dealing with the Syrian regime to an extent that they might return refugees, driven by internal and external political and economic conditions."
Hunting fish in murky waters
Former German parliament member Jamal Karsli assured Syrian refugees about deportations because extremist parties are far from taking over governments while they exist in all countries. Should these parties influence governments, human rights and civil society organizations will prevent these parties from practicing their extremism against refugees.
Karsli told Enab Baladi that right-wing parties are hunting fish in murky waters and they had a breakthrough and rose to popularity through taking advantage of the refugees' issue. Today they are using refugees as a bargaining chip, especially with the Syrian regime that is hammered with boycott and sanctions. One such attempt at benefiting failed when a German party visited Syrian cities to show that Syria is a safe country and that refugees could be returned.
Within a seven-day visit in 2018, a German delegation in Damascus promoted the end of war in Syria and that citizens are living in peace. Back then, Christian Blex, head of the delegation and a member of the German parliament, published a set of photos he took during his tour in the streets of Damascus, which he captioned as neighborhoods "demilitarized."
Karsli pointed out that any Syrian refugee who abides by the laws and tries to integrate into the host society will not be deported. In return, those threatened with deportation are the supporters of the regime, and others who want to return voluntarily in exchange for money, stressing that so far Germany has not deported any Syrian refugees.
A long way ahead of normalization
The Director of the Syrian Justice and Accountability Center (SJAC), Mohammad Al-Abdallah told Enab Baladi that the trials held in the EU countries against perpetrators of "war crimes are a barrier that would prevent any political attempt by any European authority to normalize its relations with the government of the Syrian regime as to bring ties to their pre-2011 state."
Al-Abdallah said that these trials "will disturb the relationship between European countries and the Syrian regime, if European governments try to normalize relations with it."
Al-Abdallah added that the Syrian human rights file would not be an obstacle should European countries express a true desire to restore relationship with the regime in Damascus politically or even at the level of commerce.
He added that political settlements can circumvent the efforts seeking accountability, which will embarrass countries willing to do this before some other European countries that embrace the human rights file.
According to Al-Abdallah, the opinion saying that some European countries would normalize ties with the Syrian regime to varying degrees despite the lawsuits overseen at their national courts is valid in politics, especially since there is a noticeable rise in the voices of some right-wing parties in Europe, such as Austria and Denmark.
If normalization deals start between EU countries and the regime, the latter would not have a problem to liquidate or remove people in authority positions, who are prosecuted by the judiciary in Europe, as long as these lawsuits are filed against specific individuals in return for resuming political and economic relations. Thus, the human rights file will not be the biggest obstacle to such agreements because States place their political and security interests above human rights issues and ethics.
Consequently, the talk about normalization between the EU countries and the Syrian regime, if possible in the future, would still take years to occur given a set of indicators, including statements by European officials about the international community's refusal to recognize the regime and the sanctions the EU had imposed on it.
Refugees' fate should they return
Mainstream reactions and the much ado on recent talk about the deportation of Syrian refugees is exaggerated for the European countries remain committed to the international law regarding the issue of returning refugees, Chairman of the Syrian Network for Human Rights (SNHR) Fadel Abdul Ghany told Enab Baladi.
"Syria is entirely unsafe," he added, which means that no refugees could be returned now.
The SNHR advises the European countries not to return refugees and work on resettling them because the core of the Syrian crisis still exists, namely security services and the Syrian regime.
Abdul Ghany said that family reunification is still being carried out by some European countries, including the Netherlands, despite the existing ban on travel in many countries due to the COVID-19 pandemic. This indicates that these countries respect the 1951 Convection.
The debate over some host countries' decision to deport refugees comes after the shocking March report by the UN Commission of Inquiry on the Syrian Arab Republic, which stated that "tens of thousands of civilians arbitrarily detained in Syria remain forcibly disappeared, while thousands more have been subject to torture, sexual violence or death in detention."
if you think the article contain wrong information or you have additional details Send Correction