A solar-power lighting project underway in Yarmouk camp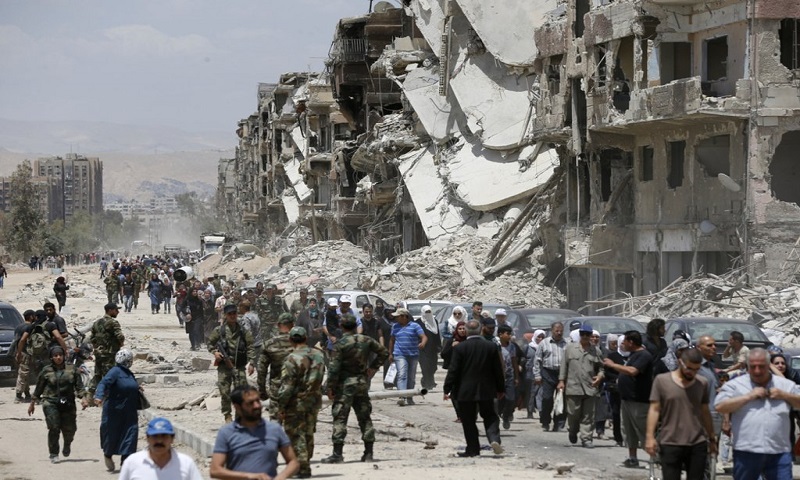 Work is underway on a solar power lighting project for two main streets in the Yarmouk camp,  south of Damascus. The solar-powered project comes after all electrical cables were looted during the Syrian conflict. 
On 25 April, the Action Group for the Palestinians of Syria (AGPS) quoted well-informed sources as saying that some entity, which the AGPS did not name, had expressed its willingness to implement solar-powered lighting projects in the Yarmouk Street and Palestine Street in the camp.
The sources added that certain authorities in the Syrian regime government had given their consent to lighting the two streets.
The AGPS pointed out that all power cables, whether placed underground, on utility poles, or inside residents' houses, were looted by elements of the Syrian regime forces.
The camp former residents called on the Syrian regime government, the concerned parties, the Palestine Liberation Organization (PLO), and the United Nations Relief and Works Agency for Palestine Refugees in the Near East (UNRWA) to work on securing proper infrastructure for the camp to return home as soon as possible.
Severe deficiency in basic services
The camp residents have complained repeatedly about the lack of essential services, the absence of adequate infrastructure, and the regime government's negligence of streets and roads' rehabilitation despite permitting residents to return to their homes.
Hundreds of the camp's displaced families returned to their houses after Damascus governorate set three conditions permitting their return. The conditions included the structural safety of properties, the availability of ownership proof, and the ability to obtain necessary security permits.
Families currently living in the camp who are distributed in several neighborhoods such as al-Ja'ouna, Ain Ghazal, al-Taqadom, Haifa, Saba' al-Siba'i, and Ihsan Kam al-Maz are experiencing great difficulties in securing their basic needs, including daily bread, drinkable water, and fuel for heating and cooking.
Residents of the camp cannot buy their essential necessities as the camp lacks shops and transportation means to help people reach other areas to secure their basic daily needs. 
Today the Yarmouk camp lacks health, social, and service infrastructure. It has no hospitals, clinics, or pharmacies nor medical or health personnel.
if you think the article contain wrong information or you have additional details Send Correction