Ten thousand objections to regulatory plan of Yarmouk Camp in Damascus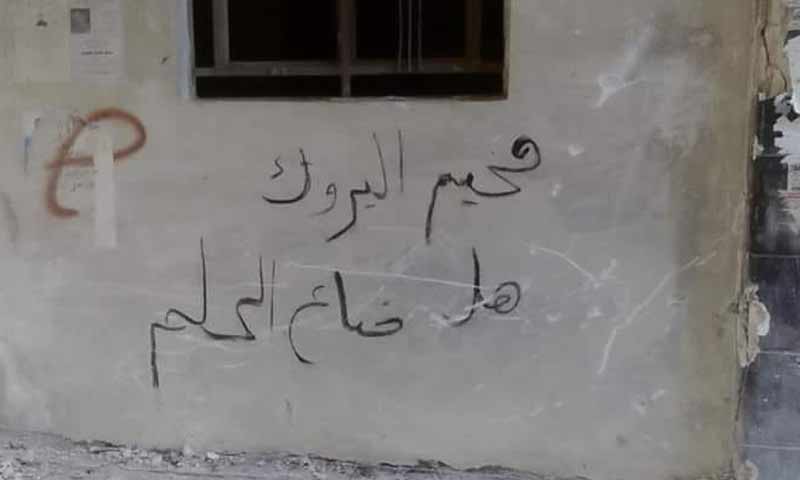 The "Action Group for the Palestinians of Syria (AGPS)" has reported on lawyers from inside the Syrian capital, Damascus, that the number of objections submitted by the Yarmouk Camp residents against the regulatory plan of the area has reached more than 10,000 objections.
The organization said that the scale of objection to the Yarmouk Camp's master plan is considered the biggest in Syria's history, thousands of times more than any other regulatory plan.
The AGPS considered that the large scale of objections clearly indicates the residents' absolute refusal of the organizational plan. It demanded Damascus governorate response to the residents' appeals and the suspension of the plan's implementation.
The Palestinian lawyer Nour Eddin Salman, who lives in Damascus, confirmed that "the number of objections submitted to the first stage of the plan has reached ten thousand objections.
Salman clarified that an average of one thousand breadwinners of families with five members, with a total of at least 50,000 people, rejected the master plan of the Yarmouk Camp.
Salman posted in the "Yarmouk Camp Residents" Facebook group that the objections are a proof of the residents' rejection of the plan and Damascus governorate's other similar projects.
He added, the residents no longer trust the governorate's officials for their lack of action for the good of the camp's population, besides their false promises regarding people's return to their houses.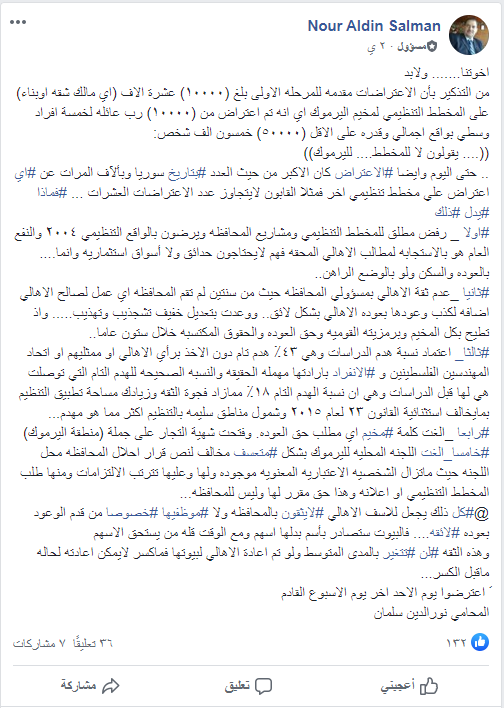 On his part, the Director of the Political Department of the Palestine Liberation Organization (PLO) in Damascus, Anwar Abdul Hadi, promised the camp's residents a return.
In a televised interview, Abdul Hadi said while visiting a cemetery in the camp area that the "Yarmouk Camp will return, so will the camp residents."
Last June, Damascus governorate announced its approval of the al-Qaboun area's regulatory plan and the Yarmouk Camp regulatory map in Damascus.
Nevertheless, the Yarmouk Camp's master plan was rejected by the Palestinians of Syria, amid calls from Palestinian human rights organizations for Damascus governorate to retract the plan, as it is seen as a complete change for the camp's features.
In an interview with the al-Quds News Agency on 23 July, the Secretary-General of the "Palestinian Popular Struggle Front (PPSF)," Khaled Abdul Majeed talked about submitting memos to the head of the Syrian regime, Bashar al-Assad, defining the political dimensions and symbolism of the "Yarmouk" camp, and demanding a reconsideration of Damascus governorate's decision.
if you think the article contain wrong information or you have additional details Send Correction