What does it mean to have Turkish Universities in northern Syria?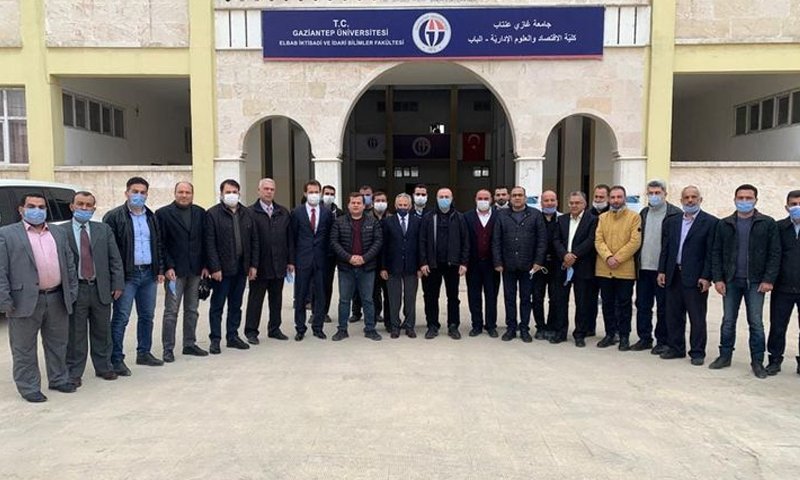 Enab Baladi – Zeinab Masri
By presidential decree published in Turkey's Official Gazette last month, Turkish President Recep Tayyip Erdoğan announced that Turkey will open a medical school and a higher institute of health sciences in Syria's al-Rai (Goban Bay) town, located northeast of Aleppo, near the Turkish border. The decision stated that they would be established under the auspices of the Turkish State University of Health Sciences in Istanbul.
The decision to set up Turkish faculties in northern Syria sparked controversy among Syrians: some northwestern Syria students were pleased and thankful for the Turkish government's "generosity." Others think that the decision is a Turkish endeavor to impose its sovereignty over Syrian territory. 
Syrian regime rejects Turkey's decision
However, an official source in the Syrian regime's Ministry of Foreign Affairs and Expatriates confirmed that Damascus has categorically objected to Turkey's decision to open a faculty and an institute in northern Syria, calling the decision "a dangerous act and a flagrant violation of the international law and the UN Charter."
He also considered that the decision is null and constitutes a continuation of Turkey's practices in igniting and prolonging the Syrian crisis and supporting "terrorist groups" such as the Islamic State (IS), Jabhat al-Nusra, and the  Muslim Brotherhood. Turkey also aims to serve its own agendas and achieve its ambitions and delusions.
The University of Health Sciences was established in Istanbul in 2015, and it is the only public university authorized to offer educational activities outside the country.
The university includes the Faculties of Medicine, International Medicine, Pharmacy, Nursing, Life Sciences, Health Sciences, the Vocational School of Health Services, and the Institute of Health Sciences.
This is not the first educational project carried out by the Turkish government in northern Syria. Turkey has established many colleges and institutes that follow the Turkish Public Universities. Yet,  the Syrian regime responds officially to Turkey's decisions for the first time. 
How does Turkey's decision contradict international laws?
Bassam al-Ahmad, a Syrian human rights defender and co-founder and executive director of Syrians for Truth and Justice (STJ), believes that the Turkish presidential decision contradicts international laws for multiple reasons, most notably that this Turkish move can be perceived as an "attempt to gain more sovereignty over Syrian territories."
In an interview with Enab Baladi, al-Ahmad noted that such decisions indicate "that Turkey plans to maintain a presence in northern Syria in the long term, in addition to annexing northern Syrian to its territory when international circumstances permit."
 According to articles 42-56 of the 1907 Hague Regulations (HR) and articles 27-34 and 47-78 of the Fourth Geneva Convention, "the occupant does not acquire sovereignty over the territory of other countries."
 Turkey began a direct military intervention into Syria by declaring Operation Euphrates Shield near its southern borders in 2016. 
In 2018 and 2019, Turkey also carried out cross-border military operations (Operation Olive Branch and Operation Peace Spring) in northern Syrian.
Syrian Interim Government not knowing about Turkey's decision before
Turkey decided to open a medical school and institute in northern Syria on its own; it did not cooperate with any Syrian party, Fateh Shaaban, assistant minister of education for higher education affairs in the Syrian Interim Government (SIG), told Enab Baladi.
He said that the SIG had no idea about establishing a college affiliated with a Turkish government entity.
The purpose of establishing a medical school in northern Syria is to "accommodate students in the liberated areas within several medical specialties," the director of the public relations and information office at al-Rai's local council Aladdin Hamad, told Enab Baladi.
Turkey will start building the medical school within a few days under "international standards, and it is expected to be ready to receive students within six months," according to Hamad.
The Malcolm H. Kerr Carnegie Middle East Center, in the April 2018 report, entitled "Is Turkey Likely to Annex the Territory it Now Controls in Syria?" said that Gönül Tol, the founding director of the Middle East Institute's Center for Turkish Studies, believes that "Critics accuse Ankara of neocolonial ambitions in northern Syria. On the surface, they may have a point."
Tol said there are several signs that Turkey has a significant role in northern Syria, including Turkish signposts, Turkish-trained police forces, and Turkish-built post offices. Besides, Turkish people are managing hospitals and public facilities in northern Syria.
Like other sectors in the opposition-controlled areas, higher education has been affected dramatically by the political reality and the balances of the local military forces on the ground. Currently, two governments have disputes over territorial control in northern Syria; thus, their institutions' locations may change over time based on the controlling force.
The decision came as a result of people's demands
Syrian lawyer Tariq Haj Bakri said that the Turkish decision to establish a medical college and a higher institute of health sciences was not unilateral. Turkey has taken this decision after several continuous demands by the SIG and Syrian people in the northern areas. They complained that they are in urgent need of such a college and an institute, which are to be equipped with all healthcare workers as well as hospitals.
Haj Bakri said that the decision is not inconsistent with international law because it came in response to a need and is based on an agreement with the SIG.
Speaking with Enab Baladi, the lawyer said that a medical college is an extension of the Turkish University. Thus, other foreign universities can open branches in other countries with the approval of the government. This is what happened with the SIG, so there is no "transgression" at all.
 Turkey's decision is compatible with domestic and international laws
Commenting on Turkey's administrative control of the region, Haj Bakri believes that northern Syria is administrated under Turkey's supervision. "And since Turkey runs the region, it has the responsibility to ensure the management of the security and administrative sectors and all other sectors."
Haj Bakri indicated that when Turkey or any other country runs, dominates, supervises an area, meaning if this area is under foreign presence, this country has to manage it "very well" and provide it with several services, including educational ones, as well as successful cadres.
How have Syrian students received the new Turkish decision?
When the Syrian people of northern Syria received the news about opening a medical college and institute in the countryside of Aleppo, they did not have disputes if the decision is legally acceptable or not around the world. Instead, they disagreed on the area in which the two new educational centers are to be constructed.
Abdullah al-Raghib – a civil activist
"Very happy to hear this good news. I am thankful to the Turkish government and Turkish universities for opening branches inside liberated Syria. Yet, I wished that the new branches had been opened in the city of al-Bab, the largest city in the liberated north, because it includes numerous people coming from different parts of Syria, and it no exaggeration to say that it is Syria's miniature."
"What makes me feel sorry that significant and influential services are concentrated in al-Rai, which is a small town compared to al-Bab. Nonetheless, al-Rai has the Central Hospital and the Central Court in the region. In addition, there will be Medicine Faculty. In this region, we have never felt that there is a difference between Arabs, Kurds, and Turkmens. So, I hope that in the upcoming days, I will not see a new Qardaha in the north with the utmost love and respect for our Turkmen brothers."  
 Muhammad Nour – university student
"Al-Bab is bigger than al-Rai. But al-Bab is the least stable and the most chaotic city in northern Syria. Due to many problems in and complaints about al-Bab, Turkish people choose to stay in the town of al-Rai. I think they consider al-Bab a military zone. For them, al-Rai is closer than al-Bab to Turkey. So, coming and going to Turkey will be easier for them via the town of al-Rai. That is why I believe that Turkey's recent decision is appropriate and great on different levels."
if you think the article contain wrong information or you have additional details Send Correction