How can Syrian citizens save money other than through bank savings accounts?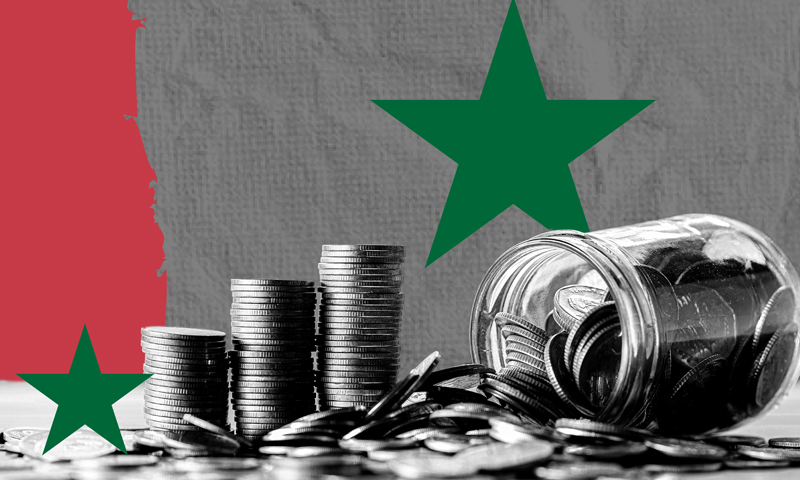 Enab Baladi – Jana al-Issa
Forty-year-old Shirin al-Malla from Homs countryside has never imagined that her decades-old dream of having a house would be achieved one day without previous planning. Al-Malla received an inheritance of 5,000 US dollars (USD) from her family in 2013. She saved the amount until recently when she found out that she can actually buy an unclad house in the countryside of Homs with this much money. 
Al-Malla told Enab Baladi that she has always dreamt of buying a house in her name, and like all Syrians, al-Malla was deeply concerned about the ongoing deterioration of the Syrian pound and the price hike associated with it. Still, she never imagined that 5,000 USD would buy her the house she dreamt of in 2020. 
This fortunate and unexpected opportunity encountered by al-Malla became a necessary investment plan to some Syrians wishing to maintain their savings.
Buying gold is the optimum choice for saving in Syria
For decades, Syrians have opted for a traditional method to preserve their money through buying gold. Unlike currency and other assets, gold maintains its value and is easily transported.
Gold prices have doubled 80 times in Syria. One gram of 21 carats of gold is worth about 190,000 Syrian pounds (SYP = 47.5 USD), while at the end of 2011, it was worth nearly 2,300 SYP.
Economic researcher at Jusoor for Studies Center, Khaled Turkawi, told Enab Baladi that buying gold remains the best saving method for individuals living in the Syrian regime's areas for several reasons. Purchasing gold does not subject buyers to the regime's security branches' accountability that foreign currencies' buyers face. In addition, gold's value in the Syrian market is determined by the global pricing of gold, which guarantees no loss of money.  
The world's central banks trust gold as an investment method, making it a safe and encouraging option for individuals in Syria.
Turkawi added that unornamented gold is the best choice for saving so that buyers would not lose gold's crafting fees if they had to sell it. Gold coins are the best investment because they hold their value. 
US dollar: a safe haven for Syrians out of the regime's sight 
Besides gold, the US dollar is another safe choice for Syrians to save their money and minimize the losses caused by the Syrian pound's fluctuation and depreciation in the last ten years. In 2021, the Syrian pound hit a record low against the US dollar, falling 85 times than it was worth in 2011.
In January 2020, the head of the Syrian regime, Bashar al-Assad, issued a legislative decree forbidding the use of any currencies other than the Syrian pound in financial transactions. The decree stipulated a penalty of at least seven years' imprisonment with short-term hard labor and a fine equal to twice the amount paid or the amount that is the subject of the transaction.
Despite this move that the regime took to float its currency, many people residing in regime-controlled areas continue to exchange the Syrian pound with the US dollar secretly and in private, trusted offices for fear of mentioning the word "US dollar" on the telephone or in any public place. This caution led traders not to sell the U.S. currency to anyone they do not know, fearing arrest and security prosecution.
A forty-five-year resident of Damascus countryside, who has been saving his money in Syrian banks for ten years driven by his fear of the Syrian pound's fluctuating rate after the Syrian revolution, told Enab Baladi that he dreads investing money in any project, no matter how small. To start a business in a war-torn country, one needs a lot of capital, and the business is doomed to fail, the man said. With this in mind, the man chose to exchange his money in the US dollar to save its value and keep the money safe, sound and secured in a special box in his house.
Turkawi believes that the Syrian pound will continue to fall in value without any possibility of recovery in the foreseeable future. Therefore, he thinks that replacing the Syrian pound with foreign currency is a safer and better choice. 
People of limited incomes are also advised to save whatever they can in foreign currencies as their little amounts would not lose their value and might double instead.
The risky option of real estate investing 
Ahmed al-Ali (aged 36), a Syrian man living in Germany, told Enab Baladi that he bought a house in Damascus countryside for 50 million SYP (about 12,500 USD). Al-Ali made the purchase as an investment, as he plans to sell the house after a couple of years at twice the amount he paid when he bought the house, given that real estate prices in Syria are skyrocketing.
The economic researcher said that there are many risks to buying properties in any war-ravaged country, such as Syria. Some of these risks include having real estates subject to bombings and illegal confiscation by armed groups. Turkawi added that investment in real estate requires substantial capital.
The Building Syria website that is specialized in covering news of rehabilitating infrastructure services in Syria cited in December 2020 the Director of the Syrian Law Agency and real estate expert Ammar Yousef, saying that, within the unprecedented rise in real estate and building materials prices, low-income people need at least 200 years to afford housing cost.
Yousef added that housing has become a far-fetched dream, as employees struggling to secure enough money for eating and drinking cannot save money to buy a house.
Measures by Central Bank of Syria to limit Syrian pound's deterioration 
The daily increase in food prices and the Syrian pound collapse have forced the Central Bank of Syria (CBS) to take measures to prevent a further slide in the pound's value. Under the new measures, the Combating Money Laundering and Terrorism Financing Commission and the judicial police have implemented a number of "missions" in various governorates, namely Damascus, Hama, and Aleppo.
According to the CBS, several companies and entities were seized on speculation on the Syrian pound, and large amounts of money in the Syrian pound and US dollar currencies were confiscated as part of the measures.  
The CBS considered that "citizens and business owners' awareness is required along with its measures, to continue to counter attempts to undermine the Syrian pound and the Syrian people, who have shown steadfastness throughout the war."
The average salary in Syria is about 45 USD (at the official exchange rate of 1,256 SYP per 1 USD) and 14 USD (at the market exchange rate of 4,000 SYP per 1 USD), according to the international database website for living conditions worldwide, Numbeo.
In the meantime, Syria tops the list of poorest countries in the world with 82.5% of people falling below the poverty line, according to statistics issued by the World By Map website.
if you think the article contain wrong information or you have additional details Send Correction