The Afrin challenge of cancer: high costs and long distances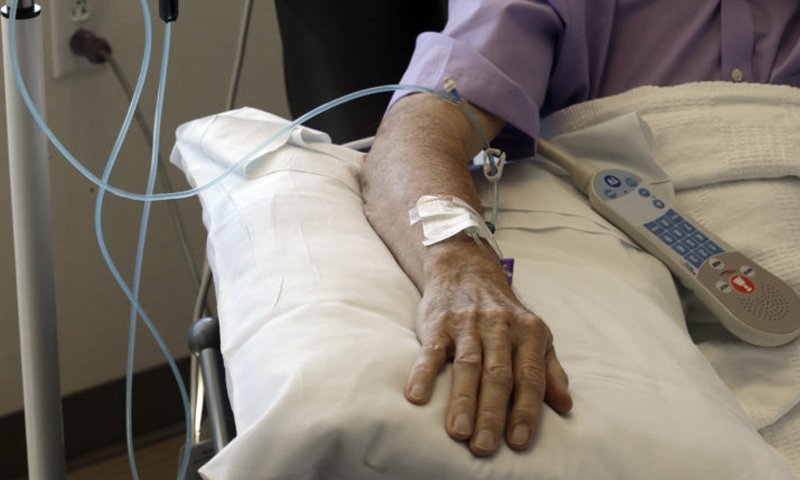 Colez's facial expressions spoke more than words could describe. It was only a few months since she found out that she was diagnosed with uterine cancer. Yet, this time was long enough to experience pains that she had not suffered throughout her past 50 years.
"I have no money to pay for my medical treatment. I cannot buy medicine. I am both physically and psychologically exhausted. I do not feel well at all," Colez told Enab Baladi.
Colez, like many other cancer patients in the city of Afrin, cannot afford the costs of the required medical treatment, which is only available free of charge in Idlib and Turkey. However, unimaginable barriers deny Afrin's patients access to cancer treatment there.
Afrin with no cancer treatment centers
Colez Ahmad went to many doctors and hospitals in Afrin after her health condition deteriorated. In the beginning, she had a sharp stomach pain to turn later to bleeding. Therefore, she had to undergo a hysterectomy. But she was not clear of cancer.  
Because she continued to experience pain, doctors asked her to do some lab tests. Then, she was referred to Idlib to start chemotherapy. Until that moment, she paid for treatment around 300 USD, more than her husband's pension (40,000 SYP- 13.6 USD). The pension was insufficient to ensure her the price of the therapeutic injections. 
In Sinkerli in Afrin countryside, retired teacher Adnan al-Antakli, who is 83 years old, faced a similar reality. When he found out that his head's mass was cancerous, he started to receive treatment and follow the doctors' advice. Then, he stopped because he was no longer able to pay for his treatment.
"it is poverty! I cannot afford treatment."
Al-Antakli spent three years moving between hospitals in the northern countryside of Idlib in order to keep receiving his medicines. Later on, he had to stop medicines, although he still experiences constant pain in his head and body.
"They told me that I have to go to Turkey for treatment, but nobody helps me out."
Patients have smooth access to Turkey, according to Molham Khalil, an oncologist and hematologist at the Military Hospital in Afrin. However, patients are allowed only to cross through the Bab al-Hawa border crossing in Idlib.
Unlike Idlib, Afrin does not have a medical center, or hospital specialized in treating cancer patients, nor does it provide free medicines. 
"I only diagnose patients' medical conditions and follow up patients who purchase their medicines–which are often very expensive–out of their own pockets," Khalil told Enab Baladi.
Afrin lacks the support of relief organizations interested in assisting patients. This forces doctors to refer their patients to Idlib.
"Some patients accept to continue their treatment at the SAMS Oncology Center in Idlib. But, the majority do not because of the nuisance of the travel and unstable security situation prevailing in Idlib."
Bab al-Hawa border crossing is not closed
In March 2018, the factions of the Syrian National Army (SNA), backed by the Turkish forces, took control of the Afrin region, and since then, it has been under the Turkish administration. 
 Hayat Tahrir al-Sham (HTS) controls Idlib. Activities through Bab al-Hawa border crossing are conducted in accordance with Turkey's conditions, which determine who can and who cannot enter its borders.
Yassin, another cancer patient from the city of Afrin, spent a year of his four years of treatment in Turkey.
Yassin was sent back to Syria for a one-month vacation in order to see his fathers and siblings again. However, he was not allowed to return to Turkey.   
 Yassin's treatment journey began when he was 11 years old. A swollen lymph node appeared in his neck when he was still in Eastern Ghouta. Then, he was forcibly displaced to Afrin, where he continued his treatment. After that, he headed to Turkey to obtain free treatment. 
Yassin's supervising doctor asked him to do a CT scan of his neck to continue treatment. She also told him that he could go back to Syria and spend some time with his family. When he went to Syria, he got trapped there, unable to do the CT scan because such scanning machines are unavailable in the region.
There is no cancer treatment center in northwestern Syria except for the Syrian American Medical Society (SAMS) hospital in Idlib. However, it does not include all the required services, and it lacks free pathology and radiotherapy. This is why many patients try to reach Turkey to continue their treatment.
The spread of the novel coronavirus  (COVID-19) denied patients access through the crossing several times in 2020. Yet, cancer patients are "given priority" to enter Turkey and receive free treatment, according to the Director of the Office of Public Relations and Information at the Bab al-Hawa Crossing, Mazen Alloush.
Alloush told Enab Baladi that in order to get access to Turkey's medical services, patients have to submit some necessary medical documents to the Medical Coordination Office and obtain a referral from the Bab al-Hawa Hospital to Turkey. The patient's health condition is also evaluated by a medical committee. Thus, priorities are granted to the patients with deteriorating health conditions.
"All cancer patients, in particular, have been permitted to enter Turkey."
Patients coming from Idlib or the Euphrates Shield and Olive Branch territories in the northeastern countryside of Aleppo enjoy the same rights, without any discriminatory treatment at the Bab al-Hawa border crossing, Alloush said.
Alloush pointed out that the terms of entry to Turkey are in the Turkish side's hands, which prevented the passage of escorts except with children under the age of eight. 
According to statistics provided by Alloush to Enab Baladi, the number of patients with non-urgent conditions crossing the border to Turkey decreased from nearly 6,000 (including 2,014 cancer patients) to 3,138 patients in 2020, among them 1,772 cancer patients.
Molham Khalil said that getting access through the Bab al-Hawa border crossing to Turkey or moving to Idlib to obtain treatment is not considered the safest solution. Doctors in Afrin are doing their best to provide their patients with free medicines in Afrin. But "this does not help to mitigate the patients' sufferings because they are still encountered with a high cost of cancer treatment."
He concluded that if the relief organizations did not offer assistance, the doctors' help would not be sufficient and the patients' suffering would increase.
if you think the article contain wrong information or you have additional details Send Correction