Breast cancer patients in Idlib fight a life-threatening battle in worst conditions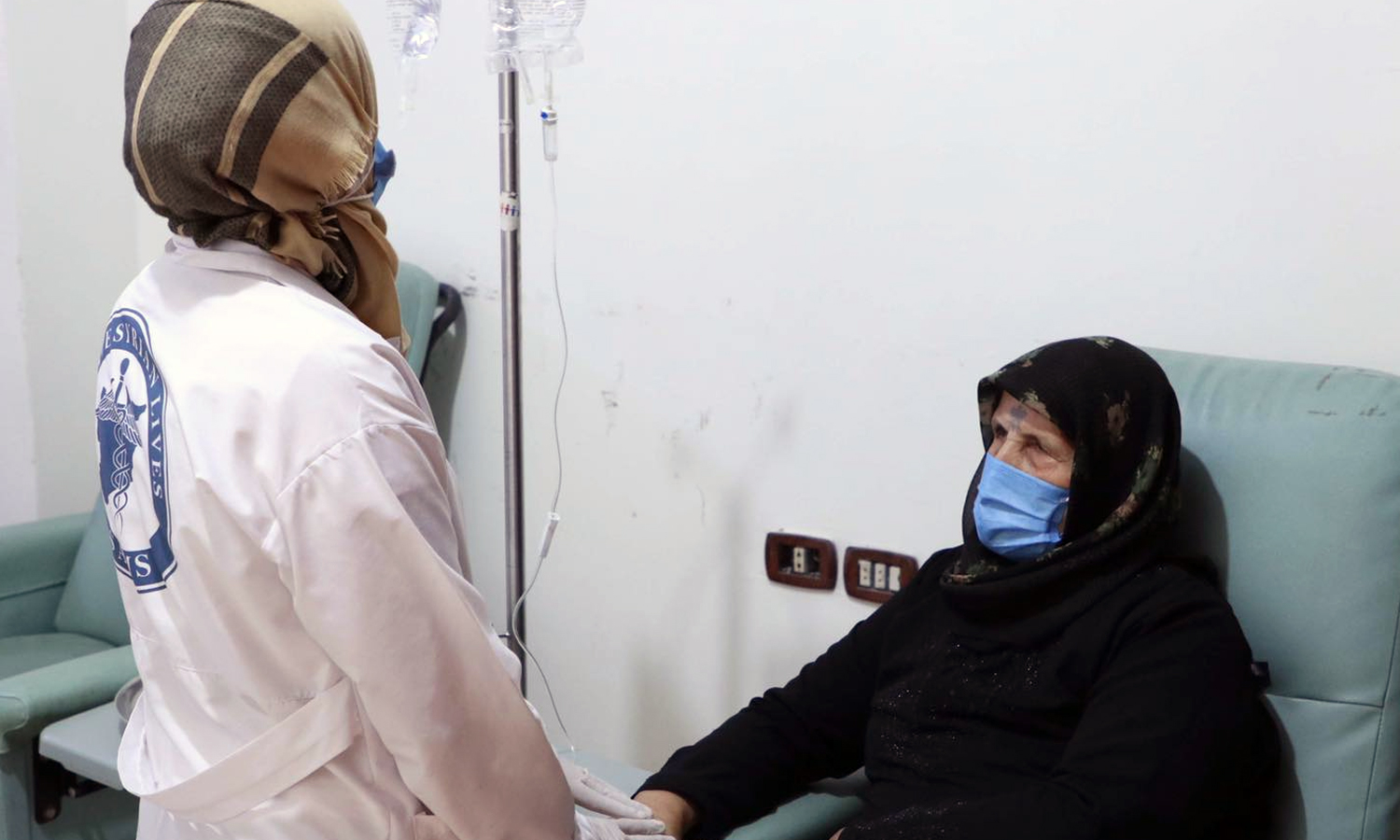 Enab Baladi – Idlib
Forty-something-year-old Rawaa al-Hretani faces the most challenging period of her life after her chemotherapy treatment ceased to be available in Idlib and the Turkish borders were closed in her face as Turkey decided to make Syrian patients pay for their treatments on its lands. 
Al-Hretani was diagnosed with late-stage breast cancer, and all doctors' attempts did not help control the disease or stop its spread in her body despite undergoing a mastectomy and chemotherapy sessions in the Syrian American Medical Society (SAMS)'s oncology center in Idlib. 
"I underwent many chemotherapy sessions and received free medications from SAMS, but my condition kept getting worse and unresponsive to treatment. The doctors recommended radiotherapy treatment, which was not available in the region, so I gave up on treatment and sat waiting for my doomed future," al-Hretani told Enab Baladi.
Al-Hretani is originally from Telmans village in Idlib countryside. She fled her area to Atmeh camps for internally displaced people (IDP) over two years ago and faces extremely dire conditions under poverty, sickness, and lack of treatment. 
Early detection saves lives
Thirty-five-year-old Samira al-Hussein from al-Bara town in the Jabal al-Zawiya area in Idlib governorate who was displaced to the Sarmada displacement camps over a year ago, was diagnosed with breast cancer during a routine medical examination at SAMS oncology center in Idlib. Al-Hussein was accompanying her friend, who went to the center to get her chemotherapy treatment. 
Al-Hussein told Enab Baladi that she was astounded by her breast cancer diagnosis and immediately started free chemotherapy sessions at SAMS center, ensuring herself better chances of effective treatment and survival.  
"Thank God I did the early detection examination; otherwise, I would have suffered tremendously as a breast cancer patient living under poverty and displacement and have no financial ability to afford treatment," al-Hussein said. 
Al-Hussein told her doctors that she never felt any pain or suspected any signs before being diagnosed with breast cancer, to which the doctors responded that many patients develop breast cancer without showing symptoms and reach advanced stages of the sickness with low chances of recovery or survival. 
When the doctors confirmed to al-Hussein her full recovery from breast cancer, one of the world's most serious illnesses, she felt she was given a new life, she told Enab Baladi. 
She described to Enab Baladi her harsh living conditions, fending for her four children because her husband had a war injury that left him with a foot disability.
Lack of treatment 
The World Health Organization (WHO) has designated October of every year as Breast Cancer Awareness Month to increase attention to breast cancer and provide the necessary support to raise awareness of its seriousness and importance of early detection.
The northwestern Syrian region faces many challenges in fighting breast cancer, mainly the absence of centers for early detection examinations and raising awareness and lack of treatment. The entire region has only one center taking care of breast cancer patients, the SAMS oncology center at Idlib Central Hospital.
Hematologist-oncologist Dr. Molham Khalil, aged 34, who works at the SAMS oncology center in Idlib, told Enab Baladi that the region has no breast cancer early detection examinations centers, noting that new equipment has been brought recently for a new project of free exams at the oncology center.
Dr. Khalil said that the only way to have an examination is to visit the oncology center, adding that the center does not provide the service of sending periodic SMS messages calling women to have early detection tests, like some countries do, including Turkey.
According to Dr. Khalil, when a patient is diagnosed with hereditary breast cancer, she is advised to tell her relatives (daughters, sisters, and aunts) to visit the center for testing. 
Dr. Khalil emphasized that early detection helps diagnose breast cancer at its early stages, pointing out that the number of SAMS center's patients has increased thanks to their improved awareness.
SAMS oncology center provides all chemical and hormonal treatments but suffers a shortage in immunotherapy and radiation therapy, Dr. Khalil said, adding that to solve this problem, patients were transferred to Turkey for treatment, but this solution ceased to be available. 
The medical coordination office of Bab al-Hawa border crossing with Turkey suspended the issuance of medical referrals to Turkey as of 11 September, pending the activation of a new health system for treating Syrian patients in Turkish hospitals.
The decision came after the Turkish side changed the "kimlik" receipt that was issued for Syrian patients entering Turkey for free treatment. This receipt entailed Syrian patients to apply for the temporary protection card "kimlik," which later was replaced with a medical tourism document, denying Syrians free treatment in Turkish hospitals. 
SAMS receives a thousand patients a month
Dr. Ayham Jamo, the head of SAMS' oncology department at Idlib's Central Hospital, told Enab Baladi that the number of cancer patients' monthly visits is nearly a thousand.   
He added, the number of newly diagnosed patients is about 100, while the number of patients paying a first visit to the center is about 150 per month. 
The center provides 300 chemotherapy sessions on a monthly basis, according to Dr. Jamo.  
Dr. Jamo said that about 70 percent of chemotherapy doses are provided for free by SAMS, while 30 percent are brought by patients but applied by the center, which also provides free medical consultations.
Dr. Jamo added that SAMS provides free medications to patients with breast cancer, lymphoma in its two types (Hodgkin and Non-Hodgkin), and rectal cancer.
The region's most common type of cancer is breast cancer, with 30 percent of all cases visiting the oncology center having this disease, according to Dr. Jamo.
Dr. Jamo mentioned that a mammography and early detection center would be opened soon in the region, pointing out the availability of a colonoscopy device to detect colon cancer in collaboration with the gastroenterology and general surgery departments.
What is breast cancer?
According to WHO, breast cancer is one of the most common cancers among women worldwide.
Symptoms or signs of breast cancer include nipple discharges of a transparent material or blood, the pulling in of the nipple, its redness, or change of shape. 
A change in the size or shape of the breast or the surface of the skin covering the breast, redness, or the presence of wrinkled skin (similar to orange peel) are also symptoms of breast cancer, according to the Web Teb medical website.
According to the website, only 5 to 10 percent of breast cancer cases are hereditary, while genetic defects are also one of the causes of this disease. 
---
Enab Baladi's correspondent in Idlib Hadia Mansour contributed to this report.
if you think the article contain wrong information or you have additional details Send Correction