IS pledges to free its detained fighters soon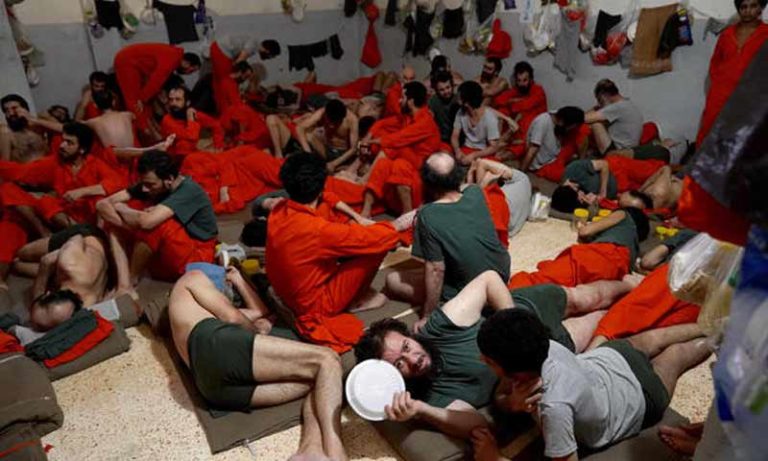 On Monday, 18 January, Islamic State (IS) high-profile members promised to set free their captive militants in a video titled "We Have Not and Will Not Forget You." The video emerged following IS recent resurgence in the region.
The video is produced by the War and Media Agency and circulated by IS-affiliated media platforms.
In the video, Abu Mohammad al-Adnani, former IS spokesman, refers to the promised release as "Fard," a duty commanded by God, which IS fighters must adhere to.
Abu Hamza al-Qurayshi, current IS spokesman, also pledged to emancipate the detainees.
Al-Adnani and al-Qurayshi's voices are added to video snippets of former prison invasions in Iraq, Syria, and the Democratic Republic of the Congo. IS fighters are shown storming into prisons and releasing dozens of inmates.
IS accused prison authorities of medical negligence, saying that there are 400 suspected, and other 65 confirmed, cases of tuberculosis among IS inmates. One inmate died; other eight are at risk of death, the armed group claimed in the video.
Hundreds of IS fighters were detained during military operations in Syria and Iraq, including foreign militants.
Many states have extradited captured fighters, with repeated official calls that other states take their former IS fighters back to their countries since the larger proportion of these fighters remains held in Syria and Iraq prisons.
In September 2020, IS detained fighters rioted twice in the al-Sina'a Prison, on the outskirts of al-Ghwairan neighborhood in al-Hasakah province, where the Autonomous Administration of North and East Syria holds reins to power.
In Syria, the Syrian Democratic Forces (SDF), Iranian Militias, and Russia-backed groups, including the Palestinian al-Quds Brigade and Fifth Legion, continue to launch attacks against IS, which operation scope is limited to the Syrian desert, in addition to sleeper cells in other areas.
In the past few months, IS has been increasingly active, directing several operations from desert areas. The last of its assaults was reportedly against a personnel carrier affiliated with the Syrian regime forces.
Explosive devices were planted on the Deir ez-Zor-Palmyra road, rendering nearly 40 of the regime forces dead, according to IS.
if you think the article contain wrong information or you have additional details Send Correction