Demolition of building violations in al-Sabboura town in Rif Dimashq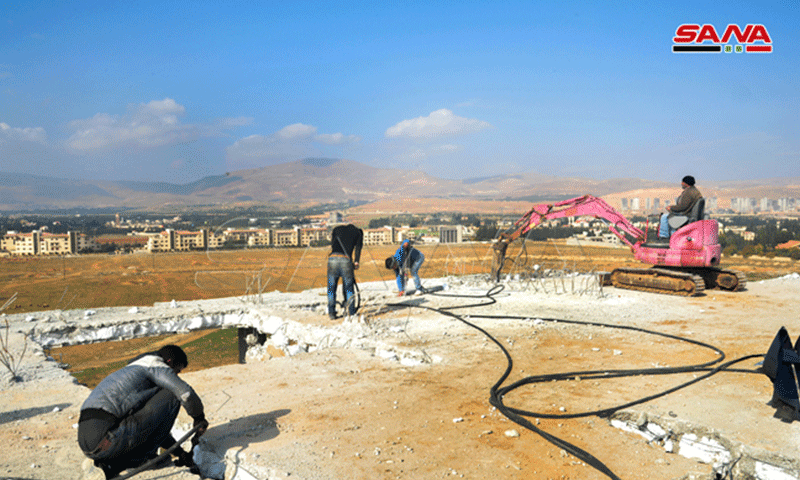 The Central Demolitions Committee (CDC) in Rif Dimashq province has coordinated with the Municipal Council in al-Sabboura town, southwest of Damascus, to demolish and remove some residential buildings' stories that were not built according to building regulations, as per Legislative Decree No. 40 0f 2012.
On 4 December, the head of the al-Sabboura Local Council, Abdullah Rajab, said that the demolition operations started on 3 December and will continue till 6 December, mainly for the six-story buildings, according to the state-run Syrian Arab News Agency (SANA).
The buildings that witnessed demolition operations were licensed to be four story-buildings; however, "after checking their cadastre records, it turned out that there were building violations of extra unauthorized stories," said Rajab.
The demolition operations will continue until all building violations of four-story residential blocks and other buildings are removed, added Rajab.
For his part, the head of the Technical Office in the al-Sabboura Municipal Council, Qassem al-Mabrouk, said that the council gave licenses to the owners of these four-story buildings; however, they violated the terms of the construction permit and built extra two stories. He added, "some of these additional stories are finished, and some are still under construction, but all of them will be removed in stages."
Al-Mabrouk clarified that the demolition operation included the sixth floor of one of the buildings and its foundations.
Al-Mabrouk explained that Article II, paragraph B, of Legislative Decree No. 40 of 2012 asserts that if there is a violation in any building that is against construction laws, whether in one floor or more or part of a floor, then the building violation must be removed, and on that basis the demolition operation took place. 
Since the beginning of 2011, the Syrian regime has promulgated a set of laws and legislative decrees relating to property, real estate, and housing rights. These laws had an impact on Syrians, especially those abroad.
These laws were divided into three sections, including those directly related to real estate and property, creating development zones, removing rubble, and building violations.
Among these laws is Legislative Decree No. 40 of 2012, which provides for removing building violations after the issuance date of this decree, regardless of the buildings' kind, location, and investment status. It also stipulates the removal of rubble at the owner's expense.
Besides, a fine between 2000 and 10,000 Syrian pounds SYP (between 0.678 and 3.39 USD) for every square meter is imposed on all those found responsible for building violations.
The decree excluded old violations committed before its issuance date. Nevertheless, it remains difficult to prove the violation's timing, according to a study issued by judges Khaled al-Hilo and Reem Salahi from the Free Independent Syrian Judiciary Council.
The decree's seriousness lies in being a tool for the Syrian government to remove all building violations, even old ones, whose dates are difficult to verify, especially in their owners' absence.
if you think the article contain wrong information or you have additional details Send Correction