Russian governmental delegation in Damascus to oversee "reconstruction"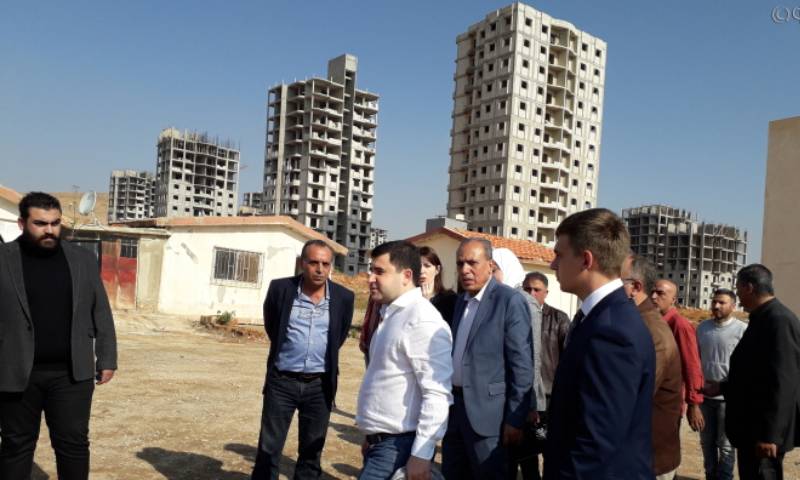 A Russian delegation from the employees of the Ministry of Construction, Housing and Utilities Sector of the Russian Federation visited on 20 November the suburbs in the al-Dimas area in the Syrian capital, Damascus.
The Russian Federal News Agency (FAN) has published images showing the Russian delegation supervising the residential reconstruction operation in Syria.
According to the agency, the delegation was informed of the stages of building a residential complex in al-Dimas town in Damascus suburbs, where a housing complex consisting of 14 thousand apartments is being built on an area of 500 hectares (5,000,000 square meters).
"They can learn from us how the planning project of this area should be, how the complexes' location should be outlined, and where networks should be extended, which seems simple," said Russian Federation Deputy Minister of Construction, Housing, and Utilities Sector, Nikita Stasishin.
Russia organized the "International Conference on the Return of Syrian Refugees" on 11 November, in Damascus, without the attendance of the countries that host the majority of Syrian refugees.
On the sidelines of the conference, Russia signed a memorandum of understanding with the Ministry of Public Works and Housing of the Syrian regime government. The memorandum aimed to "enhance cooperation and exchange of information, experience, and research findings regarding the functions and capabilities of both parties in the areas of public works and housing."
The content of the agreement would be implemented from the date of its signing. Besides, the Russian side mentioned that it would guarantee the allocation of one billion US dollars to rehabilitate electrical networks and industrial complexes. 
Since the beginning of the Russian and Syrian regime coordination headquarters' work, 31 joint meetings on refugee return and reconstruction issues have been held.
The Russian Defense Ministry called for a "conference for Syrian refugees" under Russian auspices for the first time on 5 September 2018. Back then, Russia described the conference as a "historical event" and stressed the need for the participation of all relevant countries and the United Nations (UN) in it.
According to Russian Deputy Prime Minister Yury Borisov, Russia handed over the regime's government an economic project last September that included different economic and commercial fields.
Borisov confirmed that the work to expand economic and commercial cooperation with Syria will continue and that more than 40 reconstruction projects are under study in the fields of energy, infrastructure, and hydroelectric power stations.
if you think the article contain wrong information or you have additional details Send Correction